Birthday Reviews: Wilson Tucker's "My Brother's Wife"
Birthday Reviews: Wilson Tucker's "My Brother's Wife"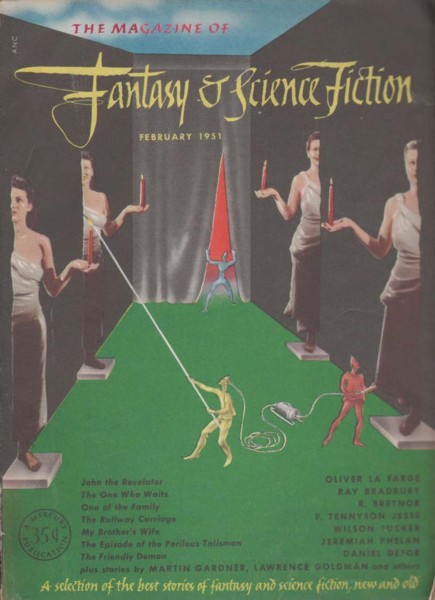 Arthur Wilson Tucker was born on November 23, 1914 and died on October 6, 2006.
Tucker won a Hugo Award in 1970 for Best Fan Writer and in 1976 he won the John W. Campbell Memorial Award for the novel The Year of the Quiet Sun. He received the Big Heart Award in 1962, was inducted into the First Fandom Hall of Fame in 1985 and received a Skylark Award in 1986. In 1990 he received the Phoenix Award and was named Author Emeritus by SFWA in 1996. In 2003 Tucker was inducted into the Science Fiction Hall of Fame.
A longtime fanzine editor and writer, Tucker published using the name Wilson Tucker, Bob Tucker, Hoy Ping Pong, Sir Aubrey Montrose Twiddleham, and Sanford Vaid. He has collaborated with Jack Speer, Russ Chauvenet, Art Widner, Elmer Perdue, Harry Jenkins, Jr., and Dorothy Les Tina. He has given his name to the practice of using acquaintances names in fiction.
"My Brother's Wife" first appeared in the February 1951 issue of The Magazine of Fantasy and Science Fiction, edited by Anthony Boucher and J. Francis McComas. Tucker included it in his collection The Science-Fiction Subtreasury in 1954 and the next year it was reprinted in the magazine Science Fantasy. It showed up in two more of Tucker's collections: Time:X and The Best of Wilson Tucker before its most recent publication in Fantastic Chicago, an anthology of stories produced for Chicon V, the 49th World Science Fiction Convention.
Bud Wyatt is one of three brothers, although he is somewhat estranged from his entire family. A member of the Chicago mob in the 1930s and 40s, he has reached the point where his parents don't want to have anything to do with him. His older brother Harley has been committed to an asylum, and his younger brother Jimmy has returned from Burma with a new wife, who absolutely refuses to meet Jimmy's black sheep brother. Nevertheless, Bud and Jimmy manage to have a relationship with Bud arranging for Jimmy to purchase a bookstore in Chicago and occasionally the two getting together when Jimmy's wife, Louise, is not around.
The situation doesn't sit well with Bud, who begins to feel that Louise might have something to do with Harley's committal and he begins to use his connections to delve into her past, without ever meeting her. He comes across evidence that the Louise that Jimmy was married to when he lived in San Diego and Phoenix before returning to Chicago was a very different woman, literally, than the one who is making a life for herself in Chicago.
Bud's quest makes him mix family and his business and he resorts to bribery, violence, arson, and other less than licit techniques to gather information about Louise and to try to learn what really happened to Harley. Eventually, Bud decides he has to meet Louise despite Jimmy's imprecations and her own desires, at which point Tucker's story takes a dark turn, which Tucker handles well, but it raises the question of whether the situation Bud discovers is really harming anyone or if it is just the first step in a larger plot, a question which Tucker ignores.
Reprint reviewed in the anthology Fantastic Chicago, edited by Martin H. Greenberg, Chicon V, 1991.
---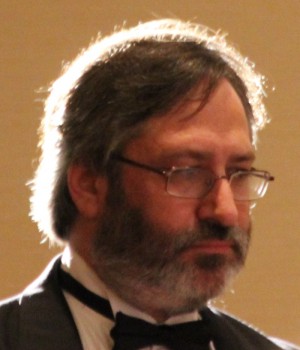 Steven H Silver is a sixteen-time Hugo Award nominee and was the publisher of the Hugo-nominated fanzine Argentus as well as the editor and publisher of ISFiC Press for 8 years. He has also edited books for DAW and NESFA Press. He began publishing short fiction in 2008 and his most recently published story is "Webinar: Web Sites" in The Tangled Web. Steven has chaired the first Midwest Construction, Windycon three times, and the SFWA Nebula Conference 6 times, as well as serving as the Event Coordinator for SFWA. He was programming chair for Chicon 2000 and Vice Chair of Chicon 7.