My Five Top Heist Movies
My Five Top Heist Movies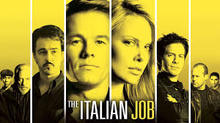 I don't know about you, but I'm a big fan of the heist movie. Some call these "caper" movies, but I'd say that while all heist are capers, not all capers are heists. Why do I, and others like me, love these movies so much? Are we all secretly thieves at heart? Is it the puzzle? The intellectual challenge? The suspense? Can this be pulled off without firing a shot?
Are the bad guys – thieves and con artists – actually the good guys? Often the theft is being perpetrated on someone we want to see punished. There are some things the law just doesn't seem able to deal with, and in the old saying, you set a thief to catch a thief.
There's something that I'd like to address here. You'll notice that three out of five of these examples have or are remakes. Note: the older the movie, the less likely it is that the thieves get away with it. It seems that back in the day, criminals, no matter how sympathetic, weren't supposed to "win." So they could succeed in terms of getting the money, or jewel, or painting, etc. but they would then have to lose it somehow. Or get caught in an amusing way.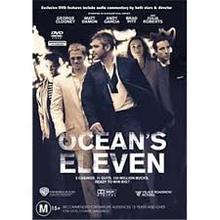 So, in no particular order, here are my top five heist films:
The Italian Job
(1969 directed by Peter Collinson; 2003 directed by F. Gary Gray)
Much as I love Michael Caine – and Noel Coward for that matter – the original movie is just too 1960's groovy for me. I much prefer the 2003 movie, in part because of the great bits from the characters played by Seth Green, Jason Statham, and Mos Def. This ensemble was fantastic, everyone had an important part to play, and the bastard who shot Donald Sutherland gets his come-uppance. What's not to like?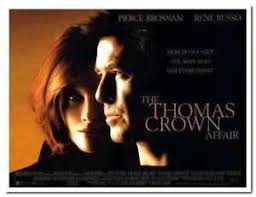 Ocean's Eleven
(1960 "Ocean's 11" directed by Lewis Milestone; 2001 directed by Steven Soderburgh)
I have nothing good to say about the original movie. Dean Martin and Sammy Davis Jr. seem to be the only people who remember at all times that they're in a movie, the others seem to be there for the chance to hang out together. The whole thing smacks of self-indulgence.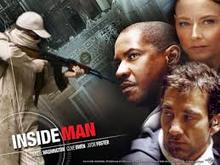 In contrast, every single actor in the 2001 film is an actual actor, though they may also be friends. Everyone's part is important, and they all carry out their roles to perfection. And something important for me personally, Danny Ocean's ex-wife (Julia Roberts) has a real role, and plays a solid part in the heist, though perhaps not intentionally. At the very least, she does more than poor Angie Dickenson in the original, whose entire raison d'etre seemed to be looking moony-eyed at Frank Sinatra.
The Thomas Crown Affair
(1968 directed by Norman Jewison; 1999 directed by John McTiernan)
Oh man, I'd have to flip a coin. I love the whole art-world vibe, the elegance of it. I love that the lines of honest and dishonest are so blurred. I love it that McTiernan gave Faye Dunaway a cameo part in his version. If I absolutely had to, I'd have to say that the original has better actors, not that the second ones suck, they're just not of the same caliber. McTiernan isn't the same caliber as Jewison either, but the fact remains that both of them did a great job. Each of them made their own movie, and both movies work.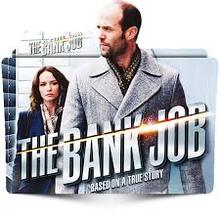 Inside Man
(2006 directed by Spike Lee)
When a genre film is jam-packed with Oscar winners, it's usually cause for worry. But not in this case. This is an excellent film, combining the best of a heist film with the complexity and misdirection of The Usual Suspects. Every single actor does their job superbly, and the added political element just gives the whole thing more depth.
The Bank Job
(2008 directed by Roger Donaldson)
An old school, professional heist, carried out by seasoned players. I didn't have great expectations from this film. I have to admit that I saw it because I'm a fan of Jason Statham. But my low expectations were blown away by the film itself. Is Statham somewhat reprising his characters from Guy Ritchie's films? Maybe, but I don't care. The complexity of the job, the underlying political twist, the recreation of the time period – all really well done.
One last thing. How can you tell you're dealing with a truly great heist film? You can re-watch it, and even though you know how it ends, you find yourself wondering if they can pull it off.
---
Violette Malan is the author of the Dhulyn and Parno series of sword and sorcery adventures, as well as the Mirror Lands series of primary world fantasies. As VM Escalada, she writes the Faraman Prophecy series, Book One, Halls of Law, and Book Two, Gift of Griffins. Like Violette's page on Facebook and follow her on Twitter @VioletteMalan.