November 2018 Locus Magazine Now on Sale
November 2018 Locus Magazine Now on Sale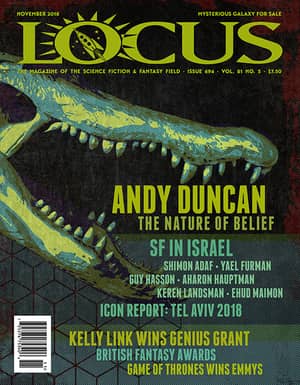 I made the mistake of flying to Baltimore for the World Fantasy Convention this weekend without packing the current issue of Locus. There's no better way to get caught up on all the latest industry news, publishing changes, and genre gossip than in the relative peace and quiet of a pressurized cabin at 30,000 feet.
So I landed in Baltimore woefully behind on all the news. Even worse, I hadn't read this month's reviews by Rich Horton, Liz Bourke, Gary Wolfe, Russell Letson, John Langan and many others. How was I supposed to talk intelligently about all those exciting new writers? I had to stand there glumly and nod at the midnight Beneath Ceaseless Skies party.
I won't make that mistake again. Whatever you do, don't be like me. Make sure you have your copy of Locus safely tucked under your arm when you travel (especially to a con.) It will make you wiser, happier, and a better person.
The November issue is packed full of good stuff, and available at most well stocked bookstores. Here's the description from the website.
The November issue features an interview with Andy Duncan; MacArthur Genius Grant news; British Fantasy, Aurora, Sunburst, Copper Cylinder, Geffen, and Elgin awards winners; a column by Cory Doctorow; photo stories on Galactic Philadelphia, the Neukom Awards ceremony, George R.R. Martin, and Genrepalooza; international reports on Israel and Estonia; obituaries for Pat Lupoff, Anthea Bell, and David J. Willoughby, and reviews of short fiction and books by Paul Di Filippo, Natasha Ngan, Brian Hodge, Tomi Adeyemi, and many others.
Locus magazine is published by twelve times per year by the Locus Foundation. This issue is 68 pages in full color, priced at $7.50 or $5.50 for the digital edition. The cover was designed by Francesca Myman. One year (12 issue) subscriptions are $63 for print (US) or $48 (digital). Subscribe here.