Birthday Reviews: Hideyuki Kikuchi's "Mountain People, Ocean People"
Birthday Reviews: Hideyuki Kikuchi's "Mountain People, Ocean People"
Cover by Yuko Shimizu
Hideyuki Kikuchi was born on September 25, 1949.
Kikuchi published his first novel, Demon City Shinjuku in 1982 and his novel Black Guard was adapted into the film Wicked City in 1987. In addition to writing horror novels, Kikuchi has also published several manga. In addition to the series listed above, he also created Vampire Hunter D.
In 2012 Kikuchi's short story "Sankaimin" appeared under the title "Mountain People, Ocean People," in the 2012 anthology The Future is Japanese, edited by Nick Mamatas and Masumi Washington.
Set in the far future, "Mountain People, Ocean People," as the title suggests, shows a world in which humanity has divided into two groups, one living in the mountains, the other under the sea.  Kikuchi's main focus is on the mountain dwellers, who have developed the ability to fly, with hunters among them looking out for wind spiders and sky sharks. Among those is third-generation hunter Kanaan who is trying to surpass the reputations of his ancestors, although his father ultimately disappeared under a cloud of suspicion that Kanaan knows is unwarranted.
The Ocean people don't even register on the Mountain people's radar until one of them, Taka, shows up on the mountain in a pressure suit that allows him to survive outside the depths. While the Mountain people live in ignorance of their history as they struggle to survive in their inhospitable climate, the same is not true of the Ocean people. Taka has come after a ten millennium separation to learn what has happened to the Mountain people. Unfortunately, upon his arrival he is not met with open arms.
Kanaan and Taka however, manage to build a rapport with Taka sharing their joint history and inviting Kanaan back to the Ocean, and Kanaan teaching Taka about the struggles of the Mountain people. Their friendship, however, can't last in the climate of distrust by the Mountain people's leaders, and Taka must attempt to flee back to the safety of the ocean with Kanaan's assistance.
Kikuchi has created an interesting world, one which is deserving of further exploration, although the story that he has chosen to tell is not particularly engrossing, although it has its moments. Taka, as a supporting character, is more interesting that Kanaan, who never really seems to gel as a protagonist.
Reprint reviewed in the anthology The Future Is Japanese, translated by Takama Nieda, edited by Nick Mamatas and Masumi Washington, Haikasoru, 2012.
---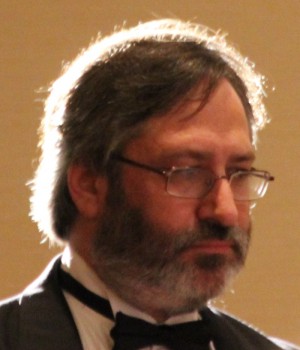 Steven H Silver is a sixteen-time Hugo Award nominee and was the publisher of the Hugo-nominated fanzine Argentus as well as the editor and publisher of ISFiC Press for 8 years. He has also edited books for DAW and NESFA Press. He began publishing short fiction in 2008 and his most recently published story is "Webinar: Web Sites" in The Tangled Web. Steven has chaired the first Midwest Construction, Windycon three times, and the SFWA Nebula Conference 6 times, as well as serving as the Event Coordinator for SFWA. He was programming chair for Chicon 2000 and Vice Chair of Chicon 7. He has been the news editor for SF Site since 2002.