Birthday Reviews: Irene Radford's "Little Red in the 'Hood"
Birthday Reviews: Irene Radford's "Little Red in the 'Hood"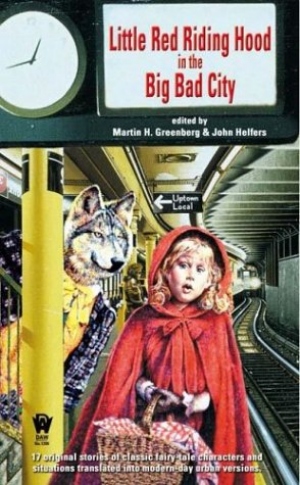 Irene Radford was born on September 17, 1950. She has published works under a variety of pseudonyms, including Phyllis Ames, C.F. Bentley, P.R. Frost, Phyllis Irene Radford, and Julia Verne St. John.
Radford has published numerous series, many of them through DAW Books, including the Dragon Nimbus, Stargods, Tess Noncoiré, and Merlin's Descendants. She is one of the founders of Book View Café, a cooperative publisher. She has also collaborated with Bob Brown and as an editor with Deborah J. Ross, Laura Ann Gilman, Maya Kaathryn Bohnhoff, and Brenda Clough.
"Little Red in the 'Hood" appeared in the anthology Little Red Riding Hood in the Big Bad City, edited by Martin H. Greenberg and John Helfers in 2004. M.H. Bonham reprinted the story in 2011 in WolfSongs: Volume 2. When Radford and Deborah J. Ross edited the anthology Beyond Grimm in 2012, they selected the story to be reprinted again.
Radford's "Little Red in the 'Hood" is much more substantial than Linda D. Addison's vignette of practically the same name, reviewed on September 8. In Radford's story, Little Red is the nickname for a woman who is "volunteering" to help deliver food for Mobile Meals, a service to provide food for shut-ins, although her volunteer work is ordered by the courts after she was caught shop-lifting. The assignment she pulls has her taking food to a notorious lecher who has often been banned from food delivery due to his treatment of the women bringing his food. Although the coordinator offers to postpone the delivery until they can send an escort with Little Red, she refuses.
There are hints early on that Little Red is more than she seems, as she accepts the task of bringing food to Jason Hanstable, who has the reputation of a wolf. With Radford focusing on the lengthening of Red's fingernails as much as her decision to only wear red, it seems clear that she is a different kind of wolf than Jason, but a wolf all the same. Despite telegraphing Red's transformation, Radford includes a twist which only becomes clear when she introduces it, allowing the non-reveal that Red is a wolf to take second place and still subvert the reader's expectations.
Despite the potentially dark topics of elder care and sexual harassment and abuse, Radford keeps the story light, portraying Red as a competent and confident woman who is happy to go through with her community service rather than avoid it. There is one apparent misstep where Red mentions feeling the rising of the full moon when it is noon in her city, which seems out of place, although it provides a clue to Red's lycanthropic nature.
Reviewed in its original appearance in the anthology Little Red Riding Hood in the Big Bad City, edited by Martin H. Greenberg and John Helfers, DAW Books, 2004.
---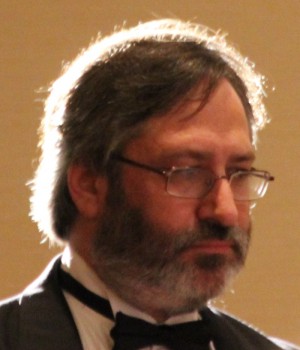 Steven H Silver is a sixteen-time Hugo Award nominee and was the publisher of the Hugo-nominated fanzine Argentus as well as the editor and publisher of ISFiC Press for 8 years. He has also edited books for DAW and NESFA Press. He began publishing short fiction in 2008 and his most recently published story is "Webinar: Web Sites" in The Tangled Web. Steven has chaired the first Midwest Construction, Windycon three times, and the SFWA Nebula Conference 6 times, as well as serving as the Event Coordinator for SFWA. He was programming chair for Chicon 2000 and Vice Chair of Chicon 7. He has been the news editor for SF Site since 2002.