Birthday Reviews: C.J. Cherryh's "The Unshadowed Land"
Birthday Reviews: C.J. Cherryh's "The Unshadowed Land"
Cover by Ilene Meyer
C.J. (Carolyn Janice) Cherry was born on September 1, 1942. When she sold her first work, editor Donald A. Wollheim suggested adding the final "h," making her byline C.J. Cherryh. Her brother is artist David Cherry, who did not add a final "h."
Cherryh won the John W. Campbell Award for Best New Writer in 1977. In 1982, she won the coveted Balrog Award for her short story "A Thief in Korianth." She has won three Hugo Awards, first for her short story "Cassandra" in 1979, for her novel Downbelow Station in 1982, and for her novel Cyteen in 1989. In 1988 NESFA presented her with the Skylark Award. She named a Damon Knight Grand Master by SFWA in 2016. Cherryh was the guest of honor at Buccaneer, the 1998 Worldcon in Baltimore.
"The Unshadowed Land" first appeared in Marion Zimmer Bradley's Sword and Sorceress II: An Anthology of Heroic Fiction in 1985 and was translated into Italian as part of the anthology in 1988 and again in 1994. It was reprinted in English in The Collected Short Fiction of C.J. Cherryh in 2004.
Cherryh slowly creates her world in "The Unshadowed Land," subverting the reader's expectations as she goes along. It opens with a description of God (or a god) callously creating and changing the world by looking at it in different ways or flapping wings. This setting seems to indicate an alien world, mostly desert, at least the part Cherryh is interested in. A woman, whose name might be Akhet, is introduced to the world, giving the reader a viewpoint character, but also, like the reader, unsure of the situation she is in.
Cherryh continues to change the apparent design of her world, making it slightly more familiar each time, while also adding to its strangeness. There are some hints about what is coming dropped throughout the story, which allow the reader to guess where she is going. What the piece lacks is plot, being more of a voyage of discovery of the world and Akhet's place within it. Unfortunately, just as the story lacks plot, it is also extremely light in characterization. The only reason to care for Akhet is because she is essentially the only character to appear in the story, although Cherryh does introduce a deity to help jog Akhet's memory about her identity.
Reprint reviewed in the collection The Collected Short Fiction of C.J. Cherryh, by C.J. Cherryh, DAW Books, 2004.
---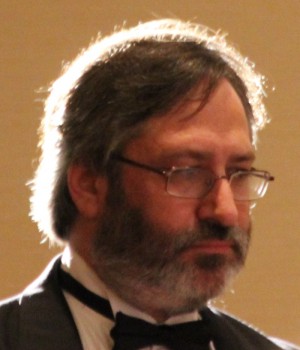 Steven H Silver is a sixteen-time Hugo Award nominee and was the publisher of the Hugo-nominated fanzine Argentus as well as the editor and publisher of ISFiC Press for 8 years. He has also edited books for DAW and NESFA Press. He began publishing short fiction in 2008 and his most recently published story is "Doing Business at Hodputt's Emporium" in Galaxy's Edge. Steven has chaired the first Midwest Construction, Windycon three times, and the SFWA Nebula Conference 6 times, as well as serving as the Event Coordinator for SFWA. He was programming chair for Chicon 2000 and Vice Chair of Chicon 7. He has been the news editor for SF Site since 2002.