Birthday Reviews: Andrew J. Offutt's "Gone with the Gods"
Birthday Reviews: Andrew J. Offutt's "Gone with the Gods"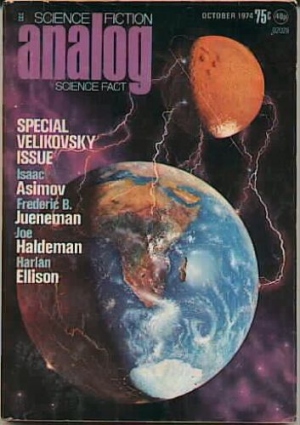 Andrew J. Offutt was born on August 16, 1934 and died on April 30, 2013. Offutt also published science fiction and fantasy using the pseudonyms John Cleve, Jeff Douglas, and J.X. Williams. He occasionally collaborated with Richard K. Lyon and Keith Taylor, while many of the stories published under the John Cleve house name were collaborations with a wide variety of authors including Victor Koman, Roland J. Green, G.C. Edmonson, and Jack C. Haldeman II, among others. In addition to his career in speculative fiction, which included a stint as President of SFWA, Offutt has a very successful career writing pornographic novels.
Offut was nominated for the Balrog Award for his short story "Conan and the Sorcerer" and for editing the anthologies Swords Against Darkness IV and Swords Against Darkness V, as well as for the entire anthology series. His My Lord Barbarian was nominated for the August Derleth Award and in 1986 he received the Phoenix Award at DeepSouthCon.
"Gone with the Gods" was originally published in the October 1974 issue of Analog Science Fiction/Science Fact, edited by Ben Bova. When Stanley Schmidt decided to issue the anthology Analog's Lighter Side in 1982, he included Offutt's story.
The main character of "Gone with the Gods" would seem to be a thinly disguised Offutt, a writer who turns out a prodigious number of novels at the back and call of his editor, writing in whatever genre is hot at the moment to fulfill the needs of an insatiable audience. When his editor calls him to look into the possibility that a former fraternity brother of the editor's has invented a time machine, and asks him to check out the possibility that the device is real so the editor can invest in it, the authors finds himself looking into the far-fetched claim.
Of course the time machine, disguised as a VW microbus, eventually works and Harvey Moss, the author, Mark Ventnor, the publisher, and Ben Corrick, the inventor, all take their turns traveling in the bus, only to learn its limitations. It can only go one day into the future, but anywhen in the past. Although it remains tied to Earth, so they don't have to worry about showing up in outer space, they do figure out how to take it to different places on Earth. Eventually, in order to make some money, Moss travels back in time to spur human development and plant evidence that he can use to write a best selling book that Ventnor can publish and sell.
Unfortunately for the partnership, Ventnor has arranged all the contracts so money would continuously flow to him, with Corrick and Moss out in the cold. Having laid the groundwork for the way time travel works in this world, Offutt takes pleasure in laying out Moss and Corrick's vengeance against their erstwhile partner and friend, positing one of the perhaps truest uses of time travel in literature.
Reprint reviewed in the anthology Analog's Lighter Side, edited by Stanley Schmidt, Davis Publications, 1982.
---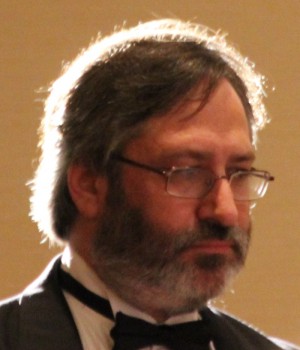 Steven H Silver is a sixteen-time Hugo Award nominee and was the publisher of the Hugo-nominated fanzine Argentus as well as the editor and publisher of ISFiC Press for 8 years. He has also edited books for DAW and NESFA Press. He began publishing short fiction in 2008 and his most recently published story is "Doing Business at Hodputt's Emporium" in Galaxy's Edge. Steven has chaired the first Midwest Construction, Windycon three times, and the SFWA Nebula Conference 6 times, as well as serving as the Event Coordinator for SFWA. He was programming chair for Chicon 2000 and Vice Chair of Chicon 7. He has been the news editor for SF Site since 2002.