Birthday Reviews: Esther M. Friesner's "Miranda's Muse"
Birthday Reviews: Esther M. Friesner's "Miranda's Muse"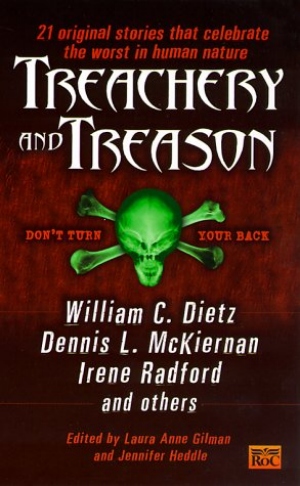 Esther M. Friesner was born on July 16, 1951.
Friesner has won the Nebula Award for her short stories "Death and the Librarian" and "A Birthday," the latter of which was also nominated for the Hugo Award. She has also received nominations for the Gaylactic Spectrum Award and the James Tiptree, Jr. Memorial Award. In 1994, she was the recipient of the Skylark Award, presented by NESFA.
"Miranda's Muse" was written for Laura Anne Gilman and Jennifer Heddle's anthology Treachery and Treason. The story has not been reprinted.
Miranda Ford is a highly successful romance author who seemed to lead a perfect life with her husband, Alan. After Alan's death, however, Miranda finds herself suffering from writer's block and, more importantly, is confronted by her new agent, Billy Samson, about the extremely overdue manuscript her publisher is clamoring for. Billy quickly learns that Alan was very definitely Miranda's muse. His poor and boorish behavior provided her with all the villains in her novels, with barely any modifications. Billy offers Miranda a solution that she can't believe. He explains that he is a necromancer and can bring Alan back from the dead.
Although Miranda doesn't believe Billy will be successful, she accompanies him to the graveyard and watches as he brings her husband back to life, or at least unlife, using an incantation analogous to a high school football cheer. While Alan's partial resurrection is potentially good for her career, Miranda didn't question Billy too closely about the specifics, and Billy didn't offer the information, so everything that happens next –Billy's binding of Alan and Miranda, the rules that govern their new relationship, and the fact that Alan is no longer jealous of Miranda's success — all come as a surprise.
Feeling betrayed by Billy, Miranda's vengeance on him also backfires, but in the end, she and Billy are able to work out a new, amicable working relationship and, perhaps, even a level of mutual respect. Although Alan was a horrific human, and likely to remain that way as a revenant, Miranda isn't a whole lot better herself, but she is also Billy's meal ticket if he wants to be a successful agent.
Not primarily a humorous story, Friesner's sense of humor does show through, both in obvious ways, such as Billy's invocation, but also when she is describing some of the horrible things Alan has done in life. Billy and Miranda's negotiations, taking place against the backdrop of a graveyard where Billy has raised Alan's corpse and a murder has been committed, are surprisingly mundane, providing more humor.
Reviewed in its only publication in the anthology Treachery and Treason, edited by Laura Anne Gilman and Jennifer Heddle, Roc Books 2001.
---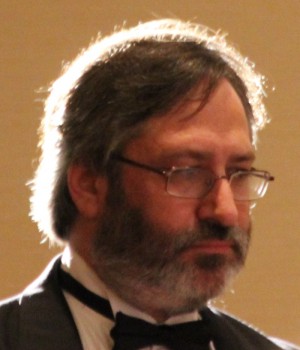 Steven H Silver is a sixteen-time Hugo Award nominee and was the publisher of the Hugo-nominated fanzine Argentus as well as the editor and publisher of ISFiC Press for 8 years. He has also edited books for DAW and NESFA Press. He began publishing short fiction in 2008 and his most recently published story is "Doing Business at Hodputt's Emporium" in Galaxy's Edge. Steven has chaired the first Midwest Construction, Windycon three times, and the SFWA Nebula Conference 6 times, as well as serving as the Event Coordinator for SFWA. He was programming chair for Chicon 2000 and Vice Chair of Chicon 7. He has been the news editor for SF Site since 2002.