A Brief History of Pulphouse: The Hardback Magazine
A Brief History of Pulphouse: The Hardback Magazine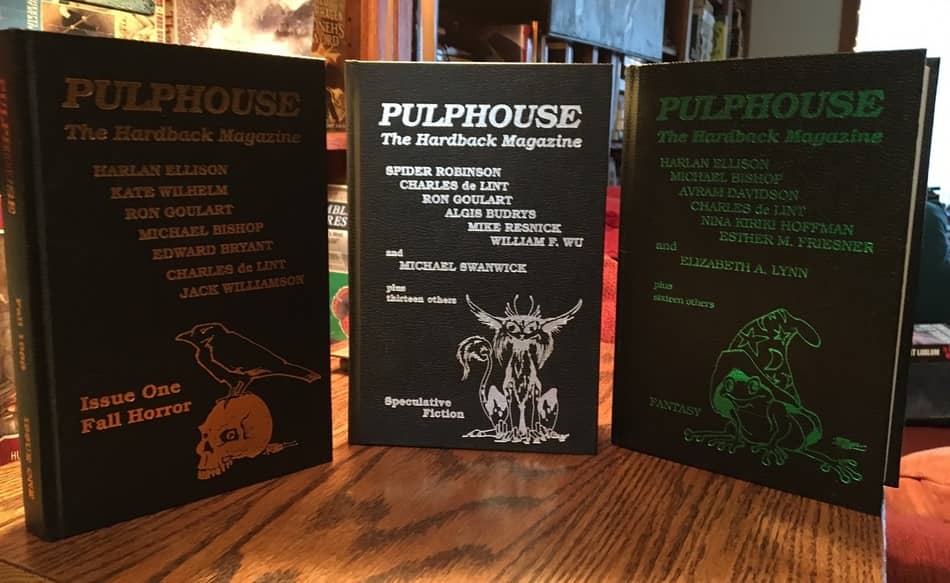 In 1988 I had just started grad school at the University of Illinois, and finally moved out of my parent's basement. I'd also left my book collection behind and settled into a small dorm room. I continued collecting, albeit in a much more cramped space, and as the years went by the book piles on the floor gradually grew into towering stacks that made moving around tough. I graduated just in time in 1991, before I completely ran out of floor space, and moved into my first apartment (with real bookcases!) in Wheaton, Illinois.
While in grad school I missed my regular runs to the shops to buy magazines, and during my periodic trips back to Ottawa I was hungry for any fiction mags I could find. My friends were talking about a strange book/magazine crossbreed titled Pulphouse: The Hardback Magazine and, curious, I picked up a few issues at the House of Speculative Fiction on my next visit. It turned out to be very impressive indeed, and over the next few years I bought copies whenever I found them.
Pulphouse was closer to a regular anthology series than a magazine; its quarterly issues varied between 243 and 311 pages, and featured a compelling mix of new and established authors. It was the brainchild of Dean Wesley Smith and Kristine Kathryn Rusch; the first issue appeared in 1988, and it stuck to a quarterly schedule for three years, before wrapping up with issue #12 in Fall of 1993.
[Click the images for pulp-sized versions.]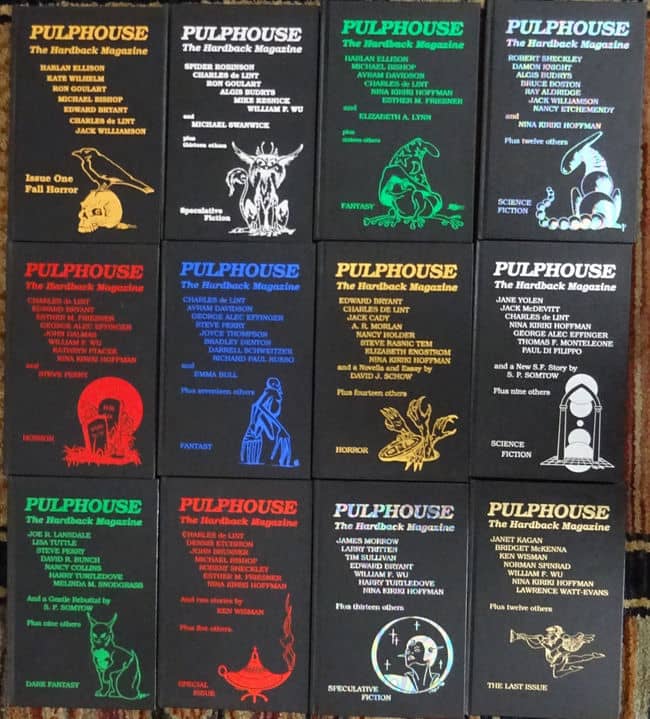 Pulphouse had a very unique look. Volumes were leather bound, sans dust jacket, with simple but evocative line art embossed on the cover. The reproductive process gave the art an up-close 3D look which I still find striking today. There was no interior art.
Rusch was the editor. Each issue was themed (Horror, Science Fiction, and Fantasy, or some derivative thereof, in more or less regular rotation). There were rumors that there was also an issue 0 which had nothing but blank pages, probably used as a sample for distributors.
The magazine made a huge impression on the market, and I understood the buzz immediately. In an environment where every other fiction magazine was shedding readers and rapidly cutting back on size and production costs, how could a small press outfit that no one had ever heard of afford to produce a hardcover magazine, especially one as impressive as this?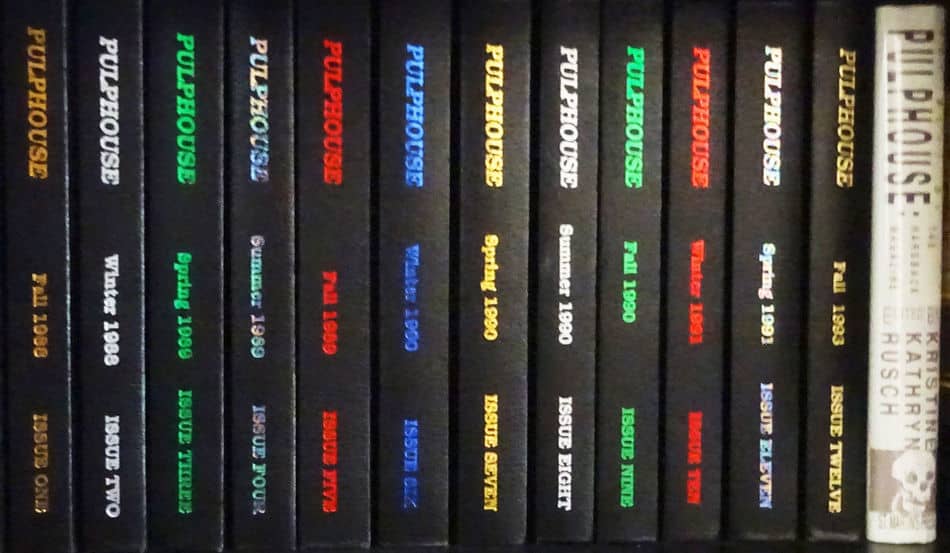 Smith and Rusch survived — and in fact thrived, at least at first — because they were canny enough to tap into the collectible market. The trade edition was strictly limited to 1,000 numbered copies, and the price reflected it; there were also signed and genuine leather editions.
Pulphouse didn't just survive; it was a bomb thrown into the middle of the industry. People loudly speculated that this was the business model of the future. Pulphouse Publishing expanded wildly, producing a line of Author's Choice Monthly chapbooks (29 total), and Short Story Paperbacks (priced at $1.95). There was also a line of limited edition hardcovers through their Axolotl Press imprint, a separate Mystery Scene Press imprint, and eventually even Pulphouse Weekly.
Yes, a weekly fiction magazine. How insane was that?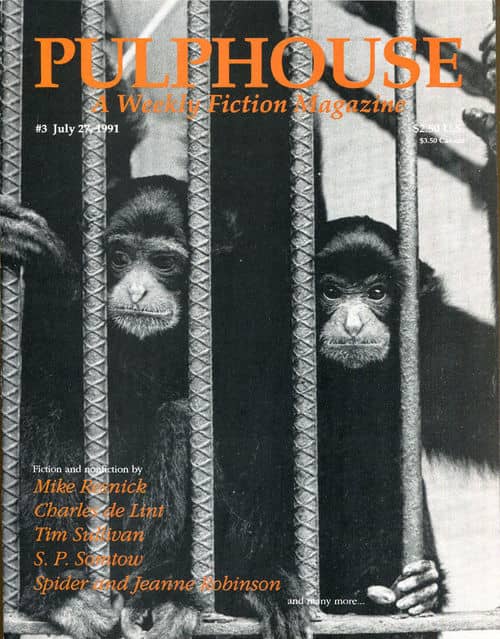 Sufficiently insane to held kill the company, as it turned out. Pulphouse Weekly never actually attained a weekly publication schedule, though it did manage 20 issues (including issue 0) between 1991-1995. But it was sufficiently ambitious to overtax a tiny company that was already showing significant strain.
Pulphouse opened its doors in 1988, and over the next eight years it produced an extraordinary 244 titles. Based on its output and quality, it looked like Pulphouse was destined to be the next major genre press, alongside Tor and Ace. However, it was not to be. The press collapsed in 1996, having finally tested the limits of the SF collectible market.
The collapse left a number of unpublished stories and incomplete projects, such as Harlan Ellison's collection Ellison Under Glass, and in late 1996, Jerry Oltion assembled the anthology Buried Treasure: An Anthology of Unpublished Pulphouse Stories (Eugene Professional Writers Workshops), designed to look like the 13th issue of Pulphouse The Hardback Magazine.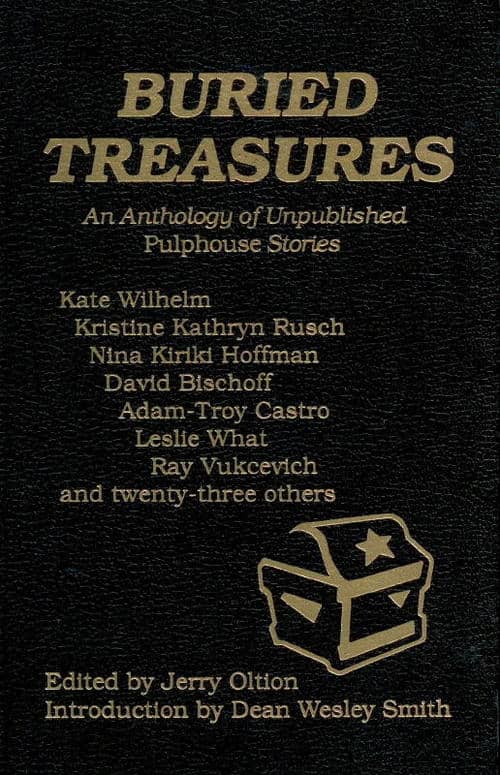 During its eight years of life Pulphouse Press produced some extraordinary work, publishing original SF and fantasy by John Brunner, Edward Bryant, Algis Budrys, Charles de Lint, Michael Bishop, Steve Rasnic Tem, Michael Swanwick, Jack McDevitt, Jack Williamson, Nina Kiriki Hoffman, Robert Sheckley, Nancy Collins, Joe R. Lansdale, Avram Davidson, George Alec Effinger, Kate Wilhelm, and many, many more. They also discovered several major writers who went on to great things in the next few years, including Adam-Troy Castro and Marina Fitch.
From 1992 through 1994, Pulphouse: The Hardback Magazine was nominated for the Hugo Award for Best Semiprozine, and Smith and Rusch won the World Fantasy Award in the Special Award: Non Professional category in 1989 (the same award Black Gate won in 2016). Rusch was hired as editor of The Magazine of Fantasy and Science Fiction in mid-1991, a position she held for six years, winning a Hugo Award for Best Professional Editor in 1994.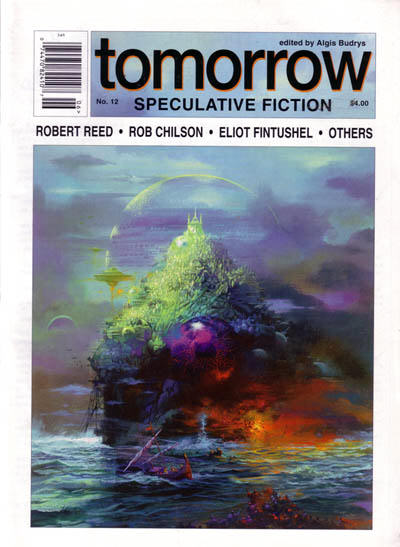 In 1992 Smith founded the magazine Tomorrow Speculative Fiction with Algis Budrys as editor; Smith sold the magazine to Budrys with the second issue, and Algis published 24 bi-monthly print issues before transitioning into one of the first online science fiction magazines in 1997. Tomorrow ceased publication in 2000, but not before I interviewed Algis for SF Site about this crazy new venture of his.
Smith and Rusch both continued to have success outside Pulphouse, mostly for individual projects. Smith's short story "In the Shade of the Slowboat Man," was nominated for the 1997 Nebula Award for Best Short Story. His recent novels include Calling Dead (2015) and Starburst (2017). Most impressively (at least to me), he self-published 38 issues of Smith's Monthly, a thick magazine packed with his own writing, between 2013 and 2016.
Rusch won a Hugo in 2001 for her novelette "Millennium Babies," she's published seven books in the Retrieval Artist series and six novels in The Diving Universe, beginning with Diving into the Wreck (Pyr Books, 2009).
Together they founded and continue to produce Fiction River: An Original Anthology Magazine,  which was inspired by Damon Knight's Orbit and Robert Silverberg's Universe anthologies. They've published 27 issues since 2013. Here's the the description from the website.
Called "one of the best and most exciting publications in the field today" by Adventures Fantastic, Fiction River is an original anthology series. Initially, based on the anthology series of old — Universe, Orbit, Pulphouse — Fiction River rapidly evolved into its own entity. Fiction River publishes stories in many genres from all kinds of writers, with New York Times bestselling authors published alongside some of the best new voices in fiction.
I've never seen an issue of Fiction River but, in terms of its sheer size (a 246-294 page trade paperback) and ambition, it seems like the spiritual successor to Pulphouse. Check it out here.
In 1991, during the heyday of Pulphouse, Kristine Kathryn Rusch published The Best of Pulphouse: The Hardback Magazine (St. Martin's Press), collecting stories that had already appeared as well as several that wouldn't be published for several months. It makes a fine retrospective for modern readers curious about the magazine.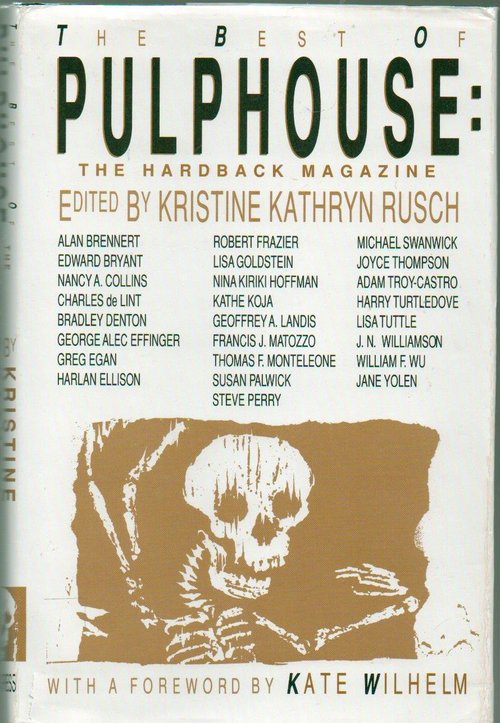 Of course if you're really curious, you can also buy copies of the original magazine, which is what I recommend. Although the issues retailed for $20-30 when they first appeared, they haven't generally accumulated in value and are much more affordable these days. I bought the first three issues above (see pic at top) for $15 total on eBay in January; at the moment there are 65 listings on eBay with prices starting around $5-8 each.
Late last year Smith and Rusch made a welcome announcement: after two decades, Pulphouse would be returning.
After twenty years, Pulphouse Fiction Magazine returns!

The first issue comes out in January 2018 and the magazine will be quarterly, with about 70,000 words of short fiction every issue.

We will be mixing some of the stories from the old Pulphouse days along with brand new fiction. For each story we will push the author information and be clear to the reader if the story is new or if a reprint, and where the story was originally published.

The magazine will have an attitude, as did the first run. No genre limitations, but high quality writing and strangeness…

Thanks,
Dean Wesley Smith and Kristine Kathryn Rusch
The first issue did in fact arrive in January, and is now available in both print and digital formats. And it looks fantastic.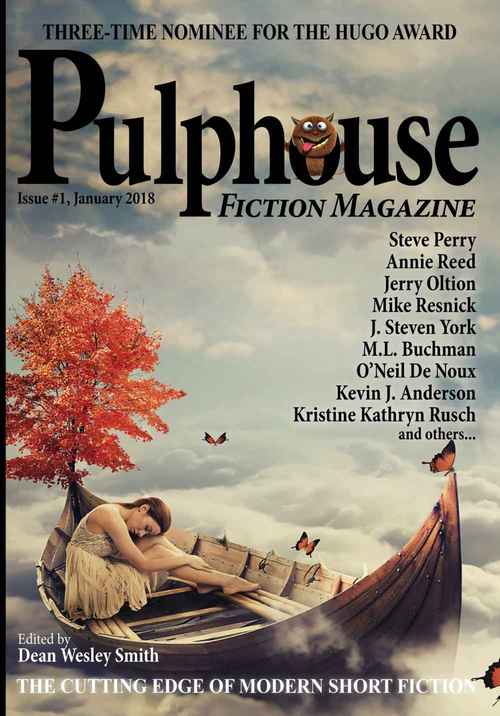 There are a few changes in the new format. It's not hardcover, for one thing, and the issues are no longer themed. Perhaps most strikingly, the editor this round is Dean Wesley Smith, rather than Rusch. Here's the complete TOC for the first issue.
"In the Empire of Underpants" by Robert T. Jeschonek
"Queen of the Mouse Riders" by Annie Reed
"Group" by Ray Vukcevich
"The Heart Has Reasons" by O'Neil De Noux
"Molten Souls" by Jerry Oltion
"The Sea Girl's Survival" by Valerie Brook
"Looking for the Bastard" by David H. Hendrickson
"The Reign to Come" by Kevin J. Anderson
"A Spud Full of Stars" by Kent Patterson
"Body Memory" by M. L. Buchman
"Catastrophe Baker Makes First Contact" by Mike Resnick
"Playing With Trains" by J. Steven York
"A Few Minutes in The Plantation Bar and Grill Outside Woodville, Mississippi" by Steve Perry
"At Witt's End: A Spade/Paladin Conundrum" by Kristine Kathryn Rusch
"Minions at Work 2.0: Roll Call" by J. Steven York
The cover artist is uncredited.
Pulphouse Fiction Magazine is edited by Dean Wesley Smith and published by WMG Publishing. Issues are 142 pages, priced at $7.99 for the print version and $4.99 for the digital version. Order copies directly from the website.
See all our recent magazine coverage here.