Birthday Reviews: Paul Preuss's "Rhea's Time"
Birthday Reviews: Paul Preuss's "Rhea's Time"
Cover by Wayne D. Barlowe
Paul Preuss was born on March 7, 1942. Mostly a novelist, he has published the Venus Prime series and stand-alone novels Human Error, The Gates of Heaven, and Core. His short fiction output is more scarce, consisting of three short stories and a published excerpt from his novel Starfire. His novel Secret Passages was a nominee for the 1998 John W. Campbell Memorial Award.
"Rhea's Time" originally appeared in The Ultimate Dinosaur, edited by Robert Silverberg and Byron Priess, which was heavily illustrated by Wayne D. Barlowe and included a mixture of science fiction and factual articles about dinosaurs. The story has not been reprinted outside The Ultimate Dinosaur, but the anthology has seen two editions following its first publication.
Although originally published in a collection about dinosaurs, there are no saurians in "Rhea's Time." Preuss relates, with almost clinical precision, the story of a woman who has been in a coma for nearly a year, since shortly after a skiing accident. He tells the story from the point of view of Doctor Rowan, who has inherited her case after her original doctor gave up on her.
Despite his patient being completely unresponsive, Roan discovers that she actually is moving, albeit extremely slowly. Rowan begins employing unorthodox methods to establish contact with the woman, who he calls "Rhea." Talking about her career as a biostratigrapher with her husband, Rowan is eventually able to come up with a rather intriguing explanation for what she's going through.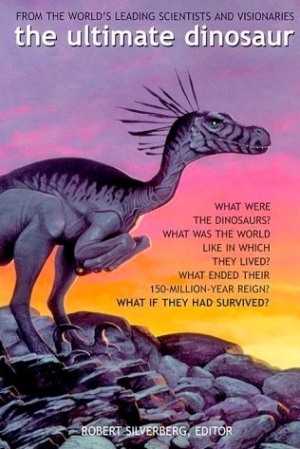 Cover by Wayne D. Barlowe
Preuss examines not only the science of geological evolution, but also the way scientists conceptualize it. Rhea made it clear to her husband that she felt that the idea of comparing geologic change to a period of a single year did a disservice to the complexity of the construct. Unfortunately, neither Rhea or Preuss offers a better alternative in the story while Preuss's resolution to Rhea's coma seems to argue in favor of the analog.
Reviewed in  its original publication in the anthology The Ultimate Dinosaur, edited by Robert Silverberg and Byron Preiss, Bantam Spectra, 1992.
Note: There will not be a Birthday Review on March 8.
---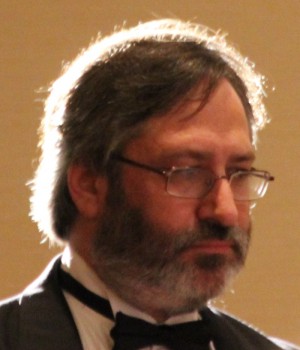 Steven H Silver is a fifteen-time Hugo Award nominee and was the publisher of the Hugo-nominated fanzine Argentus as well as the editor and publisher of ISFiC Press for 8 years. He has also edited books for DAW and NESFA Press. He began publishing short fiction in 2008 and his most recently published story is "Big White Men—Attack!" in Little Green Men—Attack! Steven has chaired the first Midwest Construction, Windycon three times, and the SFWA Nebula Conference 5 times, as well as serving as the Event Coordinator for SFWA. He was programming chair for Chicon 2000 and Vice Chair of Chicon 7. He has been the news editor for SF Site since 2002.