New Treasures: The Song of All by Tina LeCount Myers
New Treasures: The Song of All by Tina LeCount Myers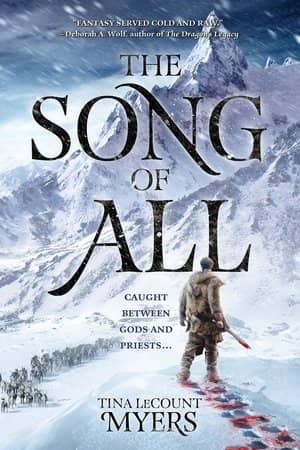 I can't keep up with all the new SF and fantasy released every month, no matter how I try. Fortunately I'm not alone — I'm part of the Black Gate community, and there's no more knowledgable or connected brotherhood (and sisterhood!) in the field.
Last month David B. Coe, author of "Night of Two Moons" in Black Gate 4, tipped me off to an exceptional debut fantasy novel, The Song of All by Tina LeCount Myers. Dave called it "A compulsively readable tale, steeped in mythology, suffused with magic, and beautifully realized. Highly recommended." That's good enough for me.
A former warrior caught between gods and priests must fight for the survival of his family in this dark epic fantasy debut, set in a harsh arctic world inspired by Scandinavian indigenous cultures.

On the forbidding fringes of the tundra, where years are marked by seasons of snow, humans war with immortals in the name of their shared gods. Irjan, a human warrior, is ruthless and lethal, a legend among the Brethren of Hunters. But even legends grow tired and disillusioned.

Scarred and weary of bloodshed, Irjan turns his back on his oath and his calling to hide away and live a peaceful life as a farmer, husband, and father. But his past is not so easily left behind. When an ambitious village priest conspires with the vengeful comrades Irjan has forsaken, the fragile peace in the Northlands of Davvieana is at stake.

His bloody past revealed, Irjan's present unravels as he faces an ultimatum: return to hunt the immortals or lose his child. But with his son's life hanging in the balance, as Irjan follows the tracks through the dark and desolate snow-covered forests, it is not death he searches for, but life.
The Song of All was published by Night Shade Books on February 20, 2018. It is 452 pages, priced at $25.99 in hardcover, and $14.99 for the trade paperback and digital editions. The cover artist is uncredited. It is the first volume of the series Legacy of the Heavens. Read an excerpt here.
See all of our recent New Treasures here.