New Treasures: Her Body and Other Parties by Carmen Maria Machado
New Treasures: Her Body and Other Parties by Carmen Maria Machado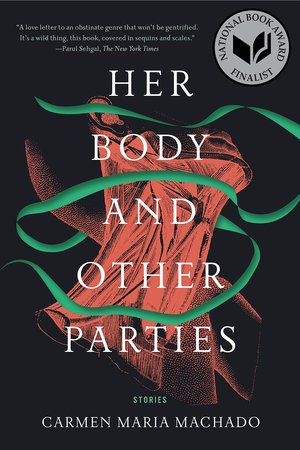 Carmen Maria Machado's short stories have appeared in Best American Science Fiction & Fantasy, Best Horror of the Year, Year's Best Weird Fiction, The Long List Anthology, The New Voices of Fantasy, Nebula Awards Showcase 2016, and magazines like The New Yorker, Granta, Tin House, and others.
But it was Jonathan Strahan and Gary K. Wolfe's excellent Coode Street Podcast that alerted to me the existence of her debut collection. Jonathan writes:
When… Her Body and Other Parties was shortlisted for the National Book Award it went to the top of everybody's "to read" piles. A smart, sensitive and thoughtful look at issues to do with sex, gender, violence and horror, it proved to be one of the very best books of 2017.
That's a pretty strong endorsement. I don't know about other folks, but the book sure shot to the top of my to read pile. Here's the description.
In Her Body and Other Parties, Carmen Maria Machado blithely demolishes the arbitrary borders between psychological realism and science fiction, comedy and horror, fantasy and fabulism. While her work has earned her comparisons to Karen Russell and Kelly Link, she has a voice that is all her own. In this electric and provocative debut, Machado bends genre to shape startling narratives that map the realities of women's lives and the violence visited upon their bodies.

A wife refuses her husband's entreaties to remove the green ribbon from around her neck. A woman recounts her sexual encounters as a plague slowly consumes humanity. A salesclerk in a mall makes a horrifying discovery within the seams of the store's prom dresses. One woman's surgery-induced weight loss results in an unwanted houseguest. And in the bravura novella "Especially Heinous," Machado reimagines every episode of Law & Order: Special Victims Unit, a show we naïvely assumed had shown it all, generating a phantasmagoric police procedural full of doppelgängers, ghosts, and girls with bells for eyes.

Earthy and otherworldly, antic and sexy, queer and caustic, comic and deadly serious, Her Body and Other Parties swings from horrific violence to the most exquisite sentiment. In their explosive originality, these stories enlarge the possibilities of contemporary fiction.
Her Body and Other Parties was published by Graywolf Press October 3, 2017. It is 248 pages, priced at $16 in trade paperback and $9.99 for the digital edition. The cover is by Kimberly Glyder Design.