Birthday Reviews: W.E.B. Du Bois's "Jesus Christ in Texas"
Birthday Reviews: W.E.B. Du Bois's "Jesus Christ in Texas"
W.E.B. (William Edward Burghardt) Du Bois was born on February 23, 1868 and died on August 27, 1963. He was the first black man to earn a doctorate from Harvard University and taught history, sociology, and economics.
Du Bois helped found the National Association for the Advancement of Colored People in 1909. Most of W.E.B. Du Bois's writings were sociological in nature, focusing on the plight of African-Americans. Throughout his career, he fought for equal rights for blacks and against lynchings and Jim Crow laws.
"Jesus Christ In Texas" was original published in Du Bois's collection Darkwater: Voices from the Veil in 1920. It has been reprinted numerous times since.
Two of Du Bois's stories have elements of the fantastic in them, including "Jesus in Texas." As told in the title, this story is about a visitation of Jesus to Texas. During his brief time, he sees black prisoners used on a chain gang, the whites who are benefiting from their labor, and a prisoner who has escaped.
Referred to throughout the story as "the stranger," with a skin tone that seemingly can changed based on the circumstances, children and the downtrodden appear to be able to recognize his divinity, if not his identity. A rector thinks he recognizes Jesus as someone he once knew, although Jesus denies their acquaintance. "Jesus Christ in Texas" is an indictment of the wage slavery that was used to keep blacks from achieving success, but it also shines a mirror on those who claim to worship Jesus without taking his lessons to heart.
Reprint reviewed in the anthology Dark Matter: Reading the Bones, edited by Sheree R. Thomas, Aspect/Warner Books, 2004.
---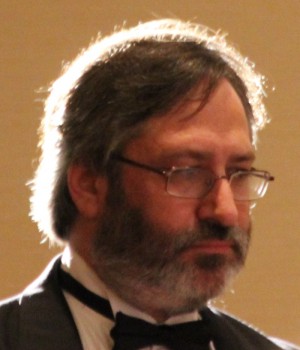 Steven H Silver is a fifteen-time Hugo Award nominee and was the publisher of the Hugo-nominated fanzine Argentus as well as the editor and publisher of ISFiC Press for 8 years. He has also edited books for DAW and NESFA Press. He began publishing short fiction in 2008 and his most recently published story is "Big White Men—Attack!" in Little Green Men—Attack! Steven has chaired the first Midwest Construction, Windycon three times, and the SFWA Nebula Conference 5 times, as well as serving as the Event Coordinator for SFWA. He was programming chair for Chicon 2000 and Vice Chair of Chicon 7. He has been the news editor for SF Site since 2002.