Vintage Treasures: The Long Way Home by Poul Anderson
Vintage Treasures: The Long Way Home by Poul Anderson
Cover by Michael Whelan
When Jim Baen left Ace to found Baen Books in 1983, he implemented a publishing strategy that served him well for decades: buying up the back catalog of popular authors and re-issuing them in visually similar covers that could be identified at a glance on crowded bookstore shelves. It was a strategy he learned while working under Tom Doherty at Ace Books from 1977-1980 (and refined under Doherty at Tor Book from 1980 – 1983).
While at Ace, Baen's genius was to marry popular authors that had substantial back catalogs — like Andre Norton, Gordon R. Dickson, and Keith Laumer — with brilliant new cover artists. For me the exemplar of this strategy was Poul Anderson's late 70s Ace editions, given new life by the striking world of a rising new artist named Michael Whelan.
When Richard Powers single-handedly remade science fiction art in the late 60s, it wasn't long before bookshelves were overrun with abstract art. SF paperbacks, once criticized for pulp-era sameness and tired spaceship motifs, now suffered from a very different but no less stifling form of sameness. Plenty of writers were victims of the "Powers revolution" in SF art in the 1960s, but I think Poul Anderson was more victimized than most. His colorful tales of science fiction adventure on far planets were sold to the public under abstract covers that told them nothing about what they were getting.
[Click the images for vaster and more mind-boggling versions.]
Richard Powers was not single-handedly responsible for all of this, of course. Except… well yeah, he was.
Poul Anderson paperbacks in the late 1960s. Covers by Powers
Now, I don't want to appear as if I'm critiquing Richard Powers. He arrived on the scene as SF art was stagnating, and his gorgeous artwork triggered a much-needed revitalization of the entire genre. I can't even critique Art Directors at publishing houses all that much… for nearly half a decade, the key to selling a science fiction paperback to the public was to slap a Powers cover on it. For many years he was the most in-demand artist in the field, and readers couldn't get enough.
Until, of course, they could.
Enter Ace Books and Jim Baen, who broke away from what had become the new established wisdom, and packaged SF adventure tales with artists that understood adventure. Here's a sample of Anderson's Ace covers, all by Michael Whelan.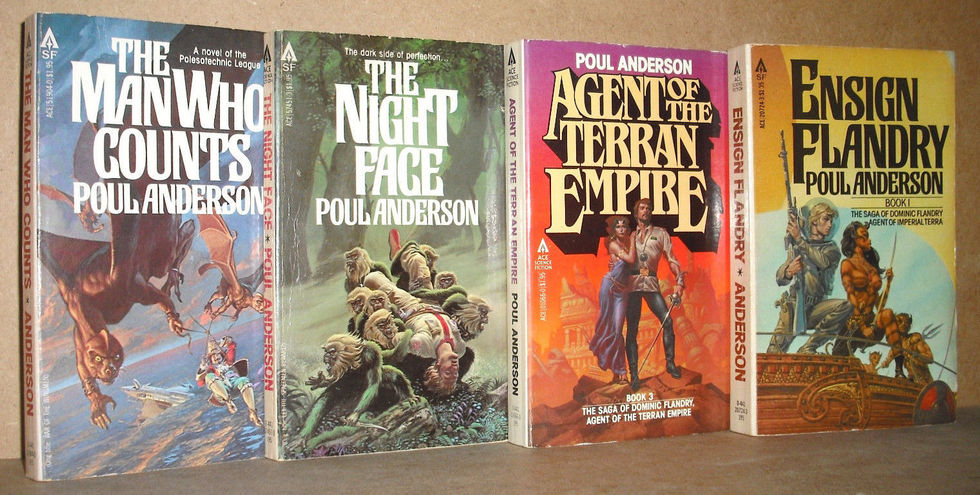 Poul Anderson paperbacks in the 1970s. Covers by Whelan
It was a brilliant move, and it introduced Poul Anderson (and Laumer, and Norton, and Dickson and many others) to an entirely new generation.
Certainly Anderson and Whelan deserve a much longer and more detailed survey of their fruitful Ace partnership. But today I want to focus on one particular title in the extensive set, The Long Way Home, originally serialized in four parts in Astounding Science Fiction in 1955, starting with the April issue.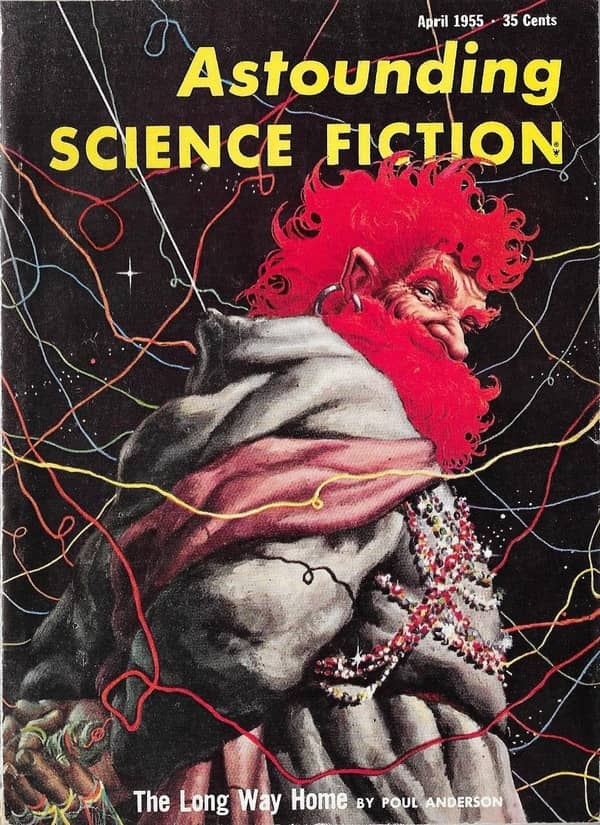 Cover by Kelly Freas
Here's the complete set, for the magazine collectors in the crowd.
The Long Way Home first saw paperback later that same year as part of Don Wollheim's Ace Double line, #D-110, under the title No World of Their Own, paired with Isaac Asimov's The 1,000 Year Plan (better known these days, of course, as Foundation).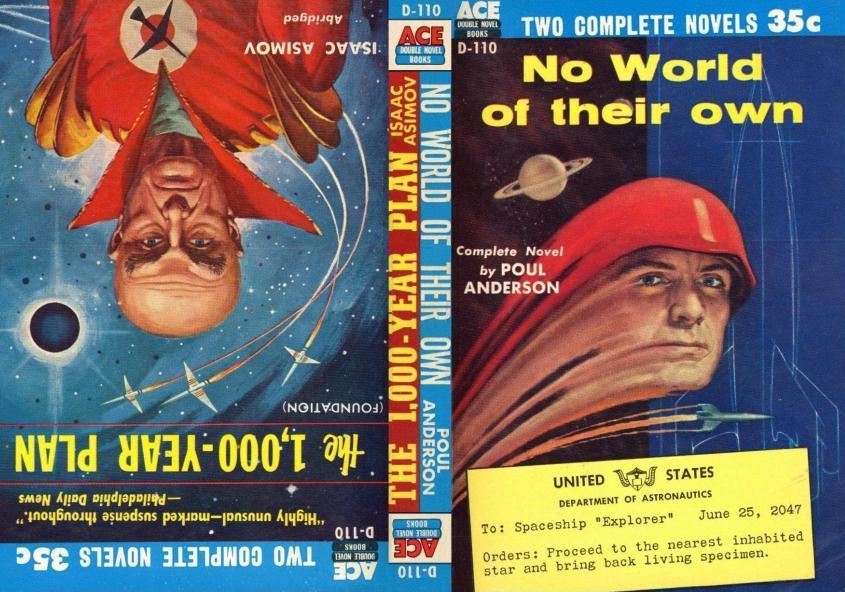 It was out of print for two decades before finally being reprinted in the UK in 1975 by Panther, who restored its original title.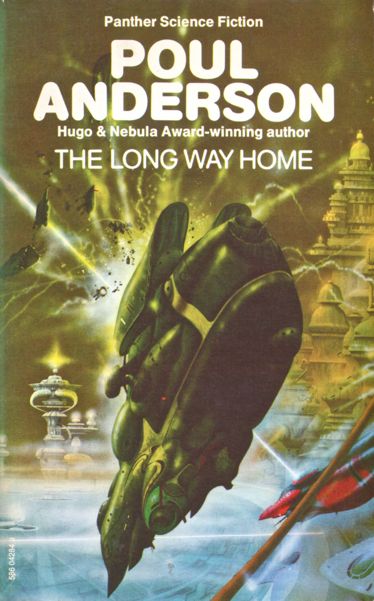 The Long Way Home is a standalone novel, not part of Anderson's famous Psychotechnic League future history, Dominic Flandry, or Technic History novels, and I think it makes a fine intro to his work.
The Long Way Home was published by Ace Books on February 1, 1978. It is 245 pages, priced at $1.95. The cover is by Michael Whelan. It has been out of print in the US since 1981, but Open Road Media published a digital edition in 2015.
Our previous coverage of Poul Anderson includes dozens of articles. Here they are.
See all our recent Vintage Treasures here.