New Treasures: Looming Low edited by Justin Steele and Sam Cowan
New Treasures: Looming Low edited by Justin Steele and Sam Cowan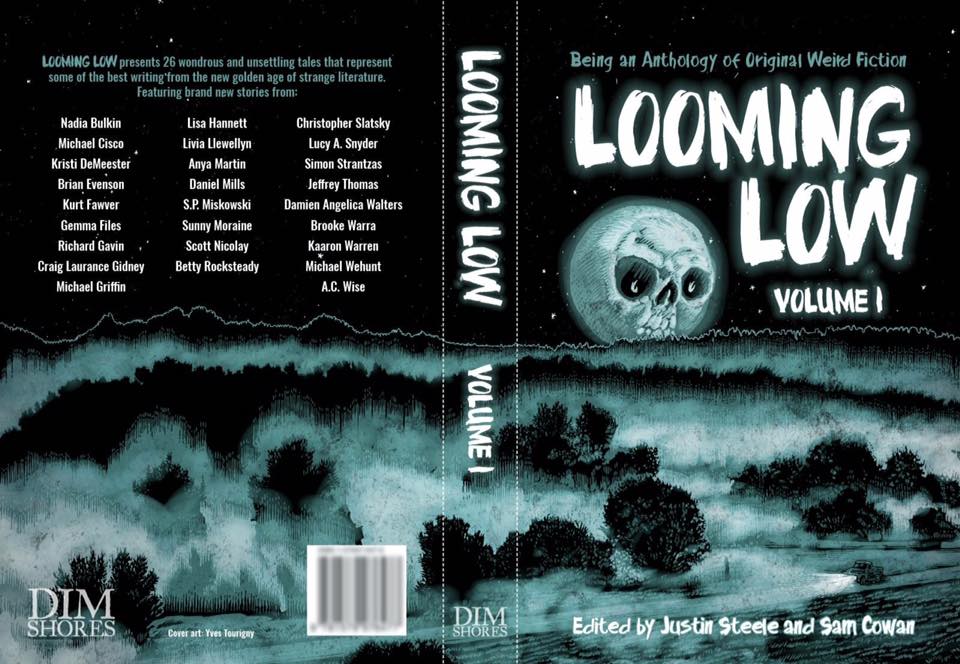 Looming Low is my favorite kind of anthology. Highly acclaimed (Ginger Nuts of Horror calls it "Truly a wonderful gathering of the freshest voices in weird fiction," and This Is Horror says" There is a palpable sense of unsettling dread woven throughout… [it] boasts almost every type of weird one can imagine") and packed with both big names — including Michael Cisco, Brian Evenson, Gemma Files, Sunny Moraine, Scott Nicolay, Lucy Snyder, Simon Strantzas, Damien Angelica Walters, Michael Wehunt, and A.C. Wise — and fast-rising stars.
In a case like Looming Low, a hearty collection of over 300 pages, I'm just as eager to read the new authors as my old favorites. This is the kind of book that can introduce you to half a dozen new writers whose careers you could follow for decades.
Here's a look at the complete Table of Contents.
Nadia Bulkin — "Live Through This"
Michael Cisco — "Rock n' Roll Death Squad"
Kristi DeMeester — "The Small Deaths of Skin and Plastic"
Brian Evenson — "The Second Door"
Kurt Fawver — "The Convexity of Our Youth"
Gemma Files — "Distant Dark Places"
Richard Gavin — "Banishments"
Craig Laurance Gidney — "Mirror Bias"
Michael Griffin — "The Sound of Black Dissects the Sun"
Lisa Hannett — "Outside, a Drifter"
Livia Llewellyn — "The Gin House"
Anya Martin — "Boisea trivittata"
Daniel Mills — "The Christiansen Deaths"
S.P. Miskowski — "Alligator Point"
Sunny Moraine — "We Grope Together, and Avoid Speech"
Scott Nicolay — "When the Blue Sky Breaks"
Betty Rocksteady — "Dusk Urchin"
Christopher Slatsky — "SPARAGMOS"
Lucy Snyder — "That Which Does Not Kill You"
Simon Strantzas — "Doused by Night"
Jeffrey Thomas — "Stranger in the House"
Damien Angelica Walters — "This Unquiet Space"
Brooke Warra — "Heirloom"
Kaaron Warren — "We Are All Bone Inside"
Michael Wehunt — "In Canada"
A.C. Wise — "The Stories We Tell About Ghosts"
Looming Low was published by Dim Shores on August 18, 2017. It is 340 pages, priced at $18 in trade paperback and $4.99 for the digital edition. The cover is by Yves Tourigny. Order directly from Dim Shores here.
See all of our recent New Treasures here.