Birthday Review: Yevgeny Zamyatin's "The Cave"
Birthday Review: Yevgeny Zamyatin's "The Cave"
Cover by Russell Fitzgerald
Yevgeny Zamyatin (originally Евгений Замятин) was born in Levedyan, Russia on February 1, 1884. He was an early supporter of the Bolshevik Party, joining them before the Russian Revolution of 1917, but he grew disillusioned with their policies following the October Revolution. In 1921 he wrote the essay "I Am Afraid" and also published his major science fiction novel, We (Мы), which became the first work of fiction banned by the Goskomizdat, the Soviet censorship bureau.
The novel was first published in English in 1924 and received a Prometheus Hall of Fame Award in 1994. In 1931, Zamyatin appealed to Joseph Stalin, the General Secretary of the Communist Party and was granted permission to emigrate to Paris, where he died in poverty from an heart attack on March 10, 1937.
Zamyatin's story "The Cave" ("Пещера") was originally published in Russian in 1922, and reprinted in English in the February 1969 issue of The Magazine of Fantasy and Science Fiction. In Russian the work was seen as focusing attention on the everyday man when they were still trying to establish the Communist State. The story was also seen as a direct challenge to the ideals of the Revolution which Zamyatin has supported only five years before.
Zamyatin's "The Cave" is less a story with a plot as it is a thought experiment with characters. Martin Martinych and his wife, Masha, are living in a perfect Communist society with the exception that it appears to be set in a post apocalyptic world. Martin and Masha are living with life's necessities, but rather than being in a nice apartment, they are living in a series of caves, set up as apartments, with their downstairs neighbor, Obertyshev and their landlord, Alexey Ivanych.
As Masha is waiting to celebrate her birthday, Martin is trying to find fuel to burn in the "cast-iron god," the stove that heats their cave, as a way of celebrating the day. Unable to find any wood, Martin reaches out to his neighbor, his comrade, Obertyshev, who, complaining of theft, refuses the wood to Martin, who in turn steals a few pieces to heat his cave in honor of his wife's birthday. As they enjoy the warmth, a visit from Alexey warns Martin that his theft was discovered and unless he returns the wood, including the wood that has already been consumed by flames, he'll face punishment.
"The Cave" is an indictment of the Communist system. When Martin attempts to put into effect Marx's dictum "from each according to his ability, to each according to his need," Obertyshev refuses to share with him and the authorities clearly are supportive of the ownership Obertyshev claims. From the very beginning of the story, Zamyatin paints a portrait of a bleak, cold landscape, and in the end, he makes it clear that it is also a bleak, cold society in which Masha and Martin live, only able to rely on each other, and even then their reliance doesn't point to strength, but rather to two weak people clinging to whatever they can.
Reprint reviewed in The Magazine of Fantasy and Science Fiction, translated by Mirra Ginsbuerg, February 1969, edited by Edward L. Ferman.
---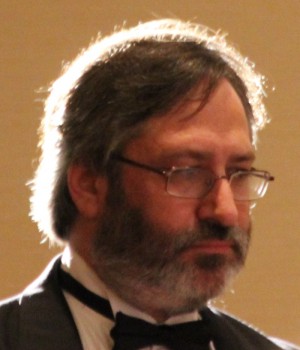 Steven H Silver is a fifteen-time Hugo Award nominee and was the publisher of the Hugo-nominated fanzine Argentus as well as the editor and publisher of ISFiC Press for 8 years. He has also edited books for DAW and NESFA Press. He began publishing short fiction in 2008 and his most recently published story is "Big White Men—Attack!" in Little Green Men—Attack! Steven has chaired the first Midwest Construction, Windycon three times, and the SFWA Nebula Conference 5 times as well as serving as the Event Coordinator for SFWA. He was programming chair for Chicon 2000 and Vice Chair of Chicon 7. He has been the news editor for SF Site since 2002.