GOING BIG! Super Sized Marvel Treasury Editions
GOING BIG! Super Sized Marvel Treasury Editions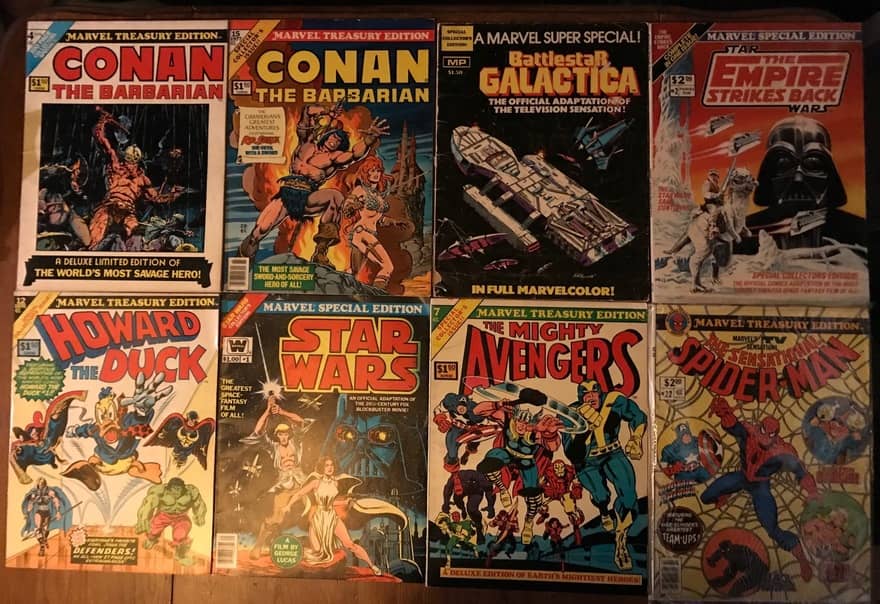 Ex-size-ior! Few things give me an exhilarating rush of childhood more than a Marvel Treasury Edition.
I see one and suddenly I'm five years old again, sprawled on the shag carpet by the bedroom door when I'm supposed to be asleep, that ginormous comic book spread out in front of me like a Life Magazine, surreptitiously turning the newsprint pages and delving into the four-color wonders of Spider-Man fighting a guy with a stegosaurus head or the Avengers flying across the sky to do battle with various nemeses or Conan hewing villains to rescue a curvaceous damsel.
Popular in the 1970s, Treasury Editions were mostly just reprints on Super Growth Hormone. They were, in a way, precursors to graphic novels: Each edition collected three or four comics from a series, sometimes with some new material thrown in.
Measuring 10" by 13", they were striking. Part of the appeal to a younger reader would be the pictures are all bigger and more easily digested. I remember "reading" them before I could really read.
[Click the images for Nick-sized versions.]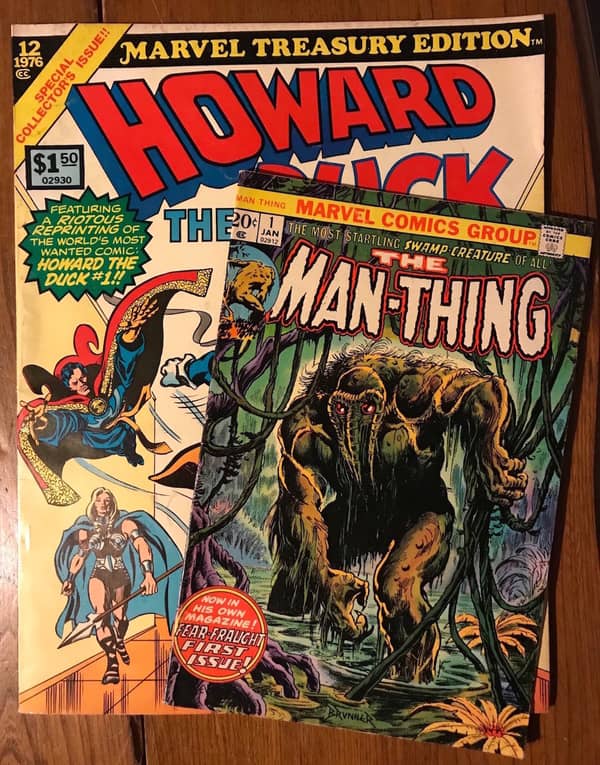 Marvel Treasury Edition Howard the Duck compared to normal sized Man-Thing
Now, as an adult fan, I have a new appreciation for their size: They are much closer to the scale of the original art. (Comic art is always shrunk down. The art you see in a standard-sized comic book is only about half the size of the original, which is typically drawn on 11" by 17" Bristol board.) So you see a lot more of the detail of the Buscemas (John and Sal) and Jack Kirby and John Romita and many of the other great Marvel Bullpen artists of that era. You're seeing the pages very closely to what they look like before they are sized down and sent to press. Because there's so much more interest in the art these days, I'm kind of surprised the format hasn't made a comeback.
About fifteen years ago you could still get them for next to nothing, but in recent years their collectability has really taken off. The Holy Grail is the 1978 DC Treasury Edition of Superman Versus Muhammad Ali. A copy of that in very fine condition goes for anywhere from $200 to $500.
(Quick story: When we were kids, my Nan would take my cousins and me to a store called Pic 'n Save, one of those outlets that sells clearance and overstock items. I found so many treasures there, but one I passed up was the Superman Versus Muhammad Ali Treasury Edition. They had maybe 20 overstock copies of it on the shelf for less than a buck apiece. Wish I could go back and tell my 8-year-old self, "Convince your Nan to BUY ALL OF THEM, and ask if they have any more in the back! Then take 'em home and put 'em away for about 40 years.")
More mundane titles like the ones in my collection can still be found for under $10 for battered reading copies. Pristine issues suitable for collecting can go for many times that. Don't pass them up if you get your hands on one! I don't see these ever going down in value, and my sage prediction is that their desirability will continue to get BIGGER. 'Nuff said.