In 500 Words or Less: From a Certain Point of View (Del Rey Books)
In 500 Words or Less: From a Certain Point of View (Del Rey Books)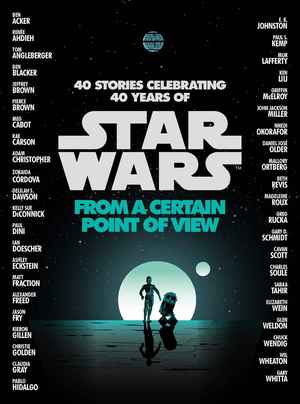 From a Certain Point of View
By Various Authors
Del Rey (400 pages, $35.00 hardcover, $14.99 eBook, October 2017)
I'm a massive Star Wars fan and grew up loving the Expanded Universe novels. My first exposures to writing greatness were people like Timothy Zahn, Christie Golden, and Kevin J. Anderson. When Disney announced that the Expanded Universe wasn't canon anymore, I was pissed like a lot of people, and as much as I've enjoyed the new films, I couldn't bring myself to read any of the new fiction.
Is that petty and stupid? Probably, especially when you consider the caliber of writers who are being brought on to write the new EU. And that if I'm ever at a career level to be offered a spot in that canon, I'll probably take the deal.
So I finally shook off my old-timey stubbornness and bought a copy of the new anthology From a Certain Point of View. Big surprise: I have mixed feelings about it.
On the one hand, there are some amazing stories here. "Master and Apprentice" by Claudia Gray shows the ghost of Qui-Gon Jinn visiting Obi-Wan Kenobi before he takes Luke to Mos Eisley, and it's touching and tragic because Qui-Gon knows what's about to happen to his former apprentice. Wil Wheaton reminds us about the sacrifices of the average rebel in "Laina," and Nnedi Okorafor brings us into the mind of the Death Star's dianoga in "The Baptist." There's a great combination of writers, including a few Star Wars veterans (Christie Golden among them) and the likes of Ben Blacker, Mur Lafferty, Chuck Wendig, and more.
The problem is I'm looking at my weathered copy of Tales from the Mos Eisley Cantina, and I can still vividly remember the stories in that collection. I can see Greedo fleeing with his family from Navik the Red, ending up a street kid on Nar Shaddaa and then hoping to make a name for himself by collecting the bounty on Han Solo.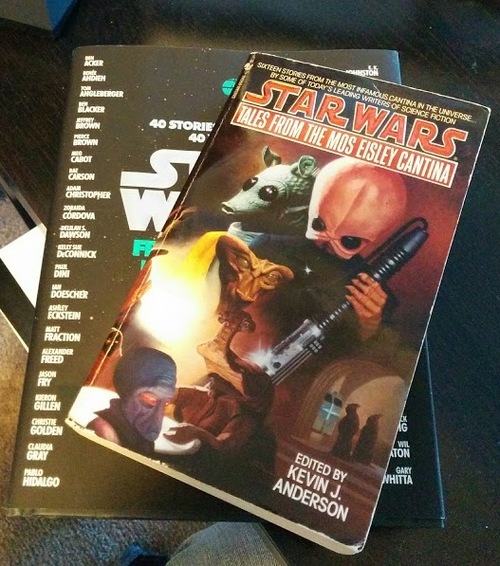 Why Han? Because in Shug Ninx's repair shop on Nar Shaddaa, Han made him feel like a kid, and that still rankles the poor Rodian to the point that he takes a stupid risk and gets himself killed. (No joke, I pulled those details out of my head while writing this post, and then double-checked them. No errors.)
The story of Greedo I know was told by Tom and Martha Veitch in 1995, and I can't enjoy the story Renee Ahdieh presents in "The Luckless Rodian." Or any others that feature characters I already know.
I also fully recognize that it's unfair to discount these stories because of that, especially since no one got paid for these stories, and the money from sales goes to charity. Point of View wasn't put together for me. It was put together for my students' generation, so they can fall in love with Star Wars like I did, and in a couple decades I'll be meeting younger writers who got their start reading it.
At the end of the day, inspiring people is part of what Star Wars is about, so I'll just accept that at 28 I'm capable of being an old fossil, and let the kids have their fun.
---
An Ottawa teacher by day, Brandon has been published in On Spec, Third Flatiron Anthologies, and elsewhere. His latest short story, "Moments," can be read for free on Daily Science Fiction. Learn more at brandoncrilly.wordpress.com or on Twitter: @B_Crilly