Don't Mess with Mary: P.L Travers' Mary Poppins
Don't Mess with Mary: P.L Travers' Mary Poppins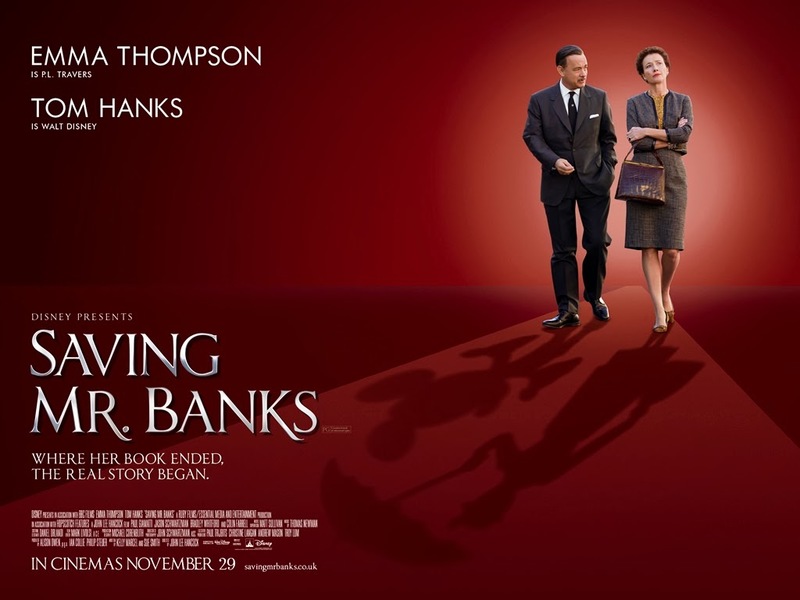 Saving Mr. Banks (2013)
I don't know what this year's big Christmas movie will be, but a few years ago, the unavoidable holiday hit that was in every theater was Disney's Saving Mr. Banks, which told the heartwarming story of how Walt Disney (Tom Hanks) pulled out all the stops in persuading Patricia L. Travers (Emma Thompson) to permit him to make a movie featuring her creation, Mary Poppins. I didn't see the movie, though from everything I heard it was both a thoroughly professional entertainment and a disgraceful whitewash of the events it purports to dramatize. (If you haven't seen Harlan Ellison's hilarious takedown of the film, it's ready and waiting on YouTube, anytime you can make sure that the children are safely out of the house.)
Travers always regretted the necessity of giving in to Disney, but necessity it was; she badly needed the money, and Walt knew it. Considering the circumstances, she drove as hard a bargain as she could, fighting tirelessly to preserve the essence of her creation, even as she knew that she was doomed to fail, as fail she did.
Nevertheless, the movie that resulted from Walt's blandishments, 1964's Mary Poppins, is reckoned one of Disney's greatest accomplishments, both artistically and commercially, winning five Oscars (including a best actress statuette for Julie Andrews' portrayal of Mary) and grossing close to one hundred million dollars on a six million dollar budget. When Walt was right, he was right.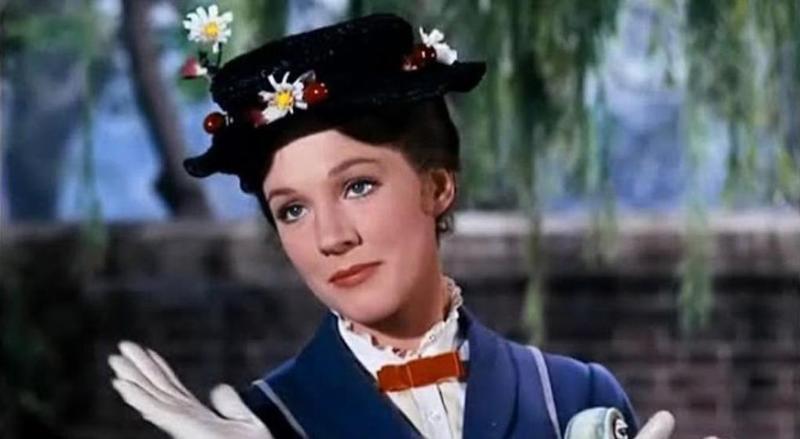 Julie Andrews as Mary Poppins
Though it was released when I was smack in the middle of the targeted age range, I was one kindergartener who passed on Mary Poppins (I think I saw Who's Afraid of Virginia Woolf instead). In fact, I never saw the movie until decades later when I had children of my own. I must admit that despite many enjoyable moments, I found the film as a whole a little hard to take.
The mild flap caused by the gap between truth and fiction in Saving Mr. Banks (Harlan Ellison wasn't the only one to smell a mouse… er, rat) sparked my curiosity and persuaded me to take a dip into P.L Travers' actual books. The first of her eight novels featuring the magical nanny, Mary Poppins, was published in 1934, when the stories could still reasonably be set in the cozy Edwardian universe that the First World War had shattered (but not completely eradicated, as Mary Poppins itself attests) and the last, Mary Poppins and the House Next Door, appeared in 1988, a mere three years before the advent of the internet.
Poster for Mary Poppins (1964)
Any series that can hold the field for over half a century — and what a half century! — must have something going for it. Also, it's always interesting to see just how different a beloved source and its equally beloved adaptation can be. Mary Poppins was well worth reading on both counts, even — or especially — for an adult.
Brisk is the word that best describes P.L Travers' attitude and the style that embodies it. Mary Poppins begins when Mary comes in with the east wind one day, to work as a nanny for the Banks family until, as she says, "the wind changes," and when it does, she raises her umbrella and floats away without a word of goodbye. In between, the resolutely middle-class Banks children have some interesting experiences.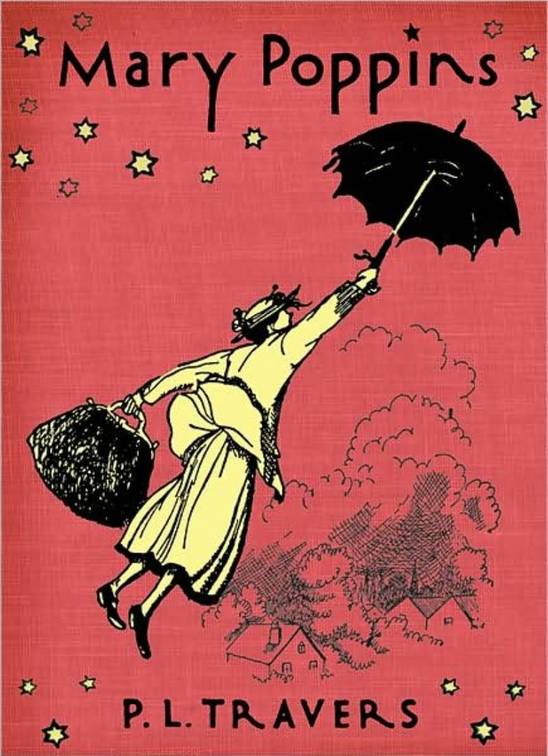 Mary Poppins (Harcourt, 1981)
They visit Mary's Uncle, Mr. Wigg, and have tea with him while floating in the air near the ceiling. They use Mary Poppins' compass to travel to the four corners of the world and have conversations with polar bears, pandas, and dolphins.
They visit Mrs. Cory, who makes gingerbread, and who seems to have been around for a long, long time — since before the world was made, in fact; later they see Mrs. Cory and her two daughters (along with Mary Poppins) hanging new stars in the sky. (The Mrs. Cory episodes were by far the best things in the book — they gave me the kind of awe-struck shiver that only the best mythopoeic stories can produce.)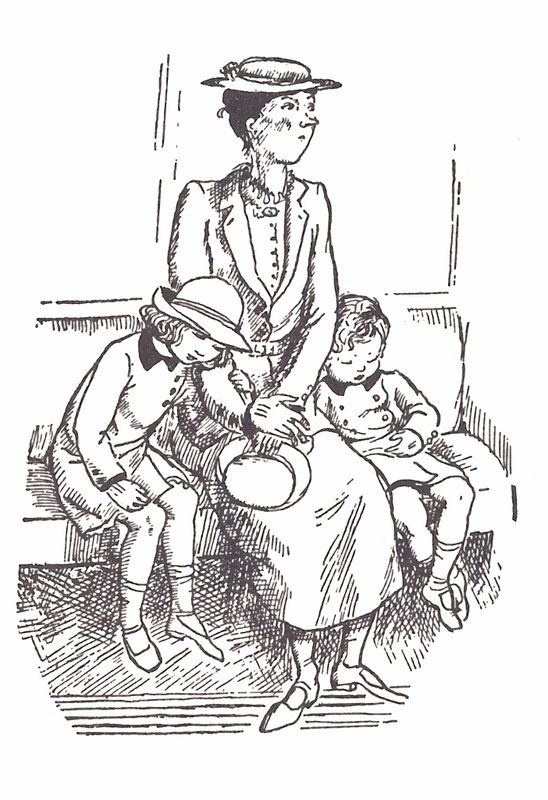 Mary Poppins by Mary Shepard
The children visit the zoo long after closing time, when the animals are in charge and the people are all in cages, and the creatures dance a ring around Mary Poppins, whom they all revere (and Mary takes such reverence as no less than her due — she's quite a vain lady); they are in fact celebrating her birthday. While out Christmas shopping, they meet Maia, a star come down from the sky to get presents for her sisters, the Pleiades.
This is without even mentioning the day that Mary spends strolling around in a picture that her friend Bert drew, or detailing the conversations that Mary has with the local birds and dogs (she understands their language perfectly). Some of these incidents may be familiar from the Disney movie, but pleasant as the film is, it misses the mark completely in conveying the feel of the book or in portraying Mary's character. Julie Andrews was a fine actress and a wonderful singer, but underneath it all, you never doubt for a moment her fundamental niceness; the hard-edged Mary Poppins of the book would have laid poor Julie low with one withering look.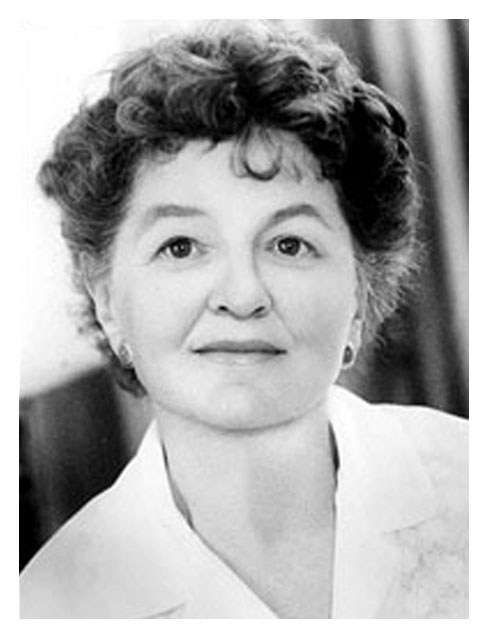 P.L. Travers
Unlike the Disney version, the Mary Poppins that P.L. Travers created is not in any way a safe or tractable character, and though we know that Mary is good, that's a very different thing from being nice. Travers' nanny can actually be rather frightening, but this is hardly a fault in either the book or the character. (There's more than a touch of the pagan nature goddess about Mary, and though this combination of strangeness and wildness with goodness gives her some affinity with C.S. Lewis' Aslan, the whole feel of Mary Poppins is much more pagan than Christian.)
In fact, I was inestimably relieved to find how few moments of softness or sentimentality there are in the story. Mary does her duty by her charges but one feels that she doesn't like them overmuch; despite her close connections to the fabulous, when it comes to children Mary Poppins is a realist, and she knows that it simply won't do to get all mushy over such unformed and transient creatures. In what is ostensibly a children's book, this absence of what Mary would undoubtedly snappishly dismiss as "treacle" is quite refreshing, and the novel's Wink and Twinkle quotient is mercifully far lower than that of the movie.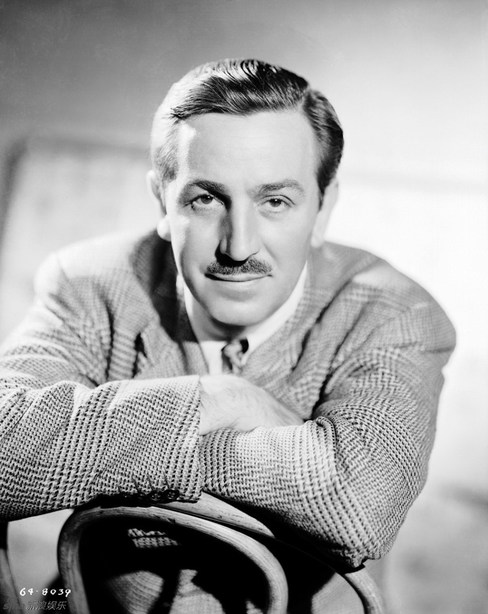 Walt Disney
Disney's film, successful as it is, leaves an impression of boisterousness well marinated in the aforementioned treacle (Boisterous and Treacle… sounds like a Dickensian law firm), but Travers' novel has many moments of stillness, a stillness that approaches a kind of reverence for the mystery of this inexplicable world, and it is in those quieter moments that we draw closest to the fantastic.
No one can doubt that Walt Disney knew what made for good box office, but in any dispute other than a crude economic one, P.L. Travers must be declared the winner. Walt could conjure money out of thin air like a veritable sorcerer's apprentice, but Patricia knew where a more valuable thing came from — real magic, and that is something her Mary Poppins has in abundance.
---
Thomas Parker is a native Southern Californian and a lifelong science fiction, fantasy, and mystery fan. When not corrupting the next generation as a fourth grade teacher, he collects Roger Corman movies, Silver Age comic books, Ace doubles, and despairing looks from his wife. His last article for us was I Was Paper Trained by Philip K. Dick.