Unify England During the Hundred Years War in Lancaster from Queen Games
Unify England During the Hundred Years War in Lancaster from Queen Games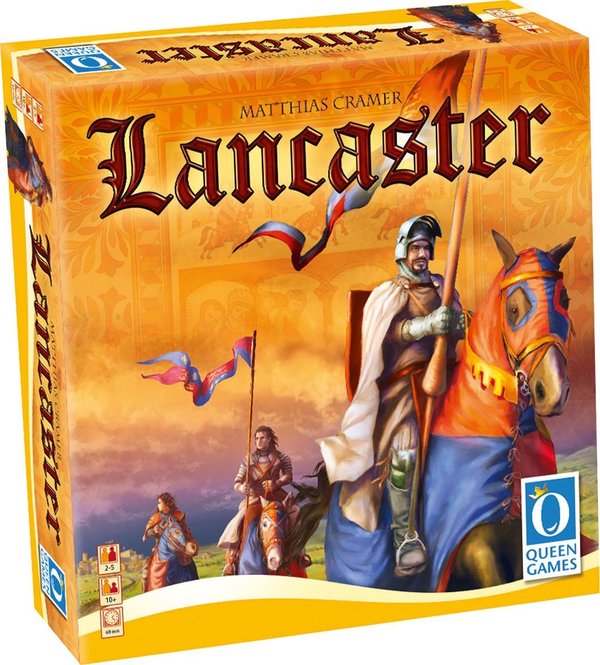 If you're like me, maybe you've been watching Games of Thrones and it's spurred an interest in its historical analog, the 15th Century English civil war between the houses Lancaster and York. Or maybe you've found yourself yearning to conquer a kingdom of your own. Or maybe you're just curious about all these deep discount Queen Games at Amazon for the past month.
Any (or all) of these things could have brought you to discover Lancaster, the acclaimed board game of kingmaking in 15th Century England. Here's a snippet of the review at The Opinionated Gamers.
Lancaster proves that [designer Matthias] Cramer is anything but a one-hit wonder… Lancaster is a quasi-Worker Placement game set in 15th Century England. Despite the title, it doesn't deal with the War of the Roses, but at the beginning of the reign of Henry V, of the House of Lancaster, 40 years earlier. That places the action smack in the middle of the Hundred Years' War and, in fact, the players can take an active role in Henry's successful campaigns against the French…

It only takes a little exposure to Lancaster to realize that this is a very professional, polished design. There seems to be a lot of moving parts, but it all hangs together very nicely. The game plays smoothly, with plenty of interaction, but not so much as to make it overly nasty… Lancaster is a gamer's game, but I think it could also work well for the more casual gamer who is looking for a greater challenge than gateway fare. I think the SdJ jury pegged it correctly when they nominated the game for the Kennerspiel award.
[Click the images for bigger versions.]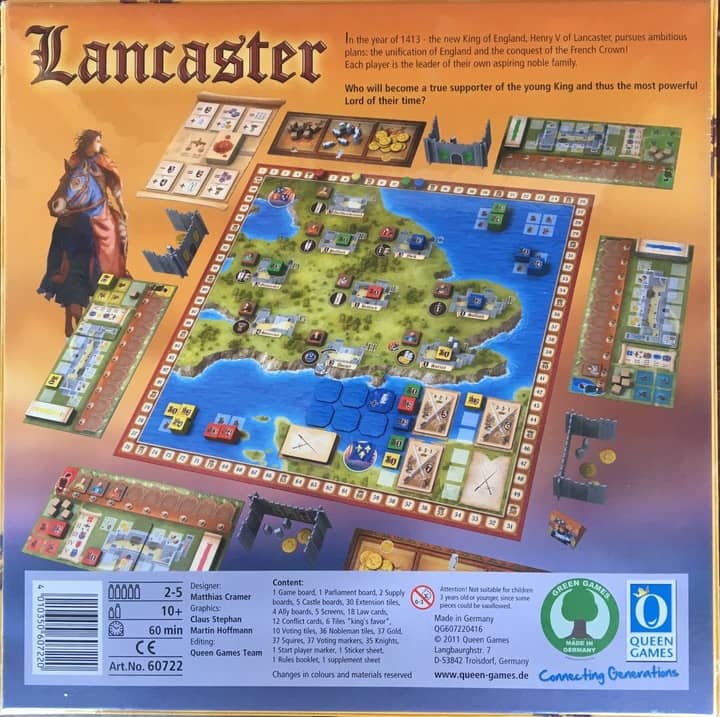 I"m a sucker for games with top-notch components, and Lancaster certainly qualifies. As The Opinionated Gamers put it, it has "Components Fit for a Queen."
I'm glad it wound up at Queen, who gave this game the components it deserves. The board is nicely illustrated, with the nine counties superimposed on a map of England; space is provided as well for the conflicts and the player reserves. The knights are wooden and chunky and, in a very nice touch, the stronger the knight, the greater the height of its piece! The player boards lay out all of their information clearly. In fact, all of the iconography in the game is clear and easily understood. In another bit of appreciated overproduction, the player shields, which hide the squires and gold, are 3D castles. All of the pieces are either wood or sturdy cardboard. To show the lengths that Queen went to make this production top notch, they not only provided a board to store the supply of gold, squires, and voting cubes, but gave us two of them, so that each side of the table can have their own supply! That, my friends, is going above and beyond. Artists Martin Hoffman and Claus Stephan did a terrific job in making this game look great and be easy to play.
All laid it, this is a gorgeous and enticing game.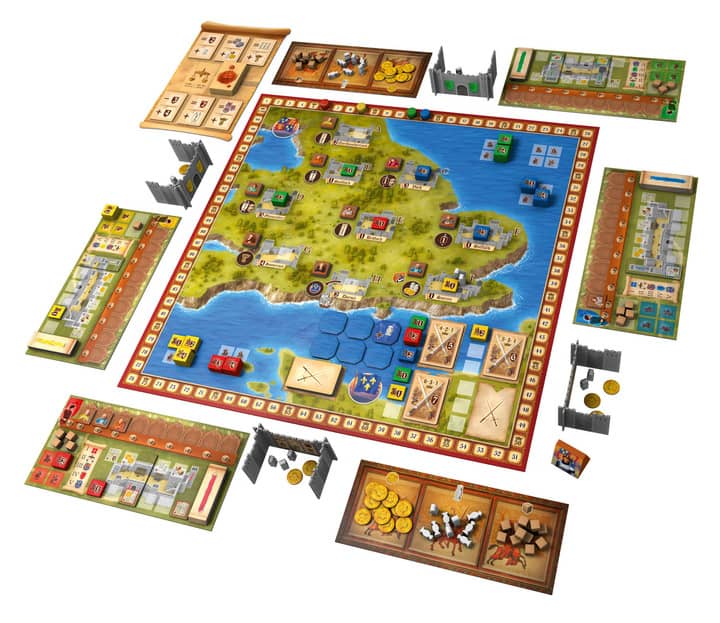 Here's a closer look at the board.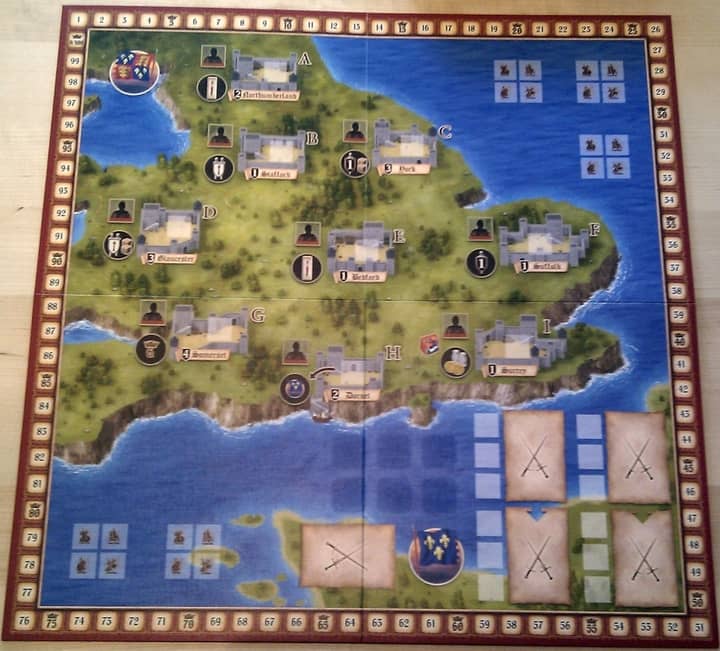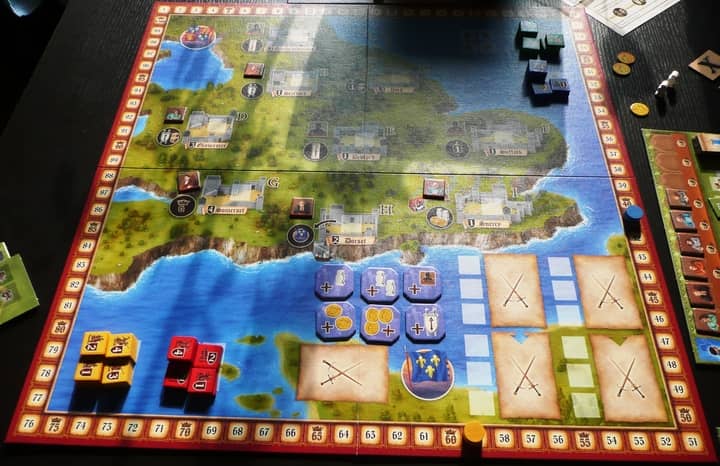 And all the supplemental components.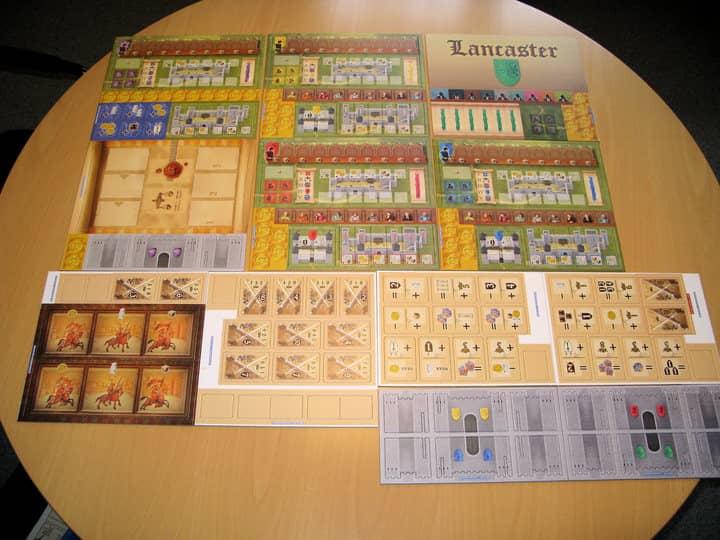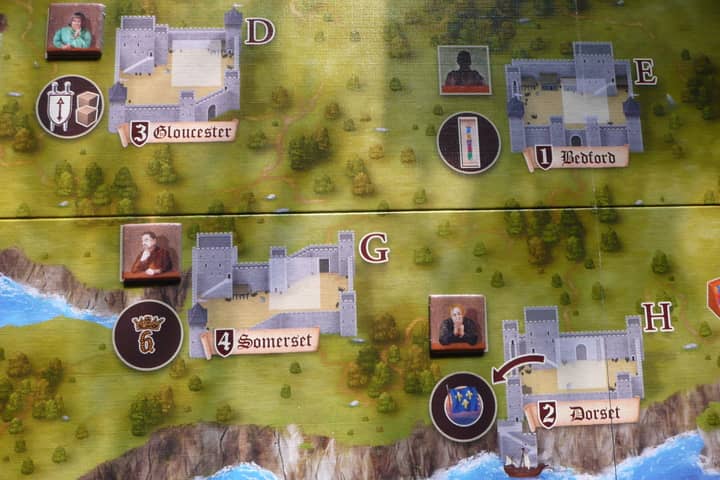 Something else I found enticing: the price. I'm not sure why, but Amazon has had a host of Queen Games at liquidation prices (80% off or more) for the past month. They typically retail for $40-$60, but I've purchased a over half dozen in the last week for $8-$15, including:
Castelli — Strategy in Medieval Italy ($12.36)
London Markets — Merchant trading in Victorian London ($8.75)
Orcs Orcs Orcs — Deck-building & tower defense at the Orc Squash Tournamnt ($7.60)
Templars' Journey — Strategy game of recruiting knights for the crusades ($14.77)
Dragon Valley — Dexterity game of a magical dragon race ($8.61)
Worm Party— family game with a mini puppet theater ($5.94)
Lancaster — Kingmaking in the Hundred Years War ($13.86)
These prices come and go, so keep an eye on them if you're interested. There are several others (such as Parfum, Batavia, Queen's Architect, Mighty Monsters, Banana Party, Spooky Castle, and Super-Vampires) that are deeply discounted as well.
See all of our recent game coverage here.