Nothing Gets Belly Laughs Like Cthulhu: The Cackle of Cthulhu, edited by Alex Shvartsman
Nothing Gets Belly Laughs Like Cthulhu: The Cackle of Cthulhu, edited by Alex Shvartsman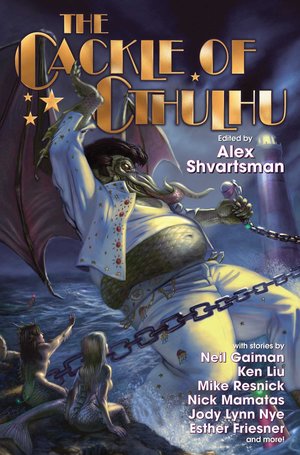 Alex Shvartsman is best known for his Unidentified Funny Objects annual anthology series from UFO Publishing, and his recent humorous anthologies Funny Horror, Funny Fantasy and Funny Science Fiction. He's also a noted short story writer, and his first collection, Explaining Cthulhu to Grandma and Other Stories, was released in 2015.
It seems inevitable that he would combine his love of Lovecraftian horror with his passion for humorous short fiction. His first book for Baen, The Cackle of Cthulhu, is an anthology of Lovecraftian humor coming in January 2018.
Knock, knock!
Who's there?
Cthul.
Cthul who?
Exactly! I've come to tickle your funnybone.
Oh, and also to eat your soul.

In 1928, Weird Tales debuted "The Call of Cthulhu" by H.P. Lovecraft, and the Cthulhu Mythos was born. In the 90 years since, dozens of writers have dared play within HPL's mind-blowing creation — but never with such terrifyingly funny results. Now top authors lampoon, parody, and subvert Lovecraft's Mythos. See Cthulhu cut short his nap at the bottom of the Pacific Ocean to invade North Korea! Watch the Unspeakable Eater of Souls solve crimes on the pulpy streets of Innsmouth! And speaking of largish Elder Gods, listen to a plastic Elvis doll dispense folksy advice straight from the heart of the Emperor of Dread! Again Ol' Tentacle-Face is confronted by frail humans who dare defy the Incarnation of Ultimate Evil — but this time not by brave monster hunters and terrified villagers, but by fan fiction writers, clueless college students, and corporate lawyers (okay, we realize it's hard to know who to root for in that confrontation).

Twenty-three mirthful manifestations within the Cthulhu Mythos from best-selling and award-winning authors Neil Gaiman, Mike Resnick, Esther Friesner, Ken Liu, Jody Lynn Nye, Laura Resnick, Nick Mamatas, and many more!

Guaranteed to leave you howling. Because if you look at it just right, there's nothing funnier than a soul writhing in cosmic horror before a tentacled maw of malevolence. As HPL himself saith: "From even the greatest of horrors irony is seldom absent."
The Cackle of Cthulhu is a mix of original fiction and reprints, it includes some of the best known examples of Lovecraftian mirth, including "The Shunned Trailer" by Esther Friesner (from Asimov's SF, February 2000, and adapted as a podcast at Escape Pod here), and Neil Gaiman's "Shoggoth's Old Peculiar," originally published in Mike Ashley's The Mammoth Book of Comic Fantasy in 1998 (and discussed at Tor.com here, and read by Neil Gaiman here.)
The Cackle of Cthulhu will include the following stories:
"The Shunned Trailer" by Esther Friesner
"The Captain in Yellow" by David Vaughan
"My Little Old One" by Jody Lynn Nye
"Tales of a Fourth Grade Shoggoth" by Kevin Wetmore
"Friday Night at Brazee's" by Mike Resnick
"To Whatever" by Shaenon K. Garrity
"The Doom that Came to Providence" by Brian Trent
"Explaining Cthulhu to Grandma" by Alex Shvartsman
"The Call of the Pancake Factory" by Ken Liu
"The Innsmouth of the South" by Rachael K. Jones
"WWRD" by Yvonne Navarro
"In the Employee Manual of Madness" by G. Scott Huggins
"Shoggoth's Old Peculiar" by Neil Gaiman
"HP and Me" by Gini Koch
"The Greatest Leader" by Aidan Doyle
"But Someone's God to Do It!" by Konstantine Paradias
"Call of the Uncopyrighted Intellectual Property" by Amanda Helms
"Cthulhu, P. I." by Laura Resnick
"A Stiff Bargain" by Matt Mikalatos
"The Shadow Over My Dorm Room" by Laura Pearlman
"The Tingling Madness" by Lucy Snyder
"The Girl Who Loved Cthulhu" by Nick Mamatas
#SFWApro
The Cackle of Cthulhu will be published by Baen Books on January 2, 2018. It is 272 pages, priced at $16. The cover, featuring Cthulhu as an Elvis impersonator, is by Dave Seeley.
Read a free sample, including the first few stories, at the Baen website.
See all our coverage of the best upcoming fantasy here.