Unsolved Murders and Powerful Ghosts: Lockwood & Co by Jonathan Stroud
Unsolved Murders and Powerful Ghosts: Lockwood & Co by Jonathan Stroud
Two months ago I bought the second novel in Jonathan Stroud's five-volume Lockwood & Co series. I don't usually buy middle volumes in a series, at least not when I don't have any of the other books. But this one had a whispering skull on the cover, so I'm sure you understand.
It did serve to introduce me to the entire series, though (the book, not the whispering skull). Jonathan Stroud is probably best known for his best-selling Bartimaeus Trilogy; here he turns his narrative powers to the tale of a teenage ghost-hunting agency in an alternate-history England infested with Visitors, malevolent spirits that can only be detected by young people with psychic gifts. Three such talented youngsters band together in London to form Lockwood & Co, facing a series of increasingly-horrifying challenges in these middle grade adventures.
The final volume in the series, The Empty Grave, was published this month in hardcover.
[Click the images for bigger versions.]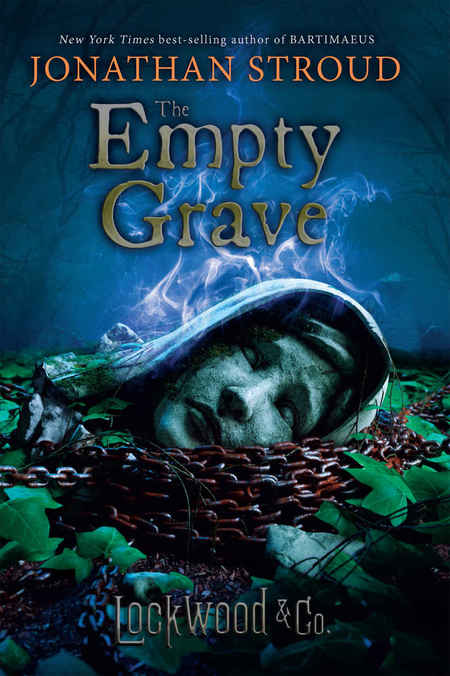 All five volumes are available from Disney-Hyperion; the first three are already in paperback ($7.99 print/$6.99 digital).
The Screaming Staircase (416 pages, September 17, 2013)
The Whispering Skull (464 pages, September 16, 2014)
The Hollow Boy (401 pages, September 15, 2015)
The Creeping Shadow (464 pages, September 13, 2016 — $16.99 in hardcover, $10.99 digital)
The Empty Grave (448 pages, 2017 — $16.99 in hardcover, $10.99 digital)
The fabulously moody covers are by Michael Heath.
The books have received solid reviews, including a Rick Riordan quote prominently displayed on the paperback editions:
Ancient evil, unsolved murders, powerful ghosts and nefarious mortals – this story will keep you reading late into the night, but you'll want to leave the lights on. Stroud is a genius at inventing an utterly believable world which is very much like ours, but so creepily different.
It's been a while since I've tried a middle grade series, but the allure of a teen ghost-hunting agency in a London overrun with "ancient evil, unsolved murders, and powerful ghosts" may be too much to resist. I'll crack open The Whispering Skull this weekend.
See all of our recent coverage of the best new Series Fantasy here.