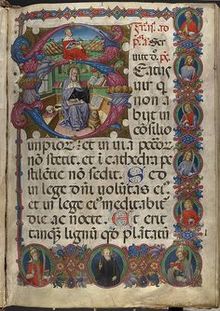 In case I haven't mentioned it before, my brother owns the last independent bookstore in Kingston, Ontario. Which goes to explain why it's was only this week that I bought a Kindle. For the first time in my life, I'm reading in a different way.
Reading, and its broader form story-telling, has been around as long as history, and it's been changing and evolving all along, with new ideas and new technologies.
Some think the first stories were told by shepherds sitting around on hillsides watching sheep. As exciting as sheepherding can sometimes get (wolves anyone?) there's considerably more leisure time in this occupation than there is in farming, or fishing. The shepherds would come down from the hillside and tell their stories to the people in the village, and the marketplace storyteller was born. Or so reasons this particular school of thought.
What happened to the marketplace storyteller? Well, memorizing all of Homer et al (in case there were requests) and learning how to recite them in an entertaining way is really hard work. Then you have to come up with your own, original stories, or really, you're nobody. You have to put literally years into learning all you need to know, and then you have to sit somewhere telling stories and hoping that people will pay you for it. If you're very good, someone may become your patron and keep you on retainer to tell stories for them and their guests.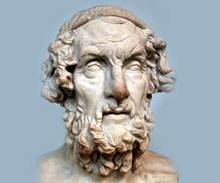 Eventually someone was bound to think that it would be much easier all around if that writing thing that people had been using to keep accounts and minutes of meetings could also be used to write down the Iliad, and the Odyssey, and the Idylls of Theocritus. The storyteller who could read still read them in public, since not many other people could.
Mind you all of this writing had to be done by hand, and the person who came up with the stories either had to know how to write, or have someone take dictation. (Right up until the 1940's it wasn't unusual for writers to write out their manuscripts by hand and send them out to be typed.) Copies of existing books also had to be written out by hand, and since you were going to the trouble, you might as well throw in some nice pictures and coloured margins.
By the way, just how were all these people able to write huge novels by hand? (Yes, I'm looking at you, Cervantes) Simple, no television.
Thank the Muses for Guttenberg. Without him we'd still be sitting in a public place somewhere listening to a book being read aloud by someone else. And it would be the same book(s) over and over again, since obtaining a hand-written copy would be terribly expensive.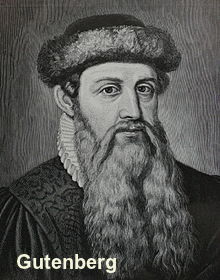 Which is why when the Pre-Raphaelites and the Arts and Crafts movement began making books by hand again, it didn't last very long.
Finally the 20th century. In my lifetime people have gone from writing books on the typewriter (including electric and electronic versions of same) to using a variety of word processing programs on their personal computers (including laptop and tablet versions of same). Editing, revising, proofreading and galleys are all done on a computer now. Manuscripts don't get mailed to agents and editors, they get sent electronically.
But that's writing. Up until sometime in the 1990's reading a book was pretty much the same experience as it had been since Guttenberg. Even now, there are millions of regular readers who don't use an e-reader. With the speed of technological innovation in the present day, I'm betting that in another 30 years, we'll be using something different, and e-readers will be quaint things our parents are still using.
But we'll still be reading. Technologies and fads come and go, but reading always remains.
In case you think I should be more worried about my brother, and Novel Idea his bookstore, he says it isn't (or wasn't) the advent of e-books that endangered bricks-and-mortar stores. Sales at independents began to drop long before the e-reader was ubiquitous. The problem wasn't Kindle, but the appearance of the "box store" like Barnes and Noble, or Borders, or, here in Canada, Chapters Indigo. Ironically, Chapters seems to be selling fewer and fewer books, and more and more knick-knacks and kitchen weasels.
So my brother's not surprised that the Chapters down the street from Novel Idea closed not that long ago. He reports that his sales are back to pre-box store levels. That's pre-e-book levels too, so I'm not worried about telling him that I've bought a Kindle.
Not much, anyway.
---
Violette Malan is the author of the Dhulyn and Parno series of sword and sorcery adventures (now available in omnibus editions), as well as the Mirror Lands series of primary world fantasies. As VM Escalada, she writes the Faraman Prophecy series. Book One, Halls of Law, is out in August. Find her on Facebook and follow her on Twitter @VioletteMalan.