New Treasures: Meddling Kids by Edgar Cantero
New Treasures: Meddling Kids by Edgar Cantero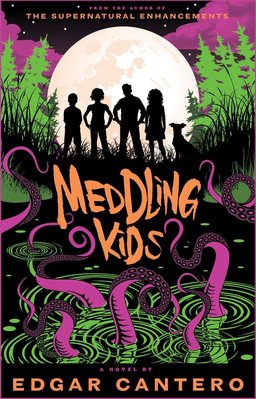 Edgar Cantero is the author of The Supernatural Enhancements. His follow-up, Meddling Kids, continues in the horror-comedy vein with perhaps the most brilliant premises I've encountered this year: a group of young detectives, who foiled the plot of a small-time crook years ago, find themselves drawn back together as adults to pick up the threads of their original investigation… threads that lead to a much more insidious threat involving an interdimensional horror. The Milwaukee Journal Sentinel says, "For anyone who finds the triangle formed by Scooby-Doo, Lovecraft and Buffy the Vampire Slayer a cozy place to be, here's your beach book." It's on sale this month in hardcover.
SUMMER 1977. The Blyton Summer Detective Club (of Blyton Hills, a small mining town in Oregon's Zoinx River Valley) solved their final mystery and unmasked the elusive Sleepy Lake monster — another low-life fortune hunter trying to get his dirty hands on the legendary riches hidden in Deboën Mansion. And he would have gotten away with it too, if it weren't for those meddling kids.

1990. The former detectives have grown up and apart, each haunted by disturbing memories of their final night in the old haunted house. There are too many strange, half-remembered encounters and events that cannot be dismissed or explained away by a guy in a mask. And Andy, the once intrepid tomboy now wanted in two states, is tired of running from her demons. She needs answers. To find them she will need Kerri, the one-time kid genius and budding biologist, now drinking her ghosts away in New York with Tim, an excitable Weimaraner descended from the original canine member of the club. They will also have to get Nate, the horror nerd currently residing in an asylum in Arkham, Massachusetts. Luckily Nate has not lost contact with Peter, the handsome jock turned movie star who was once their team leader… which is remarkable, considering Peter has been dead for years.

The time has come to get the team back together, face their fears, and find out what actually happened all those years ago at Sleepy Lake. It's their only chance to end the nightmares and, perhaps, save the world.

A nostalgic and subversive trip rife with sly nods to H. P. Lovecraft and pop culture, Edgar Cantero's Meddling Kids is a strikingly original and dazzling reminder of the fun and adventure we can discover at the heart of our favorite stories, no matter how old we get.
Meddling Kids was published by Blumhouse on July 11, 2017. It is the first Blyton Summer Detective Club Adventure, which implies there will probably be more. It's 336 pages, priced at $26.95 in hardcover and $13.99 in digital formats. The cover was designed by Michael J. Windsor.