Vintage Treasures: The Ace Novels of Patricia C. Wrede
Vintage Treasures: The Ace Novels of Patricia C. Wrede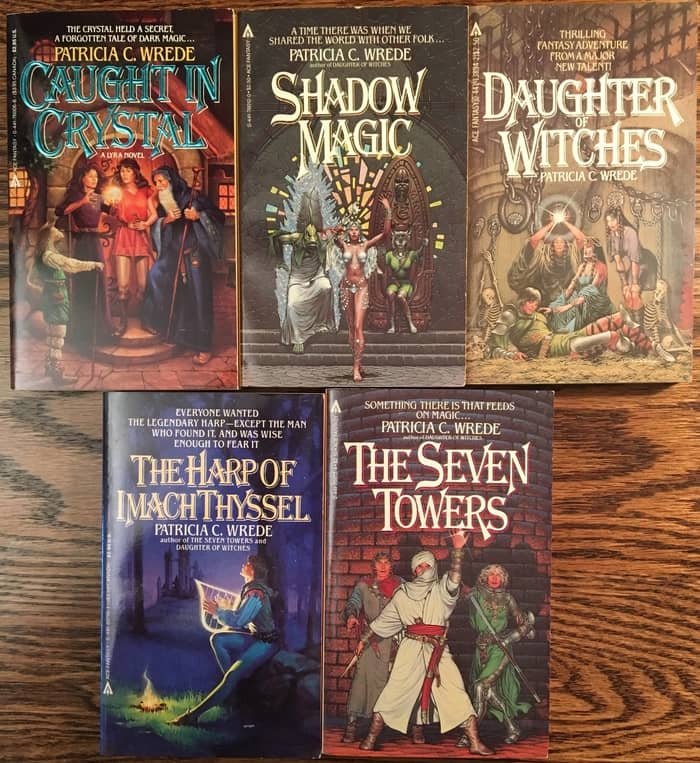 On Thursday I was carefully stacking books in the vast subterranean treasure vault known locally as the Cave of Wonders (and which my wife calls, much more prosaically, our basement), when I found something unusual: a stack of unopened boxes. That's a mystery worth investigating. I carted them back through winding tunnels and secret passageways until I reached our library, and pried them open with a crow bar.
Wonder of wonders! They were packed with vintage paperback and strange magazines. It's like Christmas!
They were doubtless eBay booty that got hastily stashed in the basement because company was coming over five years ago, or something similar. Who knows. I have no recollection of them, so it's like getting a surprise package from my former self. And, man. What great taste that guy has! There was an odd assortment of magic magazines from the early 1970s (chiefly The Linking Ring, which is packed with the most fabulous ads for trick cards, books, and neato magic books), a set of DAW volumes by Neal Barrett, Jr., and the collection of 80s Ace paperbacks by Patricia C. Wrede pictured above.
That latter set was the most interesting, and I spend some time with it this morning. It's a nearly complete set of Lyra novels (all those published by Ace, anyway), plus The Seven Towers, a standalone novel from 1984.
I chiefly know Wrede from her highly regarded YA work — including the Enchanted Forest Chronicles and the Cecelia and Kate trilogy, co-written with Caroline Stevermer — so I was surprised to see she had authored so many adult fantasies. That's probably exactly what was going through my mind when I found this set on eBay.
I was really delighted to discover these books, and not just because of the opportunity to read adult Wrede. Looking at the set above, it takes me right back to the mid-80s, when Ace was perhaps the most reliable supplier of quality paperback SF and fantasy on the market. H. Beam Piper, Fred Saberhagen, Gordon R. Dickson, Poul Anderson, and countless others were published by Ace in those years. I missed these books then, but this is my chance to correct that oversight.
Here's the back covers.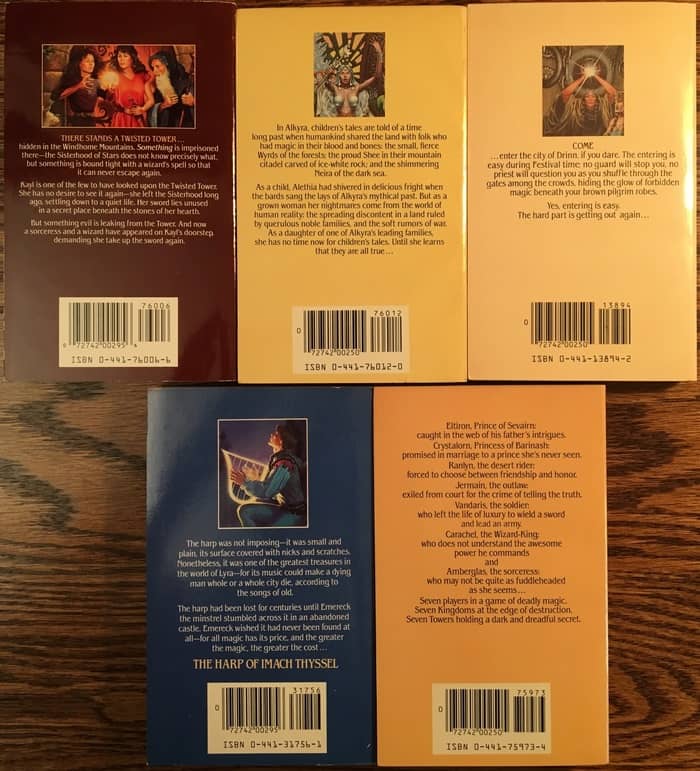 The first four books in the set above are part of the Lyra sequence, named after the world the books are set on. A fifth volume, The Raven Ring, was published by Tor nearly a decade later. The books are all standalone and can be enjoyed in any order, however.
Shadow Magic (Ace Books, 279 pages, $2.50 in paperback, September 1982) — cover by Walter Velez
Daughter of Witches (Ace Books, 216 pages, $2.50 in paperback, March 1983) — cover by Walter Velez
The Harp of Imach Thyssel (Ace Books, 234 pages, $2.95 in paperback, April 1985) — cover by Joe Chiodo
Caught in Crystal (Ace Books, 293 pages, $2.95 in paperback, March 1987) — cover by David Heffernan
The Raven Ring (Tor, 348 pages, $21.95 in hardcover, December 1994) — cover by Dennis Nolan
The last book in the set is The Seven Towers, a standalone fantasy:
The Seven Towers (Ace Books, 264 pages, $2.50 in paperback, March 1984) — cover by Walter Velez
The cover artist, Walter Velez, was so strongly linked with Thieves World in my mind that I probably thought this was a Thieves World novel the first few times I saw it.
Our previous coverage of Patricia C. Wrede includes:
A Review of Mairelon the Magician, by Isabel Pelech
Fantasy Clichés Done Right: Mary Moore on The Enchanted Forest Chronicles by Garrett Calcaterra
The difficulty of SF vis-a-vis F by Theo
See all our recent Vintage Treasures here.