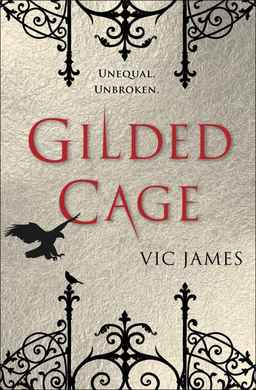 If you're like me, you're always on the lookout for an exciting new fantasy series with fresh ideas, and Vic James' debut Gilded Cage looks like it will fit the bill nicely. It's the opening volume in a new series set in a modern England where magically gifted aristocrats rule and commoners are forced to serve them. Kirkus Reviews says it "Conjures up the specters of Les Misérables and Downton Abbey… an intriguing new fantasy series," and Aliette de Bodard calls it ""A dark and intriguing vision of an alternate, magic-drenched Britain… kept me up long into the night."
NOT ALL ARE FREE. NOT ALL ARE EQUAL. NOT ALL WILL BE SAVED.

Our world belongs to the Equals — aristocrats with magical gifts — and all commoners must serve them for ten years. But behind the gates of England's grandest estate lies a power that could break the world.

A girl thirsts for love and knowledge.

Abi is a servant to England's most powerful family, but her spirit is free. So when she falls for one of their noble-born sons, Abi faces a terrible choice. Uncovering the family's secrets might win her liberty — but will her heart pay the price?

A boy dreams of revolution.

Abi's brother, Luke, is enslaved in a brutal factory town. Far from his family and cruelly oppressed, he makes friends whose ideals could cost him everything. Now Luke has discovered there may be a power even greater than magic: revolution.

And an aristocrat will remake the world with his dark gifts.

He is a shadow in the glittering world of the Equals, with mysterious powers no one else understands. But will he liberate — or destroy?
Gilded Cage was published by Del Rey on February 14, 2017. It is 368 pages, priced at $20.00 in hardcover and $10.99 for the digital edition.