Oz's Bag of Holding, TV Edition: Ash vs Evil Dead, Barney Miller, Parks & Recreation: What do these Sitcoms Have in Common?
Oz's Bag of Holding, TV Edition: Ash vs Evil Dead, Barney Miller, Parks & Recreation: What do these Sitcoms Have in Common?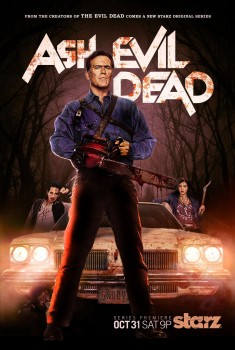 Answer: They're all in my bag of holding. I will now draw them out and discuss them.
Parks and Recreation
Parks and Recreation (2009-2015) has no reason to be mentioned on a site devoted to fantasy, but I'll rationalize my inclusion of it here by pointing out that the character Ben Wyatt (Adam Scott) is a legit connoisseur of science fiction and fantasy, frequently making allusions and drawing analogies to Star Wars or Star Trek or The Lord of the Rings that fly over his colleagues' heads. We've all been there, surrounded by coworkers (or classmates, or family members) who do not share our outside interests and passions. (Then we found the Internet. And, if we were really fortunate: conventions.)
In one episode, coworkers encourage Ben to take a break for a day, to cut loose and totally indulge himself at the mall. While they're getting facials and manicures, he purchases and dresses up in a Dark Knight costume.
The refreshing thing about Ben is that he is not written as the stereotypical sitcom caricature of a nerd. He is somewhat socially awkward but smart and sharp, on top of things. He's actually a more "normal," down-to-earth, audience-POV person, surrounded as he is by flamboyant and eccentric characters. He is respected and, in one case, adored (he becomes the love interest of Amy Poehler's lead character Leslie Knope).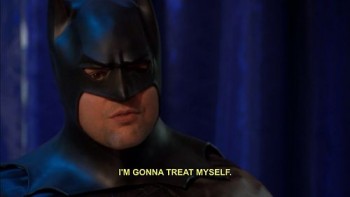 But that sort of playing against type is true of the series from top to bottom.
Poehler's driven, overly-passionate, somewhat OCD character in season 1 came across as a bit of a nutcase whose schemes are doomed to embarrassment and failure. Thank goodness that by season 2 it becomes apparent there are greater depths to Leslie Knope. Though her near-pathological  obsessiveness never diminishes, she becomes an inspiring figure, pushing forward with cheerfulness and optimism in the face of bureaucratic inertia. She is committed to her friends, her colleagues, and her community to a near-superhuman degree, and it's hard not to grow to love and admire her.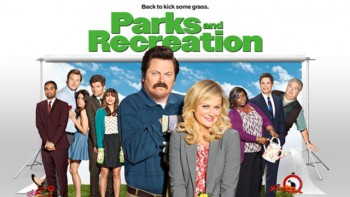 Then there's Ron Swanson, played brilliantly by Nick Offerman. Almost from the get-go, Ron Swanson joined the canonical ranks of most memorable television characters. First impressions in season 1 were that this was going to be the character we "love to hate," a grumpy, chauvinistic boss who wants the people in his department to get as little done as possible due to his libertarian principles (any work his department does, as he sees it, is needless waste of taxpayers' money). But what a rich, complex (and so-funny-your-sides-ache) character he turned out to be, as he quickly became the most popular character on the show. Part of the fun is the tension between his grim outer façade and the warm heart he represses. Whenever it counts, he can't help but reveal that he cares for and supports his employees.  I'm sure that I'm not the only viewer who felt conflicting emotions like this: "Wouldn't it be terrible if he was your boss? Man, I wish Ron Swanson was my boss."
Barney Miller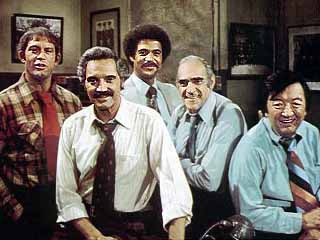 Barney Miller (1975-1982) has come to be regarded as one of the more smartly-scripted sitcoms in television history. To this day, some police officers claim that it came closer to reflecting the real day-to-day routine of law enforcement than most other cop shows (lots of hanging around the station filing endless reams of paperwork and BSing with the other detectives). Most cop shows, of course, leave out all that "boring stuff," focusing instead on the drama going down out on the street.
The creators and writers of Barney Miller recognized that a gold mine was waiting inside the precinct, with rich potential for interaction between the detectives and the eccentric cast of characters brought in to the station. In fact, the whole series could be done as a stage play with a single set – the cameras almost never leave the detectives' office.
So I'm two seasons in and enjoying it immensely. And I'm not taking it too seriously  — it is an old comedy sitcom —  but I did question a few things. These niggling questions probably wouldn't have arisen had not I heard that claim about it being a pretty accurate depiction of police work. I know enough about police work secondhand to wonder about a few of the show's conceits. I called my dad up and ran these issues by him, since he was a big-city detective at the same time Barney Miller originally aired. Turns out I was right to have my doubts.
There are two elements in particular, which happen every episode, that do not square with reality. First, the detectives get calls directly from people dialing in to report a crime. Their desk phones are ringing all the time; it is part of the rhythm of the show, setting up either a couple of them rushing off to make an arrest (and later bring some odd duck back into the station for booking) or else a humorous exchange of which we only hear the detective's side.
Right away, I was thinking, "They wouldn't be taking those calls, would they? There would be a dispatcher handling incoming calls like that. Or maybe that wasn't always the case back in the '70s?" Nope, my dad confirmed that this was a bit of studio license the show-writers took.
The other thing is that they would not be responding to many of the calls they handle. Often Captain Miller and his detectives rush out the door to a crime in progress. But that would be the job of uniformed officers, not plain-clothes detectives.  Detectives only show up at the scene after a crime has been committed, to figure out who committed it and how. That's their job.
Still, I'm loving this show. My dad also remembered it fondly, despite it's sometimes being less-than-faithful to real detective work. Hey, it still captured some aspects of the job better than most of its predecessors or successors.
Ash vs Evil Dead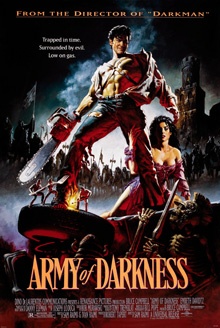 Ash vs Evil Dead (2015-ongoing). Holy cow. Are you an old-time fan of Evil Dead 2 (1987) and Army of Darkness (1992)? Then, yeah, this is more of everything that made those such celebrated cult hits. It delivers on every front, on par with the theatrical films in achieving that trademark idiosyncratic blend of gore and humor that has you squirming out of your seat while simultaneously busting your gut with laughter.  Man, it brings back the fun of being young again and discovering this crazy stuff for the first time.
Even with the zaniness, there are scenes (like in the series premiere when the two officers answer a call about screaming heard from a dark house at night) that are so well staged they're some of the most frightening horror sequences I've viewed in years. And the unnatural movements of the Deadites or the appearance of the demons – Wow. Some of the images are like the most disturbing work of Goya or Francis Bacon by way of Tom Savini (and if you get all three of those references you have my undying respect).
Watching the pilot, I felt like I was viewing a fourth film that picked up right where the prior ones left off, totally plugged in and cranked up and connected to the spirit that animated its predecessors, not missing a beat. What makes this viable as an ongoing series is the addition of a supporting cast around Ash, young newbies who know nothing of Deadites and the Necronomicon. An older (not very much wiser) Ash must become a mentor of sorts. Which is preposterous – but, oh, what a rich vein that gives the writers to mine.
Ash  is a shallow, egotistical, self-centered blowhard. Despite all that, you can't help but like him (or at least like laughing at him – even as you're rooting for him). His lack of imagination makes him a heck of a Deadite fighter: when his own hand becomes possessed and begins trying to kill him (in Evil Dead 2), he chops it off, more annoyed at this disruption of his simple plans than anything. Those of us with more complex, reflective, introspective personalities would probably  be headed straight for a padded room in Bellevue after an experience like that. Ash, though, he just straps a chainsaw on the stump and starts chopping heads in the quickest path back to the comfort of a few cold ones and some late-night cable.
When the series begins, we find him still working at a Value Stop, occasionally going to the local bar to hit on women but spending most of his time hidden away – from the world, from his past — in a trailer home that would've been snazzy in the '70s. But now, with this new pack around him (to which he ineffectually protests that he has always been "an alone wolf"), he has to start caring about others than himself.
I hope this keeps up, firing on all cylinders, for several seasons. I'm enjoying the hell out of it.