Goth Chick News Interviews: Deadgar Winter and Dark Coffin Classics
Goth Chick News Interviews: Deadgar Winter and Dark Coffin Classics
When Black Gate photog Chris Z isn't too busy surfing the net for combat kilts and more camera equipment (both for attracting gender-specific attention at our many trade shows), he is a veritable font of potential GCN subject matters. Granted, much of it is questionable at best or at worse, flat out rejected by the "big cheese" John O (re: Zombeavers which got us both reprimanded before I had even typed the first paragraph).
Still, on occasion he hits pay dirt, which Chris Z did in spades when he suggested I check out a cable access show called Deadgar's Dark Coffin Classics, hosted by Deadgar Winter.
I did. And though I am still trying to find just the right words to describe what I saw, what I can tell you is that I found my new binge while I wait for season 2 of Stranger Things.
Deadgar's Dark Coffin Classics is about taking older, sometimes very cheesy classic horror and sci-fi films and reviewing them on an internet / cable access show. Throughout the movie, Deadgar and his "Dead Girls" will break in to comment about what you're watching; imagine if Svengoulie and Elvira got together and partied on with Joel from MST3K…
Once started, I could not stop watching; in part from the sheer joy of being transported back to the late-night public television channels where I first fell in love with horror movies, and the rest because Deadgar and his whole set up are mesmerizing on several levels.
Putting my substantial cyberstalking talents to work, it wasn't long before I was able to track down Deadgar Winter himself, and recognizing a kindred goth spirit, he kindly agreed to be interviewed from the castle where he films his weekly show.
So, everyone – please meet Deadgar Winter. Deadgar, this is everyone…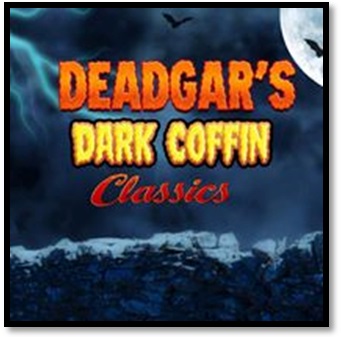 GC: Tell us the concept behind Deadgar's Dark Coffin Classics.
DG: We wanted to bring a concept that was a little different than the other horror shows and that would attract a wide range of fans.
There is something strangely alluring about the cable access show. Were you a fan in your misspent youth and did they influence D.D.C.C.?
Yes! I loved watching Svengoolie and Creature Features. I told my dad one time that I wanted to be like Sven and he grounded me! Well here I am! I followed my dream.
How do you choose the horror movies?
Everyone on the show gets to pick a movie when it's their turn. It adds to the fun and everyone gets involved.
How did the persona of Deadgar come to be? Was it to meet girls? I mean more girls than the 2 dead ones who co-host?
I was on another horror show and we thought of the name. It was the dead of winter and Deadgar Winter was born! No, I didn't do the show to meet girls. I would have stayed in my Metal band if I wanted that. Girls like to hang around me because I respect them. We have a Deadgirls Club run by Celeste. Wanna join? LOL. (GC: Yes, please.) The three girls I have on my show are family to me. We do the show, do events, and hang out together. I wouldn't trade them for anything.
Everyone on the staff of Black Gate has a day job because our boss blows the revenue on comic books and old sci-fi paperbacks. Does Deadgar need a day gig?
Yes. I have a night job actually. My co-hosts are expensive and I have to pay taxes on the castle. Mawhahaha.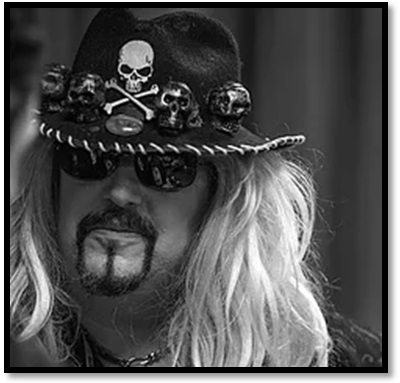 As a fan of classic horror, how do you feel today's popular horror movies stack up against B&W originals like the 1959 House on Haunted Hill or the Tingler?
If it wasn't for the classics, we wouldn't have the newer, more gory movies. The newer movies have way better effects and blood and gore. But the classics paved the way; White Zombie to name one starring Bela Lugosi. That paved the way for 1959 Night Of The Living Dead and now The Walking Dead. Now I'm waiting for a Zombie Pokemon movie or Night of the Pikachu. Just joking.
I'm sure it's torture to choose, but what is your favorite classic horror?
Abbott and Costello Meet Frankenstein.
Deadgar's Dark Coffin Classics is in its 7th year; how does one go about creating a show with this much staying power?
We like to have fun and keep it fun. It's also important who you have in your circle. I've gone through a few cohosts, but who I have around me now is solid! Everyone contributes to the show, even our production crew. If someone has an idea, we listen to it. Everyone feels important and is important. Celeste, Victori, Maleva, our crazy production crew. Love them all!
I see from the show credits that we have some mutual friends such as my goth boy band crush, Midnight Syndicate and my interior decorating partners, Asylum Coffins. What is something most people would be surprised to learn about the "haunt community"?
That's easy. We support each other, it's a special bond. We are all related in some way shape or form.
As an avid collector of hot sauces, I got shivers over your custom Spider Venom, Bloody Bat and Grinning Skull. How did this come about and where can I get some?
Well this goes back to the previous answer. I met a guy on the internet called Victor "The Undertaker" Ives. He told me that he makes hot sauce and I told him that I have a television show. We got to know each other and formed a solid friendship and we joined forces. He makes the best hot sauce! You can go to www.Halloweenhotsauce.com and order. They even come in coffins! Tell him Deadgar sent you. (GC: Done and done)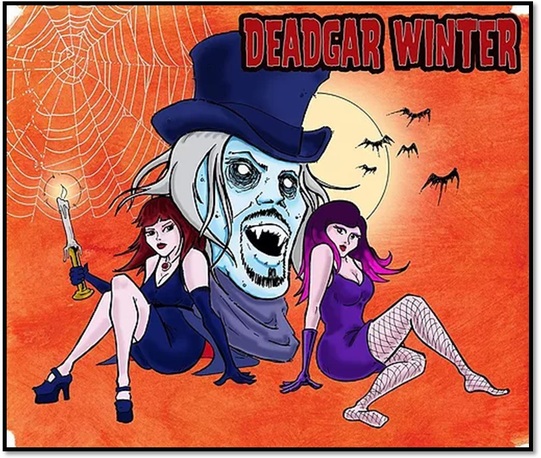 How does one become a Deadgirl and what are the credentials? I'm thinking of applying.
Contact me or Celeste and tell us why you want to be a Deadgar's Deadgirl. Then you have to appear on our show and get bit by Deadgar (GC: Ok, sounds good so far). Credentials? Must like horror, tattoos, Halloween, can come up with a sexy look and crazy name and promote the show! (GC: Check, check, check) Benefits: get to make appearances on the show, wear our fangtasic merchandise, and appear at events in your area as a Deadgar's Deadgirl with us or on your own. Plus, get invited to our Parties, Parties, Parties. (GC: Never mind, John just said, "No way")
When Hollywood finally gets around to making your life story, who should play Deadgar?
ME!!! (just Joking) It would have to be Johnny Depp or Christopher Walken. They are twisted like me! Love those guys.
Where can our underground Black Gate family find Deadgar's Dark Coffin Classics?
Television:
KTV ch. 14 in Kenosha area – Thurs. 9:30pm and Sundays Midnight

CAR 25 in Racine area – Sat. 8pm.

Mata TV ch 14 in Milwaukee – Fridays at Midnight and Saturdays. 10pm

Youtube Channel – Deadgar Winter

Roku Channel – Bizzare tv.

Deadgar's Dark Coffin Classics Facebook Page
…or just Google Deadgar Winter. Scare you soon and Happy Nightmares!
In spite of the fact I now have a serious crush, believe me when I say Deadgar's Dark Coffin Classics is well worth a look. So check it out then tell us what you think in a comment or private message to sue@blackgate.com.