Goth Chick News: Rare Footage of Steven Spielberg NOT Directing Poltergeist…
Goth Chick News: Rare Footage of Steven Spielberg NOT Directing Poltergeist…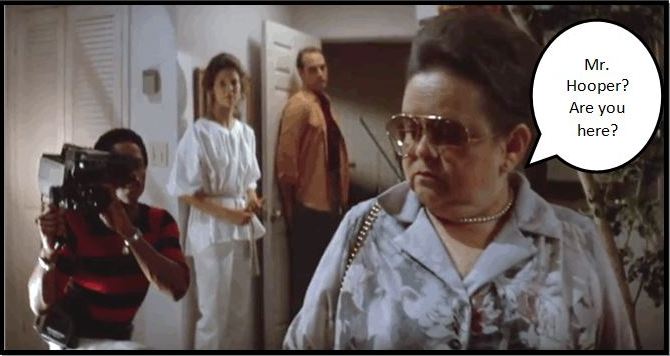 Setting aside the fact that Poltergeist is one of the most celebrated horror films of all time, a burning question has been the cause of endless debate among fans: who really directed the film?
What? Have you never heard this story?
Well me either until this week – so here goes.
While Tobe Hooper – certified genre legend for helming The Texas Chainsaw Massacre – is the credited director, there has long been debate around whether or not it was in fact producer Steven Spielberg who did most, if not all, of the directing.
The rumor about Spielberg's creative control began way back in 1982 with an L.A. Times feature on the making of Poltergeist that ran before the film's release. In it, Spielberg contrasted his input with Hooper's: "Tobe isn't what you'd call a take-charge sort of guy. He's just not a strong presence on a movie set. If a question was asked and an answer wasn't immediately forthcoming, I'd jump up and say what we could do. Tobe would nod agreement, and that became the process of the collaboration."
The article sparked an investigation by the Director's Guild of America into Spielberg's involvement – which ultimately went nowhere. Except, underground scuttle had it the DGA pressured Spielberg to formally apologized to Hooper in The Hollywood Reporter two days before Poltergeist opened on June 4th. "Regrettably, some of the press have misunderstood the rather unique, creative relationship which you and I shared throughout the making of Poltergeist," Spielberg wrote. "I enjoyed your openness in allowing me, as producer and writer, a wide berth for creative involvement."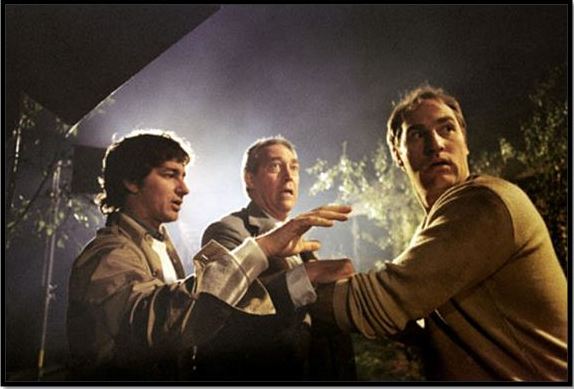 It wasn't exactly a denial of the perception that Spielberg directed the project, since Spielberg was essentially thanking Hooper for letting him do his thing.
Two years later in 1985 the director question came up again in the LA Times where Hooper was promoting his latest project, Invaders from Mars. Hooper commented that, "Things were hard right after 'Poltergeist,' and they shouldn't have been. (Poltergeist) was a hit picture and at the very least one would think that, regardless of the controversy — just by association — I should have gotten work."
However, after a project at Fox (set before Poltergeist) fell through, Hooper received no offers for close to a year. "I learned a lot about Hollywood," he commented vaguely.
Flash forward fifteen years and Hooper seemed to have softened toward the entire mess. During a 2000 interview with the AV Club, he said the confusion stemmed from the fact that the production was split between first and second unit crews equally helmed by himself and Spielberg during the period when the LA Times journalist visited the set. "When we were shooting the practical location on the house, the first two weeks of filming were exterior, so I had second-unit shots that had to be picked up in the front of the house," Hooper said. "I was in the back of the house shooting Robbie [actor Oliver Robins] and the tree, looking down at the burial of the little tweety bird, so Steven was picking those shots up for me."
Timing, in Hooper's version, led to the legend though it didn't seem to explain Spielberg's comments.
Other cast and crew likewise have weighed in over the years. Zelda Rubenstein, who plays the film's creepy spiritual medium, told AICN, "I can tell you that Steven directed all six days I was there. I only worked six days on the film and Steven was there." Casting Director Mike Fenton was quoted as saying, "Did [Tobe Hooper] direct the film? Not that I saw." Star Craig T. Nelson defended Hooper, saying that "Tobe gave me a lot of direction. It's not fair to eliminate what Tobe did," while another of the film's stars, JoBeth Williams, said, "It was a collaboration, with Steven having the final say."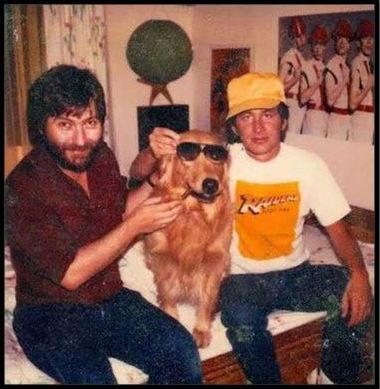 And so here we are in 2017 – now what?
A mini-documentary which appeared on the Poltergeist laserdisc released in 1994 (remember those?), but on no other releases, was posted on YouTube back in June, 2013 and was re-discovered this week by my colleagues over at Bloody Disgusting.
It seems to answer the question… maybe.
It showcases the filming of a few key scenes with Spielberg at the helm for all of them, directing the action and relaying his vision to the crew. Hooper makes an appearance, but it's brief and fairly cursory.
Though it undoubtedly matters quite a lot to Toby Hooper, the question of who directed doesn't matter much to those of us who still consider Poltergeist as the pinnacle of horror movies. Rated PG and bereft of CGI or buckets of blood, Poltergeist (or someone) really did know what scared us.
Okay, let's hear it because I'm pretty sure opinions run high on this one. Post a comment for all to enjoy, or drop a line just for me at sue@blackgate.com.