I'm Ready For My Close-Up, Mr. DeMille: A Look at Image's Glitterbomb
I'm Ready For My Close-Up, Mr. DeMille: A Look at Image's Glitterbomb
Last fall, Image released a new comic book series by Jim Zub (Wayward and Thunderbolts) and Djibril Morissette-Phan (The Ultimates, All-New Wolverine) called Glitterbomb, a horror story about fame and failure.
The first four issues are out, and a collected trade paperback of those 4 issues is hitting comic book shops and book stores in March. I read Glitterbomb, really enjoyed it, and got a chance to talk with the creators.
Here's the synopsis:
Farrah Durante is a middle-aged actress hunting for her next gig in an industry where youth trumps experience. Her frustrations become an emotional lure for something horrifying out beyond the water…something ready to exact revenge on the shallow, celebrity-obsessed culture that's led her astray. The entertainment industry feeds on our insecurities, desires, and fears. You can't toy with those kinds of primal emotions without them biting back…
Derek: Jim and Djibril, thanks so much for the chance to interview! I really enjoyed Glitterbomb! I thought it was great a monster story with a ton of kick-you-in-the-gut reality.
Jim: Thanks! So happy to hear you enjoyed it and that it left a strong impression.
Djibril: Thanks Derek, means a lot!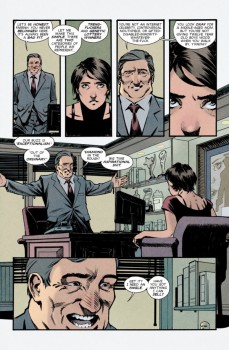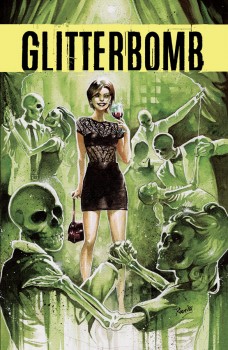 So Glitterbomb is a deep dive into the dark side of the Hollywood dream. The essays at the end of the book by Holly Raychelle Hughes were powerfully grounding, too, making the monstrosity real. Did you pick dark Hollywood because it's a place you want to explore creatively, or because it's thematic of larger problems in North American society?
Jim: The story originally grew out of exploring some of my own frustrations and fears, but Hollywood became the perfect setting to amp up the tension and shine a light on bigger problems with America's obsession with fame. It provided all kinds of fuel I could use.
Thematically, horror comes from one of two places: either an invasion of evil from outside (ex.: The Exorcist), or as a moral judgment on some transgression (ex.: Marion's theft at the beginning of Psycho). Although Glitterbomb has its moment of transgression against Farrah, it's also a statement on an entire sub-culture of betrayal and the commoditization of beauty and youth. Can you talk about how you juggled the macro and micro when creating Glitterbomb?
Jim: For me Glitterbomb is a character story punctuated with horror. Farrah's emotional state and the traumas she's endured were paramount. If I could make those feel intense and grounded and then blow out the biggest moments of emotion with a supernatural edge, then I would count it as successful.
The horror is a bi-product of that emotion and I think that's why it works. It's character tragedy first and horror second.
What sort of visual inspirations did you pull from to make the monster that lives inside Farrah? And how close does that monster get to the things that creep you out?
Djibril: The insect-like aspect of the design came after many sketches and concepts. It stuck with me because of its familiarity. I'm not particularly scared of spiders or insects in general but I know many people are, so it seemed like a good lead to follow. The more terrifying element of the creature for me is the fact that it's not always manifesting itself the same way, making it impossible for the reader to know just how horrific it can become.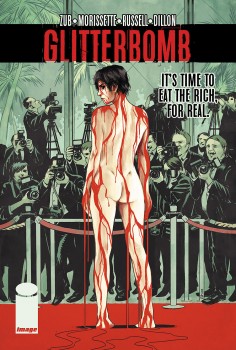 Despite this being a monster book, there's a tremendous amount of humanity, not only in the vulnerability and hope in Brooke and Kaydon, in the child's need in Marty, but in the chubby cruelty of Roger Tulders, and the nerdy friendship of Dean. Can you talk about the human beings in Glitterbomb?
Jim: I wanted them to feel real. Everything on and off camera in Hollywood can be a bit exaggerated and so I knew we could have big personalities, but grounding them and making their flaws feel real helps the whole thing keep moving. It's not about figuring out a creature's weakness or a twisted mythos about where it came from, it's about internal and external horror, and a lot of that comes from flawed people hurting each other.
Djibril: On a visual standpoint, the human element of the book was my favorite part to draw. I really enjoy working on the acting of my characters. Having a good writer like Jim giving me a diverse cast to play with was very satisfying.
Thanks so much Jim and Djibril for the interview! I really appreciate it and I loved the book.
Jim: My pleasure! We have a second Glitterbomb mini-series in the works for this Fall, so I hope you check it out once it arrives.
Djibril: Thanks you so much!
If you want to check out Glitterbomb, individual issues are available on comixology.com and the trade paperback collecting the first four issues hits the shelves in March. If you call your comic shop by Monday, you can order it. Check it out!
---
Derek Künsken writes science fiction and fantasy Ottawa, Canada and tweets from @derekkunsken. His most recent story, "Flight From the Ages," appeared in the April/May 2016 issue of Asimov's Science Fiction and will be reprinted in Gardner Dozois' Year's Best Science Fiction, Volume 34 later this year.