Future Treasures: A Perfect Machine by Brett Savory
Future Treasures: A Perfect Machine by Brett Savory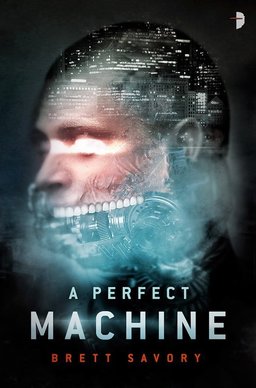 Brett Savory is co-Publisher (with Sandra Kasturi) of the World Fantasy and British Fantasy Award-winning ChiZine Publications, one of the finest small press publishers out there. He's also an accomplished writer, with over 50 short stories two novels (In and Down and The Distance Travelled) to his credit.
His newest novel is set in a future city where Runners and Hunters carry out a sacred ritual chase every night. Runners survive being shot and grow more and more metallic. But when two Runners transform into something much more (or less) than human, their worlds will change forever. Paul Tremblay calls it "A destabilizing gutshot of science fiction, crime, and existentialism that will leave your head spinning," and Paul Goat Allen says it's "An existential horror story featuring a monster robot — the illegitimate lovechild of David Cronenberg and Isaac Asimov." Sounds edgy to me! It arrives in paperback from Angry Robot next month.
Henry Kyllo is a Runner, a member of a secret society called the Inferne Cutis. Every day he is chased through the city by Hunters whose goal is to fill him with bullets. It is a secret war steeped in history, tradition, and mutual fear.

Rumours abound about what happens when a Runner achieves ascension, but it has supposedly never happened before, so no one knows for sure. Except that it has happened before. And it is happening again.

This time, to Henry Kyllo.
A Perfect Machine will be published by Angry Robot on February 7, 2017. It is $7.99 in paperback, and $6.99 for the digital edition. The cover is by Erik Mohr. Read more details at Tor.com.