Modular: Oz's Bag of Holding: Breaking Out Basic D&D for the Next Generation
Modular: Oz's Bag of Holding: Breaking Out Basic D&D for the Next Generation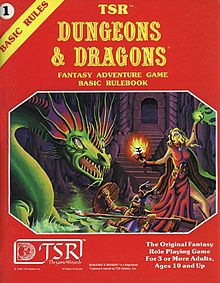 I have here a bag of holding. I am going to pull some things out of it now…
Well, I've gone and done it. I've broken open the floodgates and moved my children on from Dungeon! The Board Game to the real deal.
This is fortuitous timing, as M Harold Page has launched a new series of posts (READ HERE) on Black Gate about introducing kids to tabletop role playing (which I have been reading with newly-relevant interest).
My daughter and son will soon be turning 8 and 6 respectively. Bringing the son in on things might have been a bit premature — he's more apt to grab the miniatures and fight with them like action figures than to sit and patiently listen to a Dungeon Master try to paint a scenario in his mind's eye.
To introduce these acolytes, I dug out my 1981 D&D Basic set (1981 edition). After decades of d20, revisiting this chestnut three decades later is kinda hilarious. D20 is so elegantly simple in concept: Hit a monster with AC 18? Roll a d20, add modifiers, and get an 18 or better. But with old-school D&D, no! You look at the monster's AC and then have to consult a chart (I confess I'd forgotten what THAC0 even stood for). Cross-reference monster's AC with character's level to see what you have to roll. Basic? No, not really. Pretty damn cumbersome!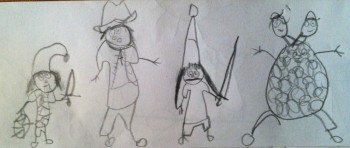 Anyway, my son created a fighter named "Cool Dude," who apparently has two heads (although I'm generally ignoring that in game play – except I did add in a special skill that his character can never be snuck up on). My wife, getting into the spirit of role-playing, refers to one of his heads as "Cool" and the other as "Dude."
My daughter chose an Elf (because she made clear at the outset "I want a ranger with a spirit animal"). Since neither rangers nor familiars exist in Basic, she went with Elf and I ported in an animal companion for her (a black panther that she named Ranger).
Say, what's this with races equaling classes? That's weird. If you're a human, you can be a Thief or a Fighter or a Magic User or a Cleric, but if you're an elf, your profession is Elf. Halflings inevitably pursue the career of halflinging. Dwarves choose the highly specialized life path of being a Dwarf.
Come on — what about the dwarven clerics that must certainly exist? Or halfling thieves? Halflings seem naturally suited to the skills of Thieves, but only Thieves can do Thief things, which means only humans can detect traps or sneak around or move silently etc. Also reeks of speciesism, and I'm sure they got a lot of flak from the National Assocation for the Advancement of Halflings (NAAH).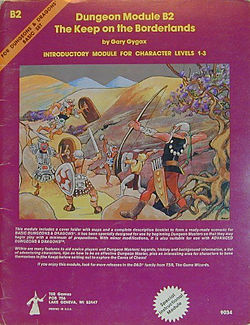 And back to Elves. Elves as a class are so powerful, the rule-makers thought — combining both Fighter and Magic-User — that they had to be limited in other ways for game balance. (Yeah, every single elf in Basic-Land happens to be both a fighter and spell-book-carrying magic user, because that matches no known elf in prior literature, myth, or legend). Non-human races/classes have a level cap: Elves can't progress beyond 10th level! But don't worry — they need twice as many experience points per level as a Fighter to progress, so you'll likely never get there anyway.
So what we're saying is that by the time my son's two-headed fighter Cool Dude hits 4th level, poor Pointy will still be 2nd level with fewer hit points per level (d6 vs. d8) — just because a couple times a day she can also cast a spell to Detect Magic? Whoop-dee-frickin'-doo. And thus are House Rules born.
My wife is an elf named Oona. Frankly, I can tell my wife wants to polish off Ceara, her 13th-level druid, but it's going to be a while before we get back to 3.5e.
I'm playing an NPC, a 3rd-level cleric named Bale (because I have a feeling this party is going to need a lot of healing).
Update
We've been plundering the Caves of Chaos (Keep on the Borderlands: Dungeon Module B2 by Gary Gygax), with a few DM-generated side episodes along the way (e.g., my son was jealous that my daughter had a "spirit animal," so I arranged for him to adopt a black bear). Cool Dude is now 4th level and Pointy is 3rd (she should still be 2nd but House Rules).
My wife made another House Rule for the DM at the very outset: the kids' characters CANNOT die; it would be too traumatic for their sensitive young minds. So I have been introducing a few NPCs along the way – "redshirts" who do not end up faring so well…
Also, just in case, I have an elderly gentleman lurking in the background, regarding the party's progress with interest. My good ol' sorcerer Ropespor, hanging around with a Reincarnation spell. Just in case.
My wife also has to remind me audience every now and then when it comes to graphic description. For instance, "When your son rolls a crit hit on the kobold with his +1 broadsword, you don't need to provide the detail that the little lizard-dog is cleaved right in two through his abdomen, his upper torso toppling through the air and splatting against the cave wall."
To Be Continued…
D&D, even keeping it simple, is a lot for kids this age. They like to play it sometimes, but not as often as I do. So on a recent family game night my daughter suggested, "Let's take a break from D&D."
Me: "Okay, what would you like to play instead tonight?"
Daughter: "Dungeon!!"