Goth Chick News: I'll Be Happy to Look for The Lost Boys…
Goth Chick News: I'll Be Happy to Look for The Lost Boys…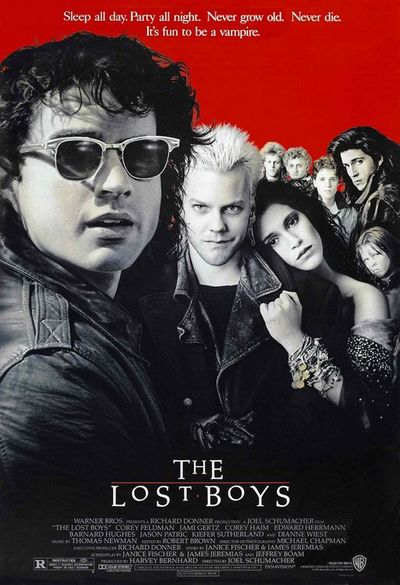 Though every period since the birth of celluloid entertainment can boast its share of vampire films, the 1980's saw a definitely change in how our favorite movie monster was portrayed. The "decade of excess" also heralded the reign of the excessively sexy vamp.
Not that Dracula in all his iterations wasn't alluringly sexual – this was the "naughty" angle to his story from the Victorian era. But the 80's saw a new batch of vamps who not only blended in and lived among humans, but at whom we humans could not stop gaping. From Catherine Deneuve and David Bowie in The Hunger, to Chris Sarandon in Fright Night and Lauren Hutton in Once Bitten, vampires replaced capes with haute couture and picked us up in nightclubs rather than (or before) sneaking through our windows.
And what group of undead epitomized the 80's better than The Lost Boys?
Correct. None at all.
I mean, a young Kiefer Sutherland along with Brooke McCarter, Billy Wirth and Alex Winter, all wearing leather, riding motorcycles and basically doing the incredibly hot vampire thing all over Santa Cruz, California is fairly unforgettable. Because of this, the next bit of news is not only completely expected, but probably long past due…
The CW Network announced last fall it will be adapting The Lost Boys into a TV series, but it wasn't until this week that we got a few more deets, and they're fairly interesting.
For a start Rob Thomas, the creator of Veronica Mars and iZombie, was revealed to be the show's writer and executive producer. Rotten Tomatoes caught up with him at a Television Critics Association panel on Sunday, where he talked a bit about his modern take on the original film.
He explained that the show is being eyed as a seven-season run with each season representing a full decade. The first season will supposedly take place in the 60's and the only characters who will progress unchanged from one season to the next will be the vampires who, obviously, don't age. The beginning would be "1967 Summer of Love Haight-Ashbury to be specific," Thomas told the site.
As much of as skeptic as I am about remakes, this could actually be awesome.

While we loved (and I mean loved) the original characters, we should expect a different group of vamps in the series. "They're similar young vampires all living this sort of Peter Pan–like existence of never having to grow up, getting turned into vampires when they're in their early 20s," Thomas said. "They can stay young and beautiful and cool forever."
That is a large part of the attraction after all.
Thomas does reveal that we could actually meet some of the original characters (though played by different people) in cross-over storylines: "Vampires stay the same age, so those vampires that we meet in the '80s in the original Lost Boys movies could exist in the 1960s version," Thomas said. "We could run into them there as well. We might not even have to wait until the '80s to see that other Lost Boys crew."
And because each season jumps a decade, the humans would (obviously) age by ten years. Says Thomas, "The humans around them change to a degree from year to year," Thomas said. "They can exist in multiple versions of the show but the humans would get ten years older. The vampires are going to stay the same age."
If the initial season takes place in a '60s San Francisco, he reveals that the plan is for the second season to take place in a 1970's New York, with the third obviously taking us to the 1980's, possibly in Austin, Texas, and the '90s focusing on grunge in Seattle.
So, what about the final season?
"In seven seasons we would catch up with present day," Thomas said. "Technically we could be playing the 2024 election in seven years."
Insert all the political "bite me" jokes here…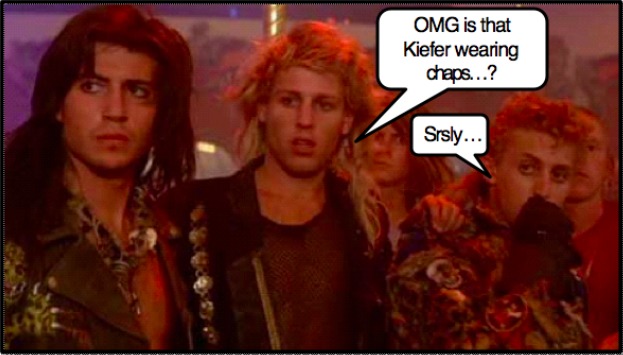 Assuming we're all going to have to give up raging against the "nothing original in Hollywood" situation – what do you think of this? Has the world finally recovered enough from sparkly, emo-vamps to embrace dangerous, sexy vamps again? Post a comment or drop a line to sue@blackgate.com.