Future Treasures: Nine of Stars by Laura Bickle
Future Treasures: Nine of Stars by Laura Bickle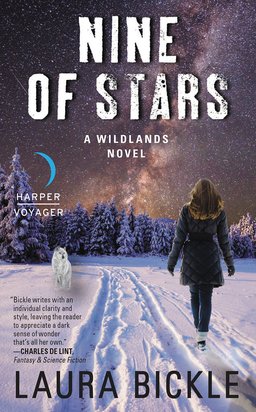 Laura Bickle is the author of the Dark Alchemy weird western series (Dark Alchemy, Mercury Retrograde), featuring geologist Petra Dee and her coyote sidekick Sig, which have been described as "Stephen King's The Gunslinger meets Breaking Bad."
Nine of Stars is the newest Petra Dee novel, and also the first Wildlands novel, which the publisher describes as "an exciting new series that shows how weird and wonderful the West can truly be." I don't see a lot of contemporary Weird Westerns, so consider me intrigued.
Winter has always been a deadly season in Temperance, but this time, there's more to fear than just the cold…

As the daughter of an alchemist, Petra Dee has faced all manner of occult horrors – especially since her arrival in the small town of Temperance, Wyoming. But she can't explain the creature now stalking the backcountry of Yellowstone, butchering wolves and leaving only their skins behind in the snow. Rumors surface of the return of Skinflint Jack, a nineteenth-century wraith that kills in fulfillment of an ancient bargain.

The new sheriff in town, Owen Rutherford, isn't helping matters. He's a dangerously haunted man on the trail of both an unsolved case and a fresh kill – a bizarre murder leading him right to Petra's partner Gabriel. And while Gabe once had little to fear from the mortal world, he's all too human now. This time, when violence hits close to home, there are no magical solutions.

It's up to Petra and her coyote sidekick Sig to get ahead of both Owen and the unnatural being hunting them all – before the trail turns deathly cold.
Nine of Stars will be published by Harper Voyager on December 27, 2016. It is 384 pages, priced at $7.99 in paperback and $4.99 for the digital version.
See all of our recent coverage of Weird Westerns here.