The Top 50 Black Gate Posts in August
The Top 50 Black Gate Posts in August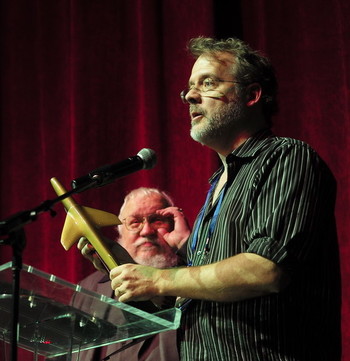 Following on our record 1.26 million page views in July, Black Gate had an even more incredible August. There were lots of small triumphs, but the big one was receiving an Alfie Award from George R.R. Martin at Worldcon (at right). In his blog post explaining this year's awards, George wrote:
One of my special 'committee awards' went to Black Gate, which had 461 nominations in the Fanzine category, second among all nominees and good for a place on the ballot. But Black Gate turned down the nomination, just as they did last year, to disassociate themselves from the slates. Turning down one Hugo nomination is hard, turning down two must be agony. Integrity like that deserves recognition, as does Black Gate itself. Editor John O'Neill was on hand to accept the Alfie.
Our top article last month was my report on the Alfie Awards, with pics from the associated Hugo Losers party. Second was M Harold Page's study on how to capture the magic of a great dungeon crawl in fiction. And third was our look at Michael McDowell's classic horror novel Cold Moon Over Babylon.
Rounding out the Top Five were William Patrick Maynard's review of The Midnight Guardian ("a hardboiled pulp yarn that is so good, it immediately makes you set the author to one side with a handful of other standouts"), and Neil Baker's gaming piece, "How No Man's Sky Has Reinvigorated a Gaming Generation (No, Not That One)."
Also in the Top Ten were our report on the 2016 Hugo Award Winners, Parts One and Two of Fletcher Vredenburgh's Summer Short Story Roundup, our summary of the Top 50 Black Gate Posts in July, and Bob Byrne's detailed history of the TSR classic Dungeon!
The complete list of Top Articles for August follows. Below that, I've also broken out the most popular overall articles, online fiction, and blog categories for the month.
The Top 50 Black Gate posts in August were:
There were plenty of older articles popular last month as well. The 25 most popular blog posts written before August were:
The Top Black Gate Online Fiction features were:
The top categories last month were:
The Top 50 Black Gate blog posts in July are here, and you can see all 98 posts we made in the month of August here.