Images of Captain Scott's Final Expedition
Images of Captain Scott's Final Expedition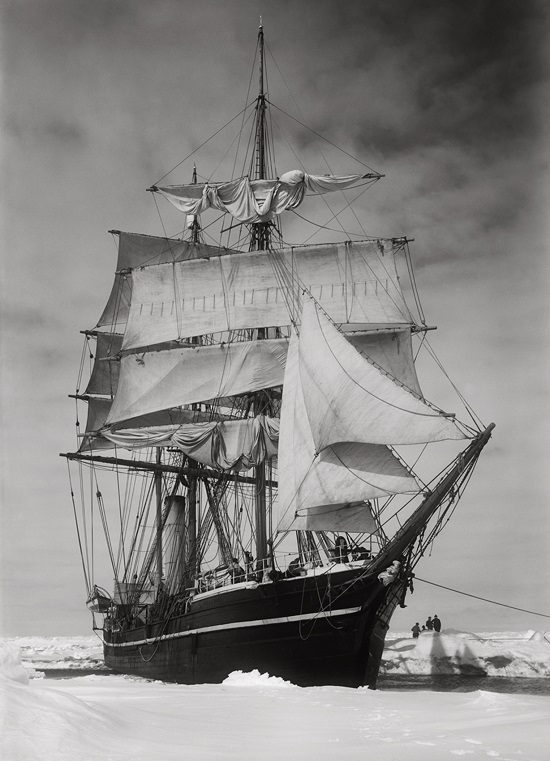 One of Ponting's iconic images from the expedition is the Terra Nova stuck in ice.
The crew had to cut away the ice immediately around the ship every day so that
it wouldn't crush the ship, a fate suffered by several other Polar expeditions.
When I'm in London I love to catch the shows at the big galleries, but I also like to check out the auction houses. Although I can't afford to buy anything, places like Christie's, Sotheby's, and Bonhams often have free exhibitions of great art that, because it's in private hands, you've never seen before and will probably never see again.
They sometimes have more traditional exhibitions of art that isn't for sale. One such show this season is Visions of the Great White South at Bonhams. This brings together photography and paintings made on Captain Robert Falcon Scott's ill-fated Terra Nova expedition to Antarctica from 1910 to 1913. While Scott and his forward team made it to the South Pole, they were narrowly beaten by Roald Amundsen and his Norwegian team. As they tried to return to base camp, the men were caught in a blizzard and Scott and the entire forward team perished.
While the expedition could be considered a failure, it accomplished some important scientific research as well as some magnificent artistic achievements. With the expedition were two artists. Dr. Edward Wilson was a physician, naturalist, and painter who sadly died with Scott. Herbert Ponting was a photographer. Both made some gripping images of the Antarctic that form the centerpieces of the show.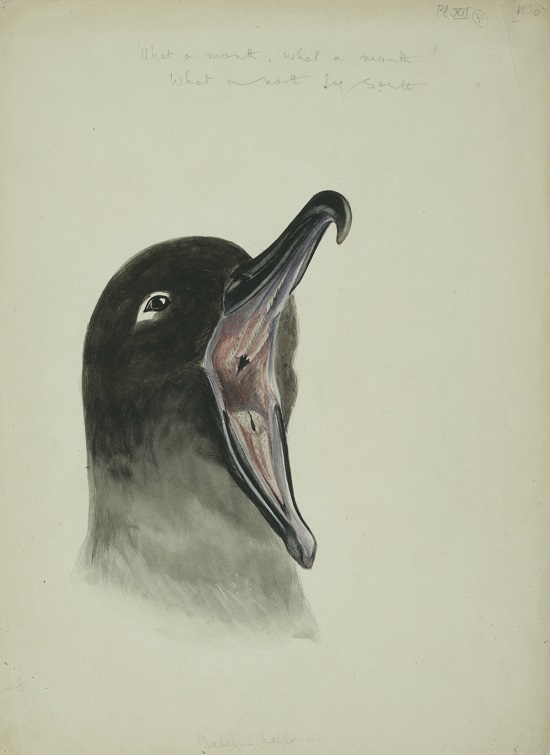 A Light Mantled Sooty Albatross. Wilson has added the line
"What a mouth. What a mouth. What a north and south"
Wilson worked mainly in watercolor, sketching his subjects before going back to the ship to paint where his watercolors wouldn't freeze. He made some lovely landscapes as well as detailed depictions of Antarctic wildlife. Ponting took photos of the men, equipment, and landscape and taught Captain Scott how to take his own photographs. Back then cameras were slow and cumbersome even in the best of conditions, and Ponting had to take his photographs in subzero temperatures, often buffeted by howling winds.
Wilson and Ponting discussed having a joint show when they returned to England, but with Wilson's death this never came to pass. This show is the first time they have been exhibited together. It was also a rare chance to see Scott's photos, which for many decades were believed lost and only recently were discovered in a private collection.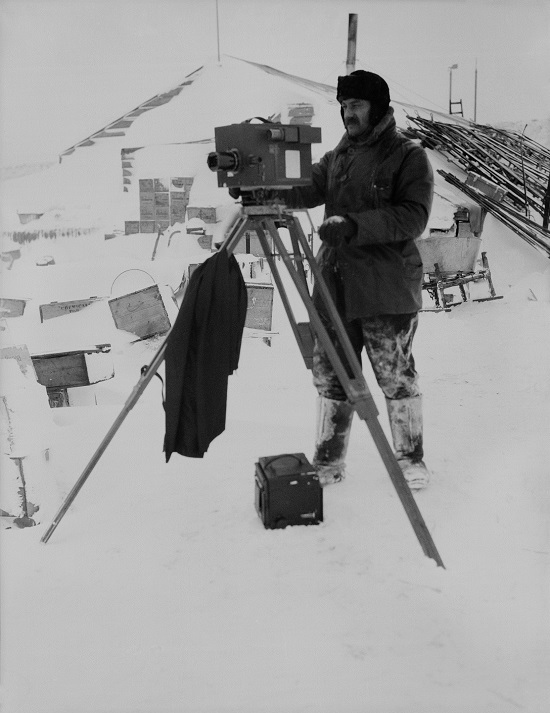 Scott took this photo of Ponting working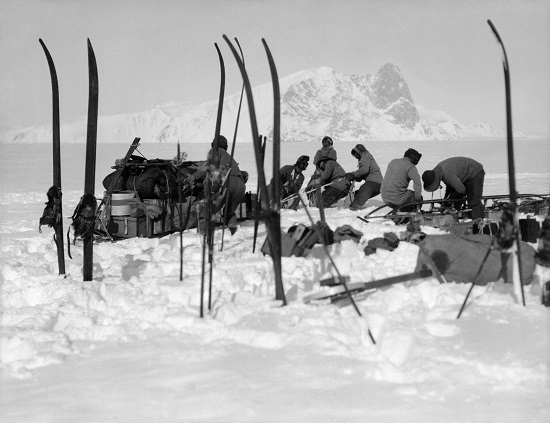 Another of Scott's photos showing the men foundering in soft snow,
something that plagued the expedition

Scott's photo of the Camp on Ferrar Glacier, Overflow Glacier and Royal Society Range
Seeing these paintings and photos was deeply moving for me. As a kid who avidly read National Geographic, I dreamed of visiting Africa, the Middle East, and the Polar regions. While I have made those first two dreams come true, I have never made it to the Arctic or Antarctic. See these sweeping landscapes and intimate portraits really took me there. Perhaps some day I'll go for real.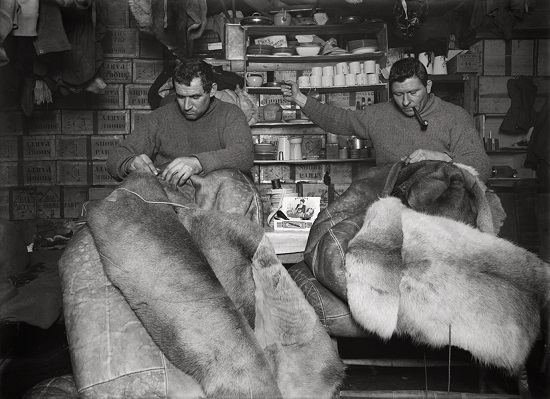 Ponting took photos of daily chores as well, such as
Petty officers Evans and Crean mending sleeping bags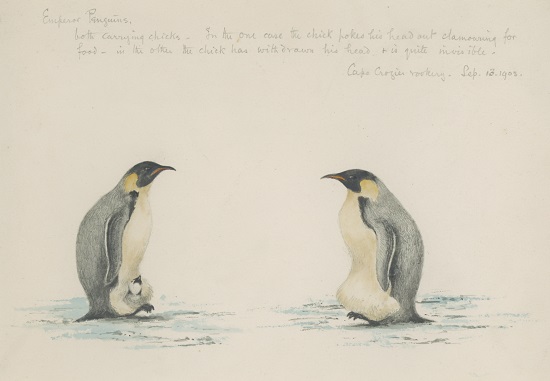 Wilson's painting of Emperor penguins at the Cape Crozier Rookery. Both are
sheltering chicks, keeping them warm by putting them between their feet and their bellies.
The chick on the left is peeking out to beg for food while the other remains hidden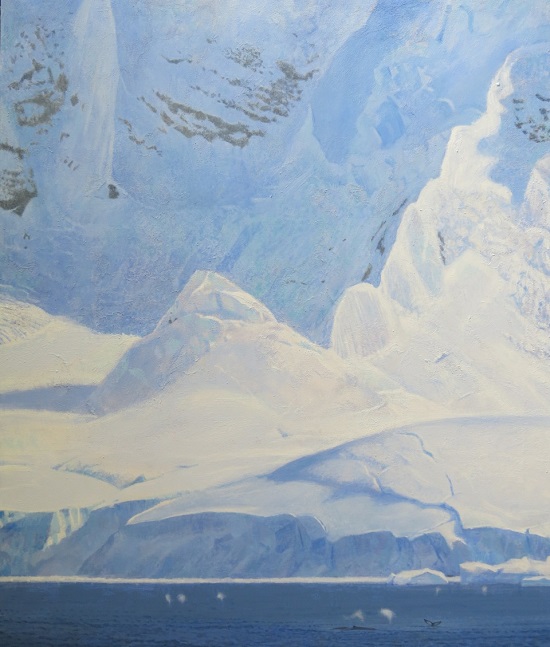 The show also features work by eight artists who have gone to Antarctica with
the Scott Polar Research Institute's artist in residence program. This painting
by Darren Rees is of Humpbacks at Gerlach Strait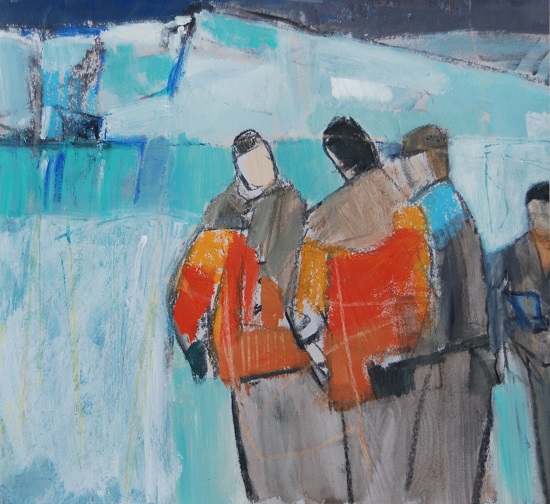 Another artist in residence was Dafila Scott, who did this work
entitled International Collaboration in the Antarctic
If you're interested in Polar exploration, you might also like my review of the latest biography of Ernest Shackleton.
All images courtesy Bonhams.
---
Sean McLachlan is the author of the historical fantasy novel A Fine Likeness, set in Civil War Missouri, and several other titles, including his post-apocalyptic series Toxic World that starts with the novel Radio Hope. His historical fantasy novella The Quintessence of Absence, was published by Black Gate. Find out more about him on his blog and Amazon author's page.