Images of Captain Scott's Final Expedition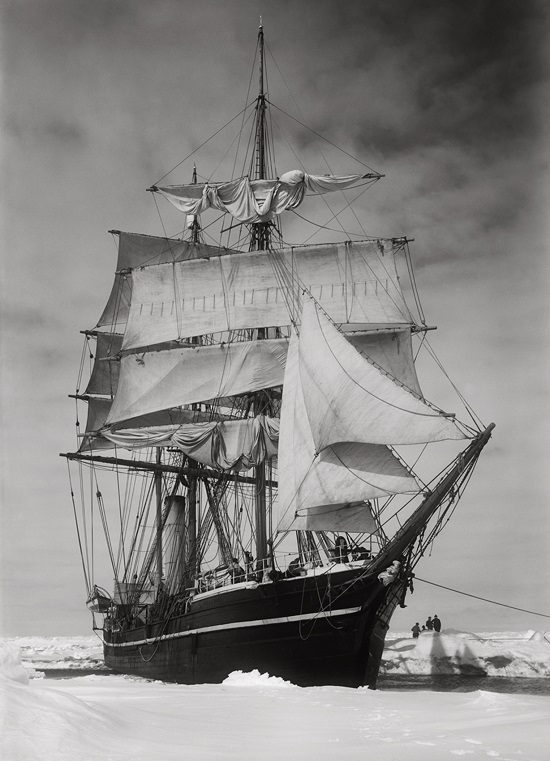 One of Ponting's iconic images from the expedition is the Terra Nova stuck in ice.
The crew had to cut away the ice immediately around the ship every day so that
it wouldn't crush the ship, a fate suffered by several other Polar expeditions.
When I'm in London I love to catch the shows at the big galleries, but I also like to check out the auction houses. Although I can't afford to buy anything, places like Christie's, Sotheby's, and Bonhams often have free exhibitions of great art that, because it's in private hands, you've never seen before and will probably never see again.
They sometimes have more traditional exhibitions of art that isn't for sale. One such show this season is Visions of the Great White South at Bonhams. This brings together photography and paintings made on Captain Robert Falcon Scott's ill-fated Terra Nova expedition to Antarctica from 1910 to 1913. While Scott and his forward team made it to the South Pole, they were narrowly beaten by Roald Amundsen and his Norwegian team. As they tried to return to base camp, the men were caught in a blizzard and Scott and the entire forward team perished.
While the expedition could be considered a failure, it accomplished some important scientific research as well as some magnificent artistic achievements. With the expedition were two artists. Dr. Edward Wilson was a physician, naturalist, and painter who sadly died with Scott. Herbert Ponting was a photographer. Both made some gripping images of the Antarctic that form the centerpieces of the show.