The Top 50 Black Gate Posts in June
The Top 50 Black Gate Posts in June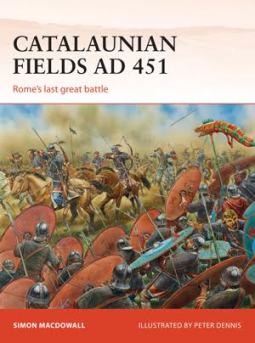 Ah, June. Not a bad month at all, now that I look back on it.
For one thing, M Harold Page pointed out how Osprey Publishing made a compelling argument for the true location of the Battle of the Catalaunian Fields, otherwise known as the Battle of Chalons, in "OMG They Found It! Osprey's The Catalaunian Fields AD451." That casual revelation was enough to catapult Martin's article to the top of a crowded field, giving him our most popular blog post last month.
I finally had time to compile my lengthy notes on my favorite Chicago con, in "Total Pulp Victory: A Report on Windy City Pulp & Paper 2016, Part I," our number 2 post for the month. It was followed by a guest blog post by Babylon 5 actress Claudia Christian and author Morgan Grant Buchanan on their first joint project, the ambitious Wolf's Empire series.
Coming in at number 4 last month was our Vintage Treasures feature on H. Rider Haggard's The People of the Mist, followed by Derek Kunsken's look at "Rebirth: DC's Corrective Reboot."
Rounding out the Top Ten were Fletcher Vredenburgh's review of L. Sprague de Camp's classic S&S tale The Tritonian Ring, our report on a detailed feature on Perry Rhodan in the summer issue of SFX, my look at Asmodee's Fantasy Empire game Hyperborea, and no less than two articles from William Patrick Maynard: the first installment of his exploration of Marvel's classic Master of Kung Fu comic, and "The Fu Manchu That Almost Was."
The complete list of Top Articles for June follows. Below that, I've also broken out the most popular overall articles, online fiction, and blog categories for the month.
The Top 50 Black Gate posts in June were:
There were plenty of older articles popular last month as well. The 25 most popular blog posts written before June were:
The Top Black Gate Online Fiction features were:
The top categories last month were:
The Top 5o Black Gate blog posts in May are here, and you can see all 98 posts we made in the month of June here.