Future Treasures: Red Right Hand by Levi Black
Future Treasures: Red Right Hand by Levi Black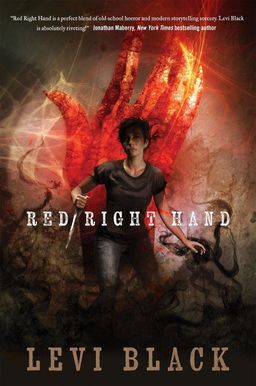 Red Right Hand is the debut novel from Atlanta writer Levi Black. Jonathan Maberry calls it "A perfect blend of old-school horror and modern storytelling sorcery… absolutely riveting!"
Charlie Tristan Moore isn't a hero. She's a survivor. Already wrestling with the demons of her past, she finds herself tested as never before when she arrives home one night to find herself under attack by three monstrous skinhounds straight out of a nightmare. Just as hope seems lost, she is saved by a sinister Man in Black, dressed in a long, dark coat that seems to possess a life of its own and wielding a black-bladed sword in his grisly red right hand.

But her rescue comes at a cost. The Man in Black, a diabolical Elder God, demands she become his Acolyte and embrace a dark magick she never knew she possessed. To ensure her obedience, he takes her friend and possible love, Daniel, in thrall as a hostage. Now she must join The Man in Black in his crusade to track down and destroy his fellow Elder Gods, supposedly to save humanity from being devoured for all eternity.

But is The Man in Black truly the lesser of two evils – or a menace far more treacherous than the eldritch horrors she's battling in his name?
I first heard of it at the B&N blog, in Jeff Somers's post "The Long Arm of Lovecraft: 8 Books That Probe the Mythos," which also examines Ruthanna Emrys' The Litany of Earth, Jacqueline Baker's The Broken Hours, and Nick Mamatas' I Am Providence. On Red Right Hand, Jeff says:
Charlie… survives an attack by a trio of monstrous skinhounds thanks to the intervention of the Man in Black, whose long coats swirls with a mind of its own and whose grisly red right hand clutches a black blade. The Man in Black is in fact an Elder God, and he enlists Charlie's help in destroying his peers, claiming to be trying to save mankind. Charlie dives into the fray, unsure if there's such a thing as the "lesser of two evils" when it comes to Lovecraftian creatures. Readers will be sucked in by the bravado writing.
Red Right Hand will be published by Tor Books on July 26, 2016. It is 304 pages, priced at $24.99 in hardcover and $11.99 for the digital edition. Read an excerpt here.