New Treasures: Warlock Holmes: A Study in Brimstone by G.S Denning
New Treasures: Warlock Holmes: A Study in Brimstone by G.S Denning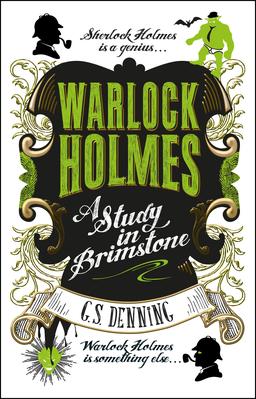 Bob Byrne, our Monday blogger who posts under The Public Life of Sherlock Holmes byline, is our go-to Holmes guy. But even can't report on all the Sherlockian developments these days, which is why I'm here to tell you about G.S Denning's new book Warlock Holmes: A Study in Brimstone, released in trade paperback by Titan Books in May. Robert Brockway (The Unnoticeables) give us the details:
What if Sherlock Holmes wasn't a brilliant detective, but an awkward magician with prophetic fits? What if Scotland Yard was staffed by vampires and ogres? And above all, what if it was funny? Warlock Holmes should have you from the title alone, but if it doesn't, know that it's full of charm, humor and demons. Lots of demons.
Humor is hard — and especially humor at length. I can count the number of truly funny novels I've read on one hand. But I enjoy a good parody, and this collection of humorous Sherlock pastiches with a dark fantasy twist looks like it would fit the bill nicely.
Sherlock Holmes is an unparalleled genius who uses the gift of deduction and reason to solve the most vexing of crimes. Warlock Holmes, however, is an idiot. A good man, perhaps; a font of arcane power, certainly. But he's brilliantly dim. Frankly, he couldn't deduce his way out of a paper bag. The only thing he has really got going for him are the might of a thousand demons and his stalwart flatmate. Thankfully, Dr. Watson is always there to aid him through the treacherous shoals of Victorian propriety… and save him from a gruesome death every now and again.

An imaginative, irreverent and addictive reimagining of the world's favorite detective, Warlock Holmes retains the charm, tone and feel of the original stories by Sir Arthur Conan Doyle while finally giving the flat at 221b Baker Street what it's been missing for all these years: an alchemy table.

Reimagining six stories, this riotous mash-up is a glorious new take on the ever-popular Sherlock Holmes myth, featuring the vampire Inspector Vladislav Lestrade, the ogre Inspector Torg Grogsson, and Dr. Watson, the true detective at 221b. And Sherlock. A warlock.
Warlock Holmes: A Study in Brimstone was published by Titan Books on May 17, 2016. It is 336 page, priced at $14.95 in trade paperback and $7.99 for the digital version.