Future Treasures: The Race by Nina Allen
Future Treasures: The Race by Nina Allen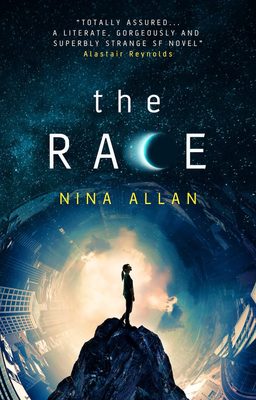 I quite enjoy Nina Allen's regular column in Interzone magazine. Which I guess is kind of an odd way to introduce her, but it's true. She's also a fine short story writer who's earned a lot of accolades in a short period of time — including the British Science Fiction BSFA Award, the Grand Prix de l'Imaginaire, and the Aeon Award. She's been shortlisted for the British Fantasy Award four times, and was a finalist for the 2014 Shirley Jackson Award.
The Race is her first novel. It was first published in the UK by NewCon, a small press. Tor.com described it as "a progressive sci-fi novel set in a future Great Britain scarred by fracking and ecological collapse," and Kirkus Reviews praised it as "a brilliantly weird world that's utterly riveting." Titan Books is re-issuing it in trade paperback in the UK and the US this month, with a knockout new cover designed by Julia Lloyd. Here's the description.
A child is kidnapped with consequences that extend across worlds… A writer reaches into the past to discover the truth about a possible murder… Far away a young woman prepares for her mysterious future…

In a future scarred by fracking and ecological collapse, Jenna Hoolman's world is dominated by illegal smartdog racing: greyhounds genetically modified with human DNA. When her young niece goes missing that world implodes… Christy's life is dominated by fear of her brother, a man she knows capable of monstrous acts and suspects of hiding even darker ones. Desperate to learn the truth she contacts Alex, who has his own demons to fight… And Maree, a young woman undertaking a journey that will change her world forever.
The Race will be published by Titan Books on July 19, 2016. It is 400 pages, priced at $14.95 in trade paperback and $7.99 for the digital edition. The cover was designed by Julia Lloyd. Read a brief excerpt from Chapter One at Tor.com.