New Treasures: Confluence by Paul McAuley
New Treasures: Confluence by Paul McAuley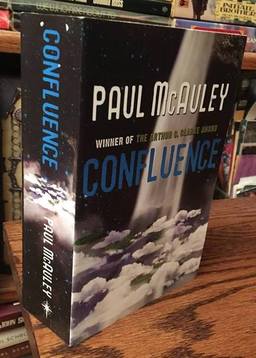 I've found a number of online sellers offering brand new copies of recent British SF and fantasy books very inexpensively (essentially, at remainder prices), and I've been taking advantage of them. My most recent purchases include Paul McAuley's In the Mouth of the Whale (the third volume in his far-future series The Quiet War), and the massive omnibus volume Confluence, which contains his complete trilogy. And I do mean massive — just take a look at the thing (click the image at right for a more lifesize version). At 935 pages, it proudly stands all on its own on my end table (and darn near tips it over).
Paul McAuley was an early columnist for Black Gate (his fantasy review column On the Edge appeared in our early print issues). The omnibus volume contains three complete novels, all originally published in hardcover in the US by Avon EOS:
Child of the River (1997)
Ancients of Days (1998)
Shrine of Stars (1999)
Here's the description:
Confluence — a long, narrow, artificial world, half fertile river valley, half crater-strewn desert. A world beyond the end of human history, served by countless machines, inhabited by 10,000 bloodlines who worship their absent creators, riven by a vast war against heretics.

This is the home of Yama, found as an infant in a white boat on the world's Great River, raised by an obscure bureaucrat in an obscure town in the middle of a ruined necropolis, destined to become a clerk — until the discovery of his singular ancestry. For Yama appears to be the last remaining scion of the Builders, closest of all races to the revered architects of Confluence, able to awaken and control the secret machineries of the world.

Pursued by enemies who want to make use of his powers, Yama voyages down the length of the world to search for answers to the mysteries of his origin, and to discover if he is to be the saviour of his world, or its nemesis.
Confluence was published by Gollancz in August 2015. It is 935 pages, priced at £16.99 in trade paperback and $15.99 for the digital edition. I bought my copy from Media Universe for $12.14 plus $3.99 shipping (and In the Mouth of the Whale from the same vendor for $2.95). Copies of both are still available.