New Treasures: The Wild Robot by Peter Brown
New Treasures: The Wild Robot by Peter Brown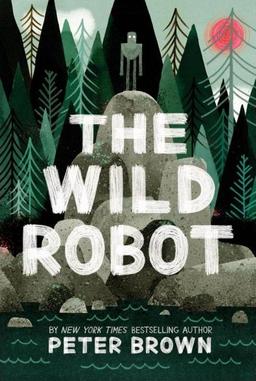 Peter Brown is the author of The Curious Garden and My Teacher is a Monster; The Wild Robot is his first science fiction book. In a lengthy post on his website, The Wild Robot Lives!, he writes about the genesis of the book.
I wanted to tell a different kind of robot story. I wanted to tell the story of a robot who finds harmony in the last place you'd expect… What would an intelligent robot do in the wilderness? To answer that question, I invented a robot character named Rozzum (a subtle nod to Čapek's play), and tried to imagine how she'd handle life in the wilderness.
Eight years later, The Wild Robot has finally arrived in hardcover from Little, Brown. Here's the description.
Can a robot survive in the wilderness?

When robot Roz opens her eyes for the first time, she discovers that she is alone on a remote, wild island. She has no idea how she got there or what her purpose is — but she knows she needs to survive. After battling a fierce storm and escaping a vicious bear attack, she realizes that her only hope for survival is to adapt to her surroundings and learn from the island's unwelcoming animal inhabitants.

As Roz slowly befriends the animals, the island starts to feel like home — until, one day, the robot's mysterious past comes back to haunt her.
The Wild Robot was published by Little, Brown Books for Young Readers on April 5, 2016. It is 288 pages, priced at $16.99 in hardcover and $9.99 for the digital version. The cover is by Peter Brown.