Goth Chick News: Waist Deep in the Horror or Covering the Halloween and Haunted Attractions Show 2016
Goth Chick News: Waist Deep in the Horror or Covering the Halloween and Haunted Attractions Show 2016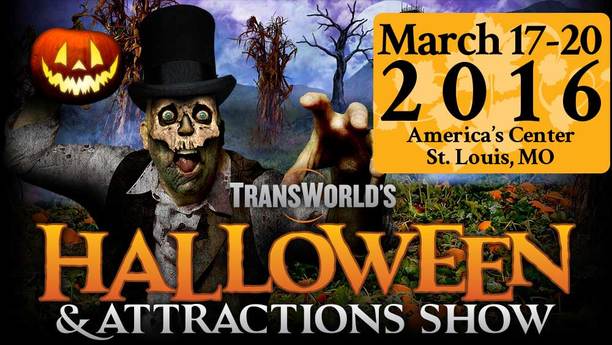 A 4 a.m. wakeup call, ten hours in the car, more coffee and Mountain Dew than can reasonably be tallied, two shots of Fireball whisky and over 100K square feet of blood, guts and latex.
No, it isn't the Black Gate holiday party in Vegas. If it were, there would be way more than two shots of Fireball…
It is in fact, the biggest haunt show of the year; the Transworld Halloween & Haunted Attraction Show in St Louis, Missouri and Black Gate photog Chris Z and I are hopping on the road at zero-dark-thirty to cover it for the sixteenth year running – Chicago to Saint Louie and back in one day.
WTF? I hear you asking. But trust me when I say getting an inside peep at this "industry only" show is well worth the long day and the dry cleaning bill to get the smell of rotting flesh (courtesy of Sinister Scents) out of our Black Gate polo's.
[Click on images for bigger versions.]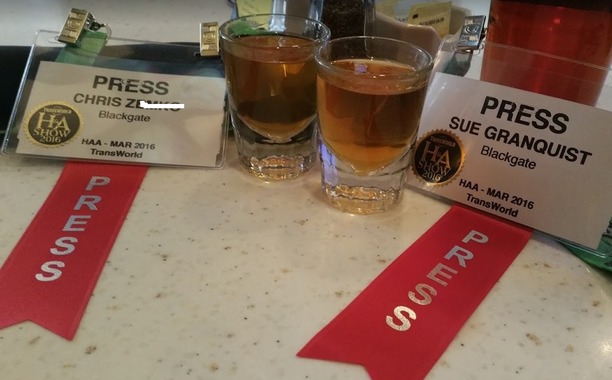 The traditional show-coverage whiskey shots…
TransWorld's Halloween & Attraction show is the only industry trade show that has this many exhibitors (over 300) and industry related products. For two decades haunt industry professionals have gathered to network, get new ideas and purchase products. There are booths with vendors representing every aspect of the horror business including special effects, makeup, costumes, animatronics and every piece down to the smallest necessary to create realistic, terror-inducing scenes.
It is also the place to get an early look at trends in horror, such as characters and themes that will reappear in a huge way come the fall. And though the show caters to the haunted attraction industry, many of the most impressive effect vendors have "day jobs" in Hollywood, so the show has a movie angle as well.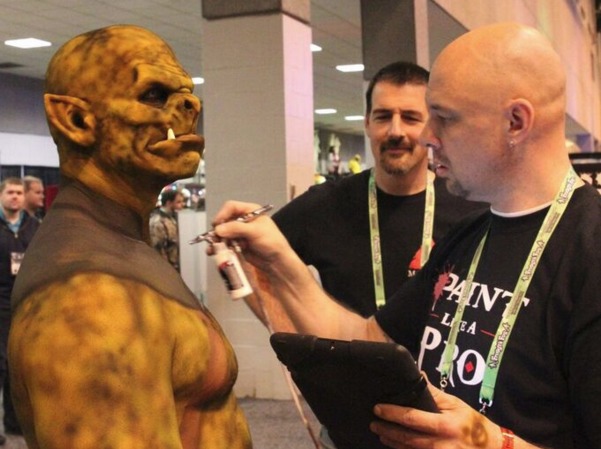 ProAiir Hybrid Makeup artist putting on the finishing touches…
Now slip on your butcher's coat, rubber electrical gloves and your goalie mask and follow me…
We saw several trends at this year's event. Probably thanks to American Horror Story Freak Show (it does take some months for merchandise to appear), all things side-show carnival were represented.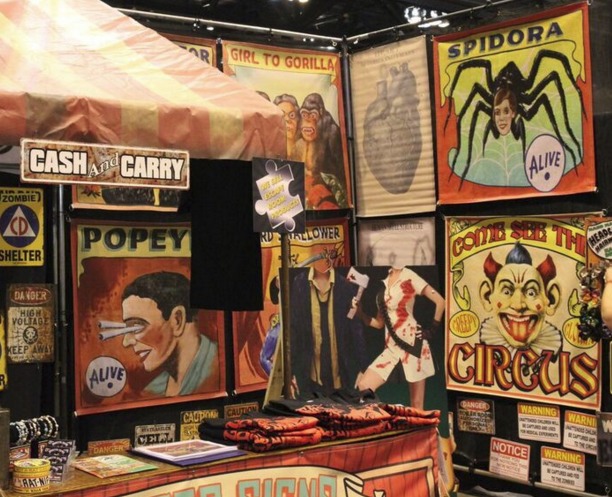 Sinister Signs
Sinister Signs is a personal favorite due to their high-quality carnival freak show banner replicas. All banners are digitally printed on a 14 oz. heavy-weight vinyl material with sewn hems and metal rings in all 4 corners for hanging. Appropriate for indoor or outdoor use, all artwork is faithfully represented from original carnival advertising.
Nothing like a 6ft x 6ft "lobster girl" in your foyer to welcome your guests… at least that what I think…
The character Krampus was everywhere in various forms, which was a bit surprising considering the first time most Americans had ever heard his name was in November, 2015 due to a decidedly "B" horror movie of the same name. According to his official website, Krampus is the dark companion of good ol' St. Nick, who punishes the naughty children, swatting them with switches and rusty chains before dragging them, in baskets, to Hell.
So just forget the whole "coal in the stocking" threat…
The most impressive Krampus was the one featured in a scene created by Darkness Partnerships, an offshoot of The Darkness Horror Scream Park in St. Louis. Chris Z and I came back to check it out several time – it was downright disturbing.
Probably the coolest trend getting an enormous amount of square footage this year (about 20% of the show floor actually) is the concept of the "escape room." You've probably seen these popping up all over your town via Groupon and though I have yet to try one out myself, I must say that after seeing the level of sophistication in the effects and "puzzles," I'm definitely going to give it a go.
The concept is simple: you are locked in a room with other participants and have to use elements of the room to solve a series of puzzles, find clues, and escape the room within a set time limit. The room experiences all have themes from "zombie escape" to "escape the mummy" among a huge variety of others.

Showcased at Transworld were vendors selling the complete room experiences (including the room on a flatbed trailer), ready to haul up anywhere and start making money. Elaborate escape rooms can cost up to $50 per person. Each experience accommodates up to 8 participants for an hour-long session, so you can imagine how this investment would be lucrative.
Check out The Curse of the Mummy escape room, which was featured at the show.
Among the hundreds of vendors who attend Transworld each year, it is difficult to pick out only a few to bring to you, but here are ones that stood out.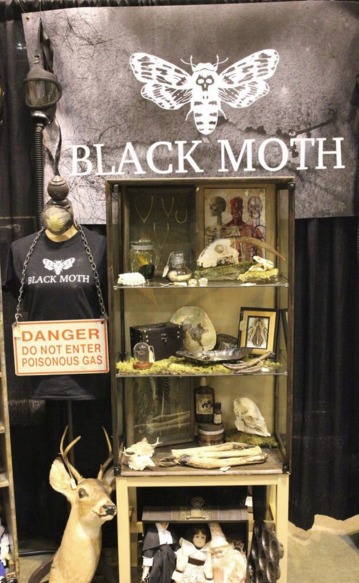 Maris Blanchard from Black Moth is a new find for us, though she is not new to the show. She calls her art "macabre props" and she finds her materials combing through abandoned houses and barns.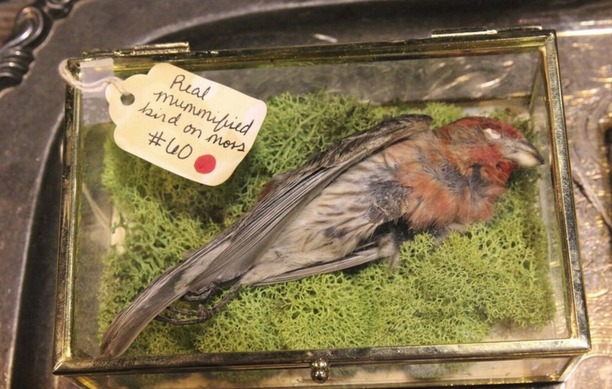 I'm not sure what to do with a mummified bird exactly, but since I couldn't stop looking at it…
John Weisgerber from Gemini Company is a perennial show favorite and I own several of his pieces, with "shrunken head under glass" being my favorite. This year John showed us a more elaborate version, "the witch doctor" which I absolutely love.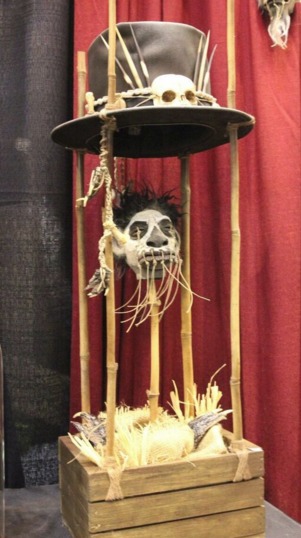 The Witch Doctor by Gemini Company
Unfortunately, more than one shrunken head per room is probably too much.
And what would horror entertainment in any form be without an appropriate soundtrack, which is where our favorite goth musician crush comes in: Ed Douglas from Midnight Syndicate. Ed was our first-ever interview at our first-ever Transworld show some sixteen years ago and will therefore always hold a special place in our little black hearts.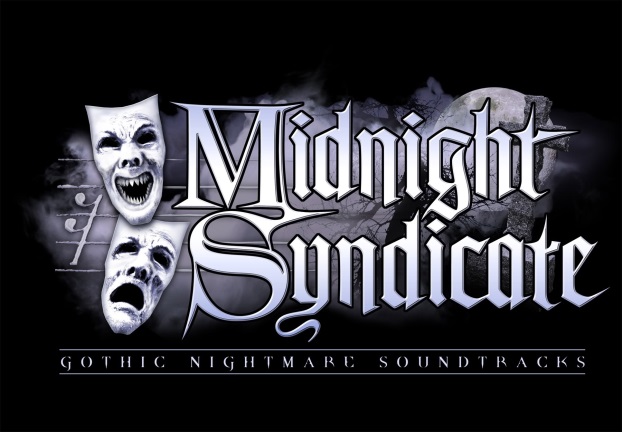 Ed was at Transworld this year to announce Midnight Syndicate was teaming up with tabletop game designers, Twilight Creations, to create a soundtrack for that company's award-winning zombie apocalypse-themed board game Zombies!!!. The soundtrack is scheduled for release in September 2016.
And finally, under the category of "random coolness" I give you the custom Harley Davidson raffle sponsored by Phobius Haunted House. The folks at Phobius commissioned this unbelievable bike directly from HD in Milwaukee and tricked it out with a paint job commemorating the various scenes in their award-winning attraction.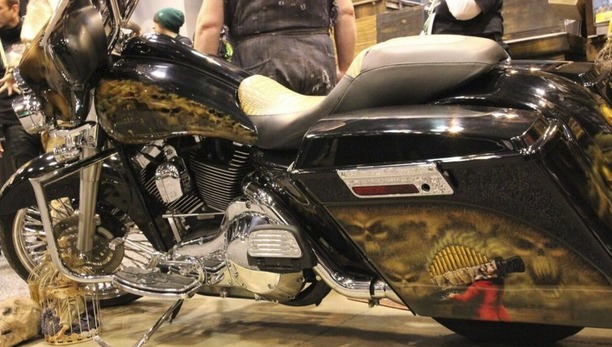 Tricked out horror-bike from Phobius Haunted House and Harley Davidson
And that was where I lost Chris Z.
So I was alone to explore the room which each year is set aside to showcase the largest and most expensive animatronics offered at Transworld – with most prices kicking off in the low thousands. If you had any doubt Halloween is an $8 billion-dollar-per-year industry, just take a look at the merchandise being sold at Transworld.
Have a question or comment? Post it here or drop a note to sue@blackgate.com. And a very special thanks to Jen Braverman and the press office at Transworld for 16 fabulous years.