New Treasures: Graft by Matt Hill
New Treasures: Graft by Matt Hill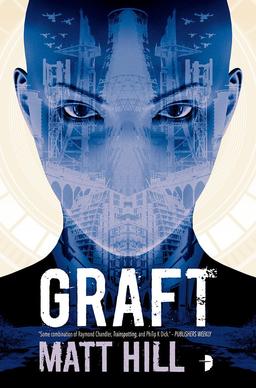 I don't know much about British writer Matt Hill. He lives in London and has written one previous novel, The Folded Man (2013). But I like the sound of his second book, Graft. Author James Smythe says "Graft is exactly what science fiction should be right now: it's brutally dark, twisted at its heart, with an incredible sense of foreboding… one of the best books I've read in a long time." I'm putting this one near the top of my to-be-read pile.
Manchester, 2025. Local mechanic Sol steals old vehicles to meet the demand for spares. But when Sol's partner impulsively jacks a luxury model, Sol finds himself caught up in a nightmarish trans-dimensional human trafficking conspiracy.

Hidden in the stolen car is a voiceless, three-armed woman called Y. She's had her memory removed and undertaken a harrowing journey into a world she only vaguely recognises. And someone waiting in the UK expects her delivery at all costs.

Now Sol and Y are on the run from both Y's traffickers and the organisation's faithful products. With the help of a dangerous triggerman and Sol's ex, they must uncover the true, terrifying extent of the trafficking operation, or it's all over.

Not that there was much hope to start with.

A novel about the horror of exploitation and the weight of love, Graft imagines a country in which too many people are only worth what's on their price tag.
Graft was published by Angry Robot on February 2, 2016. It is 444 pages, priced at $7.99 in paperback and $6.99 for the digital edition. The cover is by John Coulthart.