New Treasures: Front Lines by Michael Grant
New Treasures: Front Lines by Michael Grant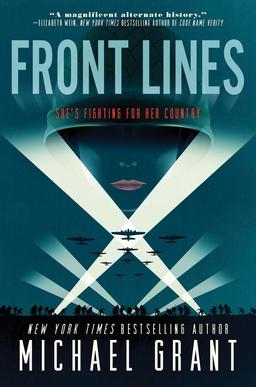 Michael Grant is the author of over 150 books, many co-written with his wife Katherine. He's the New York Times bestselling author of Gone and Messenger of Fear. His latest novel, Front Lines, is a daring alternate history that imagines World War II with female soldiers fighting on the front lines. Publishers Weekly calls it "A gripping and heart-wrenching tale," and bestselling author Elizabeth Wein says it's "a magnificent alternate history that feels so real and right and true it seems impossible that it wasn't."
World War II, 1942. A court decision makes women subject to the draft and eligible for service. The unproven American army is going up against the greatest fighting force ever assembled, the armed forces of Nazi Germany.

Three girls sign up to fight. Rio Richlin, Frangie Marr, and Rainy Schulterman are average girls, girls with dreams and aspirations, at the start of their lives, at the start of their loves. Each has her own reasons for volunteering: Rio fights to honor her sister; Frangie needs money for her family; Rainy wants to kill Germans. For the first time they leave behind their homes and families—to go to war.

These three daring young women will play their parts in the war to defeat evil and save the human race. As the fate of the world hangs in the balance, they will discover the roles that define them on the front lines. They will fight the greatest war the world has ever known.
Front Lines was published by Katherine Tegen Books on January 26, 2016. It is 576 pages, priced at $18.99 in hardcover and $11.99 for the digital version. It is the first installment of a new series.