Guides to Worlds Fantastic and Strange
Guides to Worlds Fantastic and Strange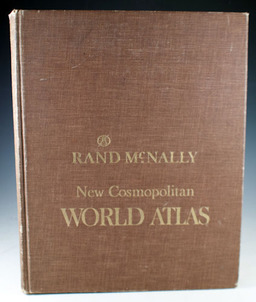 I've always loved maps — following rivers to the seas, tracing the shores of those seas, and then crossing them by fingertip to a distant land. My dad had a giant Rand-McNally atlas that I took possession of when I was ten or eleven and never returned. I would pore over its pages, puzzling out how to say the names of cities like Dnepropetrovsk or Tegucigalpa and wondering what exactly was the Neutral Zone between Saudi Arabia and Iraq.
Today, my favorite atlas is the Cram's Unrivaled Family Atlas of the World 1889 that my grandfather scavenged from a work site. As with my dad's, I quickly assumed ownership of the book. Better than a lot of history I've read, it conveys the reality of the past in finely drawn lines. The vast scope of the British and Russian empires — the web of conquered lands covering Africa and Asia — are right there in clear pastel pinks and yellows. Images conjured up in my brain while reading were made concrete on the pages before me.
And, of course, I love maps in fantasy books. Always have, from those very first ones I saw in The Lord of the Rings and the Conan books. While Tolkien's maps are intricate, lovingly created works of art, and the one of Hyboria is spare and undetailed, both intensify the illusion that the books' worlds are real. They may not have been as vast and detailed as my dad's atlas, but they were as captivating. While a book doesn't need to include a map, I'm a fan of one that does. It's an added bonus that I really dig. (To read another piece I wrote about maps several years ago, you can click HERE).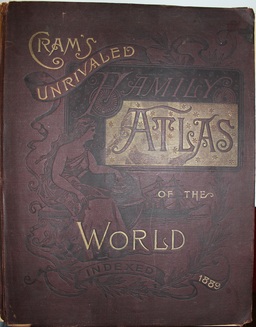 When it comes to mapping out a fantastic world, there are two major opposing views on the matter. Writing against explicitly laying out the longitude and latitudes of one's world was M. John Harrison:
"Every moment of a science fiction story must represent the triumph of writing over worldbuilding. Worldbuilding is dull. Worldbuilding literalises the urge to invent. Worldbuilding gives an unnecessary permission for acts of writing (indeed, for acts of reading). Worldbuilding numbs the reader's ability to fulfill their part of the bargain, because it believes that it has to do everything around here if anything is going to get done.

Above all, worldbuilding is not technically necessary. It is the great clomping foot of nerdism. It is the attempt to exhaustively survey a place that isn't there. A good writer would never try to do that, even with a place that is there. It isn't possible, & if it was the results wouldn't be readable: they would constitute not a book but the biggest library ever built, a hallowed place of dedication & lifelong study. This gives us a clue to the psychological type of the worldbuilder & the worldbuilder's victim, & makes us very afraid."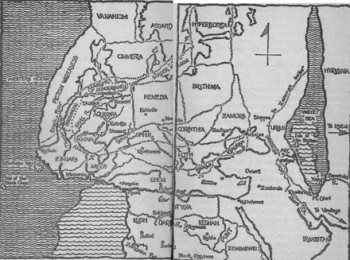 At the opposite pole was Lester del Rey, that old marketer of the genre, in the foreword to J.B. Post's An Atlas of Fantasy:
"Certainly the reader of such tales is also in need of a map to help him follow the author through the course of the story. A good map brings the territory into sharp focus, giving it a sense of reality otherwise lacking. Without such a guide, the reader is often forced to attempt his own mental cartography, or remain hopelessly vague about much of the development of the story."
Harrison's remarks are clearly putting the onus on the artists, requiring them to describe their world in words, thereby summoning up images in their readers' minds. For him, the worlds of story exist in the imagination, not charted out on graph paper.
Del Rey is speaking for the reader, or at least the lazier reader. It's clearly of a part with his dislike for literary, or "hard", writing, and of his desire to turn fantasy into a mass market consumer product. Without pictures, the reader will be lost.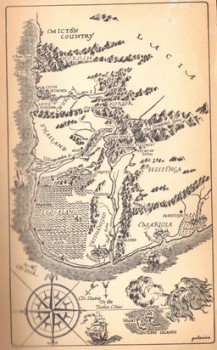 His quote makes me immediately sympathize with Harrison's perspective. Del Rey was intimating, no, outright declaring it's too hard for a reader to follow adventures in a made-up land without a clear travel guide. Did he really think readers will get lost between the Lantern Waste and Cair Paravel? Or trekking through the Dreamlands? Does it even matter to the story actually being told? Is the writer's true achievement — his or her words — too imprecise to conjure up coherent landscapes? It's such an outrageous annoying statement it makes me furious, even though he said it forty years ago and he's been dead for over twenty.
But then I calm down because, to loop back to my first sentence here, I've always loved maps. The Middle-earth and Hyboria maps blew my mind (and still do). I love gorgeous ones — like Rafael Palacios' for The Well of the Unicorn (a book I haven't even read) and James Cawthorn's of Nehwon — but even the simple maps in the Riddle-Master of Hed and Stormbringer added a spark to these books when I first read them.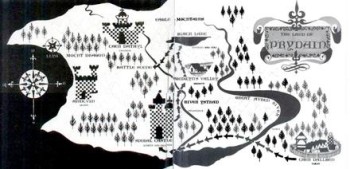 As little as I need a map, and fume about del Rey's lack of faith in readers, fictional maps are intoxicating. I don't need to see where Spiral Castle is in relation to Caer Dalben, as Lloyd Alexander does a splendid enough job of informing me by his words, but I love seeing it as much as I loved picking out the Beacons of Gondor or tracing Ged's travels across Earthsea.
In an article he wrote several years ago Joe Abercrombie declared that he was probably in the "anti-map camp." But while he felt them inappropriate for the character-driven stories he wrote, and more generally that an included map "can damage the sense of scale, awe, and wonder that a reader might have," he wrote that if he had had to include them it wouldn't have bothered him too much. They are an artifact of the genre deeply interwoven into it, and even he can imagine a day when he'd draw one himself. I understand and sympathize with Abercrombie, but I'm willing to risk finding a map at the front of a book I'm reading.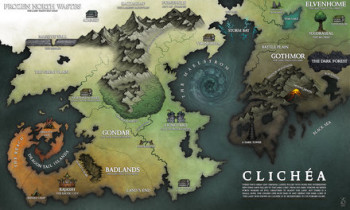 It's easy to make fun of bad maps littered with unpronounceable place names, dark towers, and haunted ruins as Diana Wynne Jones does in her The Tough Guide to Fantasyland. Recently, one of the best satires of them, titled Clichéa, appeared courtesy of map designer Sarithus. Anyone who ever ran an RPG campaign has probably been guilty of creating just such a map. While funny, these don't reflect something inherently wrong about maps, just bad writing and a lack of originality.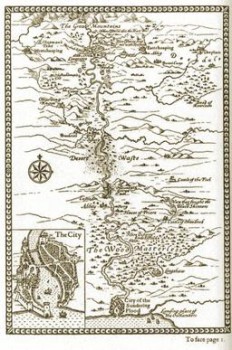 And maps have been a part of fantasy set in secondary worlds from the beginning. William Morris' The Sundering Flood (1897) included one of the earliest and still most attractive ones. L. Frank Baum drew a colorful, if mis-oriented, one of Oz. Decades before the complexity of Middle-earth, writers were inspired to demarcate the borders of their make-believe lands.
And writers have never looked back, for which I'm very grateful. Even if things did get a little out of hand in the wake of the gaming boom and Tolkien-clone era of the late 1970s and 80s, with way more detail and an explosion of cliches, I've never gotten tired of finding a map at the front of a new fantasy novel. For me, they're not crutches for, or something that supplants, the words of the story, but something that augments them. It's another bit of literary stagecraft that lets me suspend my disbelief just a little bit more and be transported just a little bit further into a created realm of fancy.
Let me know what you think. Do you need or want them, or should they be avoided at all cost? Which are your favorites?
This piece is intended to be neither a full blown exploration of the pros and cons of fantasy maps or their history. For that (and a tip of the hat to Matthew Surridge for telling me about it), you can go to The Map Room, a blog by Jonathan Crowe. It's about all sorts of maps — real as well as fantastic — and will keep any map junkie spellbound for hours.
Oh, and I've included links to the maps I've mentioned but didn't include here (except the one from Stormbringer which I couldn't find).
---
Fletcher Vredenburgh writes here at Black Gate most Tuesday mornings and at his own site, Swords & Sorcery: A Blog when his muse hits him. You can read his thoughts about epic high fantasy here.