New Treasures: The Redemption's Heir Series by Anne M. Pillsworth
New Treasures: The Redemption's Heir Series by Anne M. Pillsworth
Here's something interesting: a two-volume Young Adult series of Lovecraftian horror and mystery. I don't often see YA fiction labeled "Lovecraftian," but when I do, I pay attention.
The first volume, Summoned, was published in hardcover in June of last year, and just released in paperback by Tor in October. It's the tale of a teenage boy in Arkham, who finds an ancient book in a rare book store… with an ad from a sorcerer seeking an apprentice, and an e-mail address. When he replies, the boy finds himself quickly drawn into strange secrets from Arkham's history. And parts of Arkham's history are very dark indeed.
The standalone sequel picks up the tale as Sean is offered a chance to study real magic, with a proper teacher. Fathomless arrived in hardcover from Tor in later October.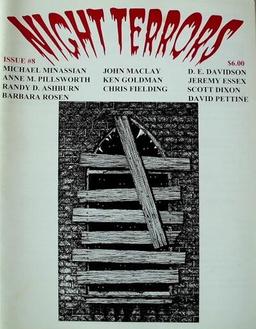 [Click the images for bigger versions.]
Both novels grew out of the short story "Geldman's Pharmacy," originally published in Night Terrors #8, October 1999 (see right).
Here's the description for Summoned:
While browsing in a rare book store in Arkham, Sean finds an occult book with an ad seeking an apprentice sorcerer, from a newspaper dated March 21, 1895. Even more intriguing, the ad specifically requests applicants reply by email.

Sean's always been interested in magic, particularly the Lovecraftian dark mythology. Against his best friend Edna's ("call-me-Eddy-or-else") advice, he decides to answer the ad, figuring it's a clever hoax, but hoping that it won't be. The advertiser, Reverend Redemption Orne, claims to be a master of the occult born more than 300 years ago. To prove his legitimacy, Orne gives Sean instructions to summon a harmless but useful familiar –but Sean's ceremony takes a dark turn, and he instead accidentally beckons a bloodthirsty servant to the Cthulhu Mythos god Nyarlathotep. The ritual is preemptively broken, and now Sean must find and bind the servitor, before it grows too strong to contain. But strange things are already happening in the town of Arkham….

Welcome to the darker side of New England in the first of a new series from Anne Pillsworth.
And here's the description for Fathomless.
In Anne M. Pillsworth's Fathomless, Sean dips even further into his magical destiny, but will blood prove thicker than the mysteries of Innsmouth's briny depths?

Sean Wyndham has tried to stay away from the lure of magic — the last time he tried to dabble in the dark studies, he inadvertently summoned a blood familiar, wreaking havoc on his town, and calling the attention of the Elder Gods. But now Sean has been offered the chance to study magic with a proper teacher, overseen by Helen Arkwright, a friend of Sean's father and heir to ancient order of much power, who protects New England from that which lurks in the coastline's unseen depths. But will learning theory be enough, when there is a much greater magical secret hidden in Helen's vaulted library?

Accompanied by his best friend, Eddy, and their enigmatic new friend Daniel, Sean wades out deeper into mystical legend and shadow. With hints and secrets buried long in family lore, they turn to the suspicious Reverend Orne once more for assistance. But as Sean deepens his understanding of his power, a darkness is waking…
Summoned was published by Tor Teen on October 13, 2015. It is 320 pages, priced at $10.99 in trade paperback and $7.80 for the digital edition. The cover art is by Bastien Lecouffe-Deharme.
Fathomless was published by Tor Teen on October 27, 2015. It is 315 pages, priced at $18.99 in hardcover and $9.99 for the digital edition. The cover art is by Bastien Lecouffe-Deharme.
See all of our recent New Treasures here.