New Treasures: The Night Clock by Paul Meloy
New Treasures: The Night Clock by Paul Meloy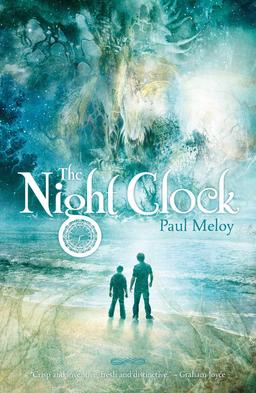 Paul Meloy is the author of Dogs With Their Eyes Shut, a horror novella from PS Publishing, and the short story collection Islington Crocodiles. His short fiction has appeared in places like Black Static, Interzone, and several anthologies.
His brand new debut novel The Night Clock, set in the same world as Dogs with Their Eyes Shut, is an intriguing blend of dark fantasy, science fiction and horror. The collaborative writing team S.L. Grey says it "isn't just a good horror novel, it's a great one. Superbly written, full of bite, originality, and, most importantly, heart and soul."
And still the Night Clock ticks…

Phil Trevena's boss is an idiot, his daughter is running wild, and his patients are killing themselves. There is something terrible growing in Phil that even his years as a mental health worker can't explain — until he meets the enigmatic Daniel, and learns of the war for the minds of humanity that rages in Dark Time, the space between reality and nightmares measured by the Night Clock.

Drawn into the conflict, Phil and Daniel encounter the Firmament Surgeons, a brave and strange band that are all that prevents the nightmarish ranks of the Autoscopes overrunning us. The enemy is fueled by a limitless hatred that could rip our reality apart. To end the war the darkness that dwells in the shadow of the Night Clock must be defeated…
The Night Clock was published by Solaris on November 10, 2015. It is 384 pages, priced at $9.99 in paperback and just $0.99 for the digital version.