Only War for Christmas: How to Defend Warhammer for Teenage Boys
Only War for Christmas: How to Defend Warhammer for Teenage Boys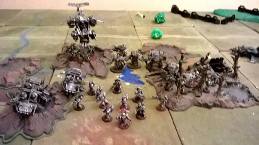 Older relative: "Well I'm not buying him  (nose wrinkle) Warhammer."
Fellow parent: "Oh God, Warhammer. We're trying to steer him away from that!"
Another parent: "But it's sooo expensive."
It's the run up to Christmas and people want to know what older and teenage boys want, and — just like with books — the boys, the geeky ones at least, want the wrong things.
Except of course, I think these are right things and I want to yell:
There's this thing you can get that coaches boys in applied game theory, and keeps them telling stories, reading books, engaging with craft, and gathering with friends away from a screen (sometimes even organising them). It also enables them to talk to older boys and adults as peers, and take their place in a multi-generational community… No, it's not an educational game. No… it's not an after school club… It's… Warhammer!!!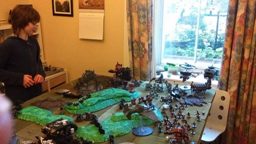 In the last year or so I've watched "Kurtzhau", my 12-year-old son, not only beat adult gamers and learn from his defeats, but also apply strategic thinking to homework planning, savings (in order to buy Warhammer figures, naturally), and to the challenges of after-school Maths Club where they are exploring game theory through puzzles.
He's also written "lore" for his army, built and painted figures to his own colour scheme, organised a two-day mini-wargames convention in his bedroom (where he has a 6 x 4 table), and started sallying into the adult world of gaming cafes and wargames conventions. Meanwhile he can carry on technical conversations with my friends… it's as if he's joined the geek version of the village cricket team.
So, yes I think Warhammer is a good idea. You probably do too, since you have read beyond the cut. Shall we blast through some of the objections that pop up during this season?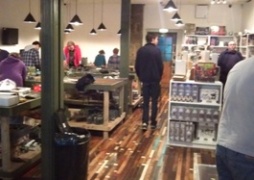 Isn't It All a Bit… Gendered?
Yes, Warhammer and table top battle games seem to be a predominantly (but not entirely male) activity. However, the same goes for most sports teams. Some people find value in same-sex "safe spaces", and it's not an either/or situation — you can go off gaming "with the lads" and still pursue less obviously masculine activities. (Kurtzhau, for example, is a keen cook, baker and epicurean tea drinker.)
The flipside is that the Warhammer community is incredibly inclusive.  Age, looks, fashion sense, disability, social anxiety… nobody cares as long as you can roll a dice and hold your own. And those women who do choose to step up to the table find a welcome as fellow gamers — and gaming itself, to which Warhammer is a gateway, has become increasingly "co-ed" (thank God).
Don't Wargamers Grow Up to be Nerdy Loser Manchildren?
Interesting question. I'd have to ask my gaming friends, but right now they're not online because they're busy working as civil servants, managers in the city, social work directors, psychiatrists… most of them are married (or equivalent), some of them have children. Immature adult men nestle in most corners of our culture, and I don't think Warhammer is particularly prone to this.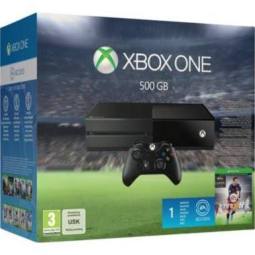 But Aren't Boys Better Running Around Doing Sport?
They do this too! However, tabletop gaming equips them for the things that sooner or later they'll have to do in the real world while not running around.
OK But Wouldn't Chess Be Better?
Again, it's not either/or. However chess lacks the imaginative element and the community. In real life, strategy has to cope with chance, which chess doesn't model. Finally, chess doesn't make you build your army, juggling points and real money.
Ah Money. It's SO Expensive!
My mates reckon you can build a decent army for £300, roughly $600. (HINT: You can do it for considerably less if you are a young gamer with older family friends who also game.) That's the cost of a modern games console with a few games! You grow bored of video games and consoles go out of date, but the figures you paint at 13 will still do you good service at 23. As you get older, your army will evolve (which is how Kurtzhau ends up with cast-offs), but it's still cheaper than playing golf.
Ultimately, underlying most of these objections is the assumption that, without Warhammer, teenage boys would do something else "more worthwhile" with their spare time.  However, unless you police them 24/7, including when they are at other people's houses, that "something else" will be YouTube, video games (including Grand Theft Auto), channel hopping, and looking for… inappropriate material on the Internet.
And, of course, Warhammer is worthwhile.
What objections to Warhammer or gaming in general have you encountered? How did you reply? Extra points if you are a female tabletop gamer! (I've talked about teenage boys because that's what I'm experiencing right now. However, Kurtzhau's little sister "Morgenstern" is already collecting Pokemon cards, so I'm braced for another round of similar exchanges, this time with a dose of gender stereotyping thrown in.)
---
M Harold Page is the sword-wielding author of Swords vs Tanks ("Holy ****!" – Charles Stross) as well as four other traditionally-published novels. He has pledged to put the Heavy Metal back into whatever adventure genres are foolish enough to stumble across his path. To hear about his latest releases and dive over to his blog and click "Get Updates".